These buttery kulfi shortbread are filled with almonds, pistachios, cardamom and saffron. Then dunked in chocolate for an extra special twist.
Shortbread cookies are always a winner in my books. They're also my mum's favourite biscuits.
There's nothing quite as satisfying as a crumbly, buttery, sweet shortbread. If anyone else grew up with those classic red tartan boxes of Scottish shortbread, I think you'll understand.
If buttery cookies are your thing, especially ones with a little extra flavour, then these Kulfi Shortbread cookies are definitely for you.
Kulfi Shortbread
These are kulfi inspired shortbread cookies. They're a riff on your traditional shortbread cookies with flavours from kulfi (a South Asian ice cream).
These Kulfi Shortbread are filled with pistachios and almonds to give them a nutty edge. A lot of South Asian desserts are based on nuts so it only seemed fitting to include them here too. We love our nuts!
There's also a sweet warmth here from cardamom and a floral note from saffron. Both are also used in a lot of South Asian desserts and often in Kulfi too.
These shortbread make for perfect Diwali gifts
The idea for these Kulfi Shortbread along with my Pistachio Kulfi Cookies came about as Diwali gifts. I was always wondering what to give to friends and family to celebrate Diwali.
And being a foodie, it was obviously going to be something edible. So a South Asian riff on some western favourites (cookies and shortbread) led to the invention of these.
I've been making these as Diwali favours for years and they're always a hit. But they're honestly suited for any celebration really. But I mean, do we really even need a reason to make shortbread?
What is shortbread?
Shortbread are a traditional Scottish biscuits that are made from sugar, butter, and flour. They're named as such due to their texture being 'short', in other words crumbly.
This is because of the high fat content from the butter, which also makes these biscuits tender and extra rich. Hands down one of my favourite types of biscuits.
I also add in cornflour to my shortbread (this is corn starch for US readers). And this helps to make these even more short and even more tender.
What is Kulfi?
Kulfi is a traditional Indian ice cream that's commonly made with milk, sugar, nuts and cardamom. The milk is often simmered for a long period of time to thicken it and to evaporate some of the liquid, leaving a high proportion of fat solids.
This allows for a more creamy, rich, and slightly more dense result, which is served straight out of a kulfi mould. The flavours of kulfi are running throughout these shortbread and the buttery-ness mimics the richness we find in kulfi.
We're dunking these Kulfi Shortbread in chocolate!
This makes them a little extra special, which they rightfully deserve. You can dunk them in any chocolate of your preference, dark/milk/white will all work here.
I've gone for half dunked in dark chocolate and half dunked in white chocolate. As someone who normally can't stand white chocolate, I have to say it worked very, very well here.
So much so that I think I have to agree I actually preferred the white chocolate dunked shortbread! The pronounced dairy flavour from the white chocolate just added another layer of flavour that's quite synonymous with kulfi.
What you'll need to make these Kulfi Shortbread
I'll cover the main ones below but the full recipe can be found at the end of the blogpost
Cornflour – this is cornflour for UK readers and corn starch for US readers. It's a thickening agent but also helps to provide a more tender and crumbly shortbread
Caster sugar – caster sugar is better for shortbread or cookies with short baking times as it dissolves more readily to prevent a grainy texture
Almond extract – I like to use the Nielsen Massey brand for this – if you're using a high quality brand of extract you'll only need around 1tsp max. If you're using a supermarket own brand (which is much weaker), you'll need around 1.5tsp
Ground cardamom – this can be purchased from most regular supermarkets in the spices aisle. I grind my own which is also really easy to do if you have some cardamom pods and a pestle and mortar
Nuts – I've used almonds and pistachios here, but you could substitute these for other nuts if you wanted to
Saffron – it is an expensive spice and a little goes a long way. The higher quality the saffron is, the more colour and flavour it will impart
The KEY tips for making shortbread
Don't knead shortbread dough – kneading will create gluten which is a big no no here. We don't want any gluten otherwise you risk the shortbread becoming tough and chewy
Refrigerate the dough – this allows the fat to harden and the flavours to mingle. You get a more tender and crumbly shortbread with cold dough
Don't even think about reducing the butter – when it comes to shortbread, butter = good. This is crucial for flavour and texture, so keep it in!
How to make Almond and Pistachio Kulfi Shortbread
Let's start with the shortbread dough
1) Start to mix the butter and sugar together. This just needs a brief mix as we're not trying to aerate or cream them together
2) This will literally take a minute or less
3) Add in some milk that's infused with saffron
4) Along with some vanilla bean paste, cardamom, almond extract, and a pinch of salt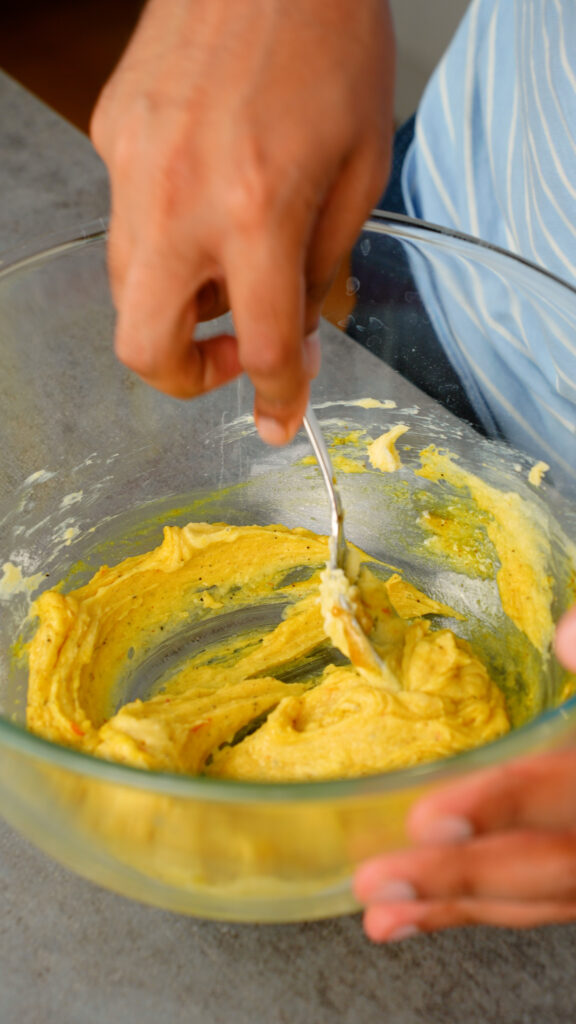 5) That just needs another quick mix until everything is incorporated
6) Sift in the plain flour and cornflour (that's cornflour for UK readers and corn starch for US readers)
7) Switch to a fork and mix the flours and butter mixture together. It will look a little dry and crumbly, don't worry!
8) Blitz the almonds and pistachios until they're coarsely ground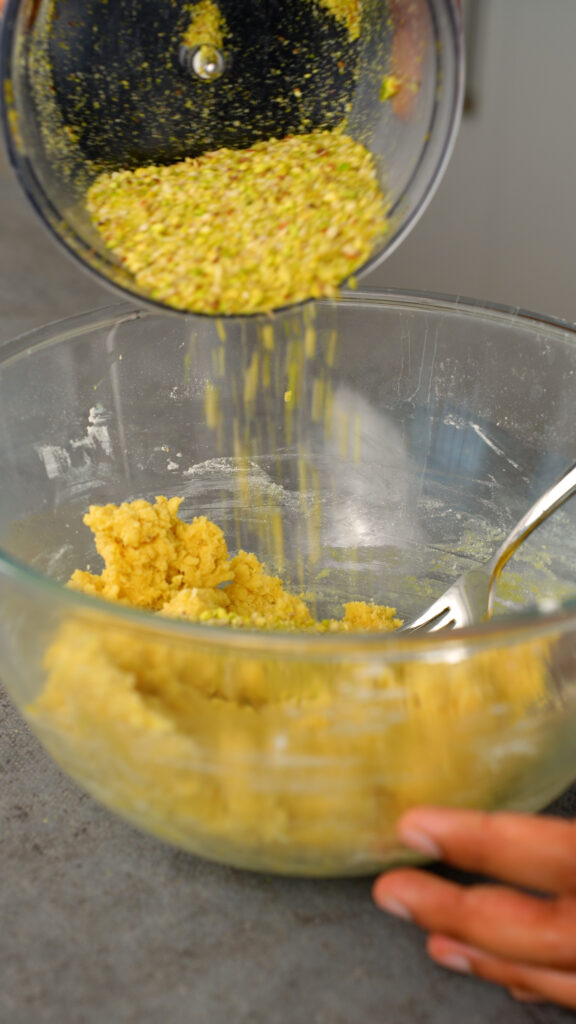 9) Add around 1/2 to 2/3rd of the nuts in
10) Then briefly mix that together just to bring the dough together – don't knead
11) Shape the shortbread dough into a log
12) Then pour the remainder of the nuts on to the counter
13+14) Next, roll the shortbread log into the nuts to coat the outside as evenly as possible
15) Finally roll the log in some baking paper or clingfilm. Then place into the fridge for at least 2 hours to chill
Now let's bake the shortbread
1+2) Slice the shortbread evenly, I like to go for around a 1.5cm thickness. They're much easier to cut with cold dough
3) Pop the shortbread onto a lined baking tray and bake
4) Allow them to cool on the tray for 5 minutes before transferring to a wire rack to cool completely
5) Once cooled completely, give the shortbread a half dunk in some melted dark chocolate
6) Or white chocolate – I have to be honest, I don't normally like white chocolate. However I did actually prefer the white chocolate ones here, it just adds another level of dairy flavour that's synonymous with kulfi
7) Then transfer the shortbread to a lined baking tray
8) Finally sprinkle on a few more ground nuts and some rose petals, then place in the fridge briefly to set
Frequently asked questions
Can I make these in advance?
Yes, and I often do. You can make the shortbread dough the day before/night before and leave it wrapped in the fridge until you need it. Add an extra 3 minutes to the bake time to allow these to bake fully if you've refrigerated them over night.
Do these Kulfi Shortbread need refrigerating before baking?
I've always found better results when baking cold shortbread dough, not only is it easier to cut into slices but also the finished result is more flaky and tender. Hence the refrigeration step in the recipe (sitting in the cold actually helps with flavour development too).
Can these shortbread be made vegan?
They can with simple substitutes. Use a plant based block of butter and plant based milk in lieu of the dairy counterparts. Make sure the butter is the block style and not the spreadable kind.
Use any vegan chocolate you like too!
Can these shortbread be made gluten free?
I want to preface this by saying that I haven't tried myself. However other users have had success just by substituting the plain flour/all purpose flour with a gluten free flour blend.
If you enjoyed this recipe
Please do let me know! Leave a review and a rating below, I'd love to know how you got on.
You can also tag me on Instagram at @dish_by_rish. Or follow me on Facebook, Pinterest, Youtube, and TikTok to keep up with all my cooking and baking creations.
Until then, happy baking!
Almond and Pistachio Kulfi Shortbread
Total Time:
2 hours
38 minutes
These buttery kulfi shortbread are filled with almonds, pistachios, cardamom and saffron. Then dunked in chocolate for an extra special twist.
Ingredients
120g unsalted butter, softened
60g caster sugar
170g plain flour/all purpose flour
50g cornflour (this is cornflour for UK readers and corn starch for US)
1.5tsp almond extract
1tsp vanilla bean paste
1/2tsp ground cardamom
1/4tsp salt
1tbsp milk of choice
Generous pinch of saffron
40g shelled unsalted pistachios
30g almonds
100g chocolate of choice
Dried rose petals
Instructions
Start by heating the tbsp of milk in the microwave till steaming hot, then add the pinch of saffron and allow to infuse for at least 30 minutes. The longer it infuses, the more flavour it will impart
In a mixing bowl, mix together the softened butter and sugar. This just needs to be mixed briefly with a spoon, we're not trying to cream them together or aerate the mixture
Add the saffron infused milk along with the cardamom, vanilla, almond extract, and salt. Once again mix together until combined
Sift in the plain flour and cornflour (corn starch for US readers), then switch to a fork and mix until it forms a dry crumbly dough
In a food processor, blitz the pistachios and almonds until coarse - we don't want them finely ground here
Add 1/2 to 2/3rd of the nut mixture to the shortbread dough and bring everything together by hand. Don't knead, just simply squeeze everything together until the nuts are distributed and the dough starts to feel cohesive
Then transfer the shortbread dough to the counter and shape into a log that's around 22cm in length. Try and make it as even as you can - I like to do this on a sheet of baking paper. Then transfer the shortbread 'log' to the fridge for 5 minutes to very briefly chill
Sprinkle the rest of the nuts on the counter and roll the slightly chilled log in the nuts. Try and coat the outside as evenly as possible with the nuts. Then wrap the shortbread log tightly in baking paper or clingfilm and place into the fridge for at least 2 hours. This can also be left overnight
Preheat the oven to 170'C (fan)/190'C (conventional) which is around 340'F/375'F
Slice the chilled shortbread into even pieces, I like to go for around 1.5cm thickness
Transfer the shortbread pieces onto a lined baking tray and bake on the middle rack for 18 minutes. The shortbread will not be completely firm at this point but will harden and set as they cool. Allow them to cool in the tray for 5 minutes before transferring to a wire rack to cool completely
Melt the chocolate in the microwave in 20s increments and then pour into a narrow glass/bowl/jug - this will make it easier to dunk
Dunk half of the shortbread in the chocolate and allow the excess to drip off. Then transfer to a lined baking tray or wire rack. If it seems like a puddle of chocolate is forming around the biscuits and excess is continuing to pool out, allow to sit on the lined baking sheet for 5 minutes and then transfer the shortbread once again to a new lined baking sheet. This can help to provide a cleaner finish
Sprinkle some more crushed nuts over the chocolate, followed by some dried rose petals. Place the tray of shortbread into the fridge for around an hour to allow the chocolate to set completely
Nutrition Information
Yield

15
Serving Size

1
Amount Per Serving
Calories

203
Total Fat

10g
Saturated Fat

5g
Trans Fat

0g
Unsaturated Fat

4g
Cholesterol

19mg
Sodium

57mg
Carbohydrates

24g
Fiber

1g
Sugar

8g
Protein

3g
This is an automated calculation and hence may not be entirely accurate.