Try this lemongrass fried rice for a fragrant and aromatic dish. Throw in some vegetables and tofu like I have to turn it into a delicious meal!
I have to hold my hands up and say that it's taken me a while to enjoy rice. I never hated it or disliked it, but it was never my first choice to go for. However over time I began to venture out and incorporate the flavours that I loved into rice dishes.
It's safe to say I now love the stuff, and this recipe is a huge reason why.
Lemongrass fried rice
It's just as the name suggests. Rice combined with spices and aromatics (obviously including lemongrass) along with some vegetables and tofu is a match made in heaven. It's a pretty humble dish with no real outlandish ingredients.
It's hearty, it's nutritious and it's incredibly easy to put together. But not only that, this recipe is versatile. The vegetables can be swapped to any of your preference, and same goes for the protein.
The key to getting this recipe right is all in the spices, aromatics and the sauces. Everything else can be adapted to your own taste. The inspiration for this lemongrass fried rice stems from my love of Thai flavours, which plays a huge influence on the entire dish.
Lemongrass is one of my favourite flavours and scents, the aroma it brings to a dish is incomparable to anything else. But not just that, the flavour completely lifts and elevates everything it's put into it. It truly brings an essence of life into this lemongrass fried rice.
This dish is perfect for a quick weeknight dinner, or a Friday 'fake-away' or even for a work lunch. It's a great way to impress colleagues, friends, or family. They'll be blown away by the flavour and depth in this fried rice.
What's the key to this lemongrass fried rice?
There are definitely a few things to note in order to maximise the flavour and texture in this dish.
Firstly, it's crucial to use day old rice for best results. In other words use rice that was made the day before. If this isn't possible try and make your rice as early as possible and allow it to cool and dry out in the refrigerator.
But day old rice would still be my recommendation.
This provides the best result for any fried rice dish. Cold day-old rice allows the grains to dry out so in turn, when the sauces are added whilst cooking it will prevent the rice turning into mush.
Freshly boiled rice retains a lot of moisture, and hence there's no point adding extra moisture to already moist rice. There's far too much 'moist' in that sentence for my liking.
Secondly, use fresh lemongrass. The lemongrass pastes you can buy in tubes or bottles do not do this dish justice. Dried lemongrass won't work here either as the cooking process will only dry it out further.
Dried lemongrass also has a different flavour and is not as 'zingy' or citrusy as its fresh counterpart. Source some good quality fresh lemongrass from your local supermarket, or preferably East Asian supermarket.
It's worth it. The aroma and flavour is far superior.
Thirdly, try and use whole spices rather than pre-ground. Toasting the spices first and grinding them ensures maximum flavour. This recipe calls for quite humble spices, but it makes a huge difference to the final flavour of the dish if every step is carried out.
There's also something quite humbling about toasting whole spices and grinding them down in a pestle and mortar. But perhaps that's just me.
What is lemongrass?
For anyone who's unfamiliar with lemongrass, it will honestly change your life. It's a modest herb that exudes a citrusy and lemony scent, as well as a mild floral note.
It resembles a green woody stem with hues of purple and white. The outer layers are rather fibrous and require peeling away (but that will all be covered later on in the step-by-step).
It's a culinary herb that's native to South and Southeast Asia and is commonly used throughout Thailand, parts of India, Indonesia, Malaysia, and Sri Lanka (just to name a few). It can be used in both savoury and sweet dishes which makes it particularly versatile.
Add it into teas, cocktails, mocktails and condiments. It fits in everywhere.
To note, you cannot substitute or omit the lemongrass in this recipe. It won't be the same without it.
What type of rice is best for fried rice?
There are a few types that work really well. I'd recommend:
Medium or long grain white rice
Medium or long grain brown rice
Jasmine rice
Shorter grain rice tends to be more on the sticky side, and hence not ideal for fried rice. The best types of rice to use will be those that retain their separate grains. Different people will have different preferences but mine are the ones in the list aforementioned.
For this lemongrass fried rice I've used a medium grain brown rice, but I've also used jasmine rice in the past. Both work perfectly well.
You could even use a medium or long grain white rice successfully too. But there's one factor that in my opinion is even more important than the type of rice. And that's the use of day old rice.
If you're in a pinch and haven't prepared the rice in advance, you can try and work around this. Place the boiled rice in a tray in as flat of a layer as possible and transfer this to the fridge. This will aid to dry out the rice as much as possible.
What you'll need to make this recipe
The full recipe can be found at the end of the blogpost
You'll need:
Brown rice/jasmine rice/med or long grain white rice (day old preferably!)
Lemongrass stalks
Red bird's eye chillies
Garlic
Spring onions
Thai Basil
Mushroom sauce
Dark soy sauce
Light soy sauce
Carrot
Red pepper
Oyster mushrooms
Tofu/protein of choice
White peppercorns
Cumin seeds
Coriander seeds
Mushroom sauce
This may seem like a strange ingredient and may be unfamiliar to some. It's a godsend of a sauce that can easily transform any dish.
Mushroom sauce is a sauce that's made primarily of shiitake mushrooms and it's full of umami. It's a great substitute for oyster sauce is often used as a vegetarian alternative. This can be found in East Asian supermarkets or online.
However if you're really struggling to find this ingredient, then substitute it with some extra dark and light soy sauce.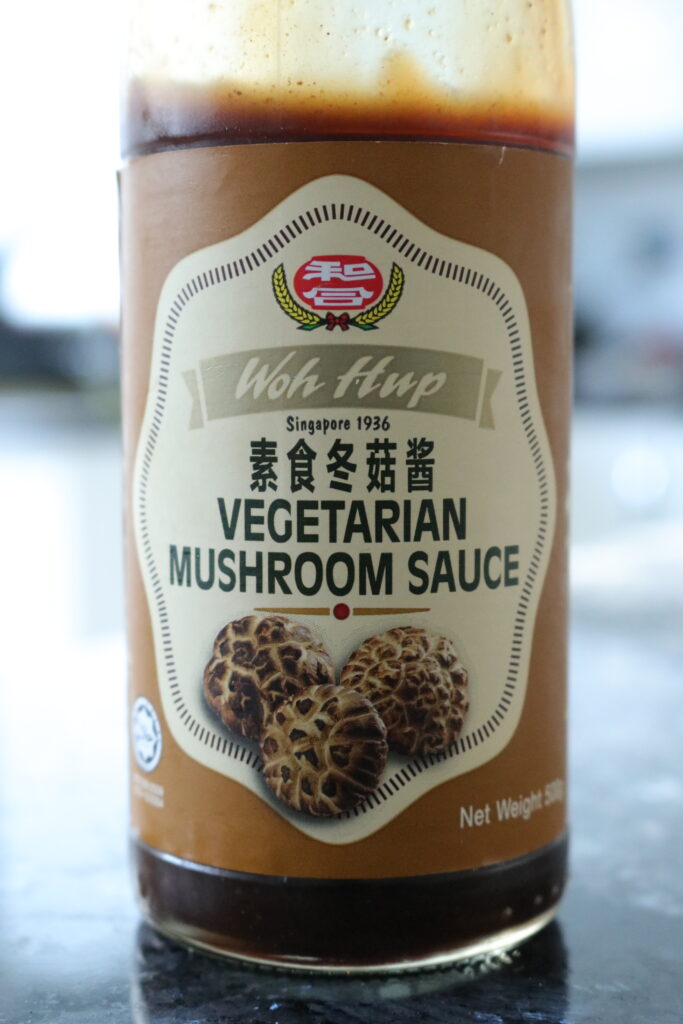 This is an example of the one that I use, but there are quite a few different brands available
The spices
You'll be using a few whole spices in this recipe which really bring out necessary flavours and depth. White pepper, coriander and cumin are commonly used in Thai cooking and they work brilliantly as a team.
I always recommend using whole spices when possible and toasting them and grinding them right before use. Hence the same applies here, however if you're truly stuck trying to find whole spices feel free to use the equivalent amount of ground spices here.
The white pepper adds an earthiness as well as some heat. It has quite a noticeable 'musky' smell as well as an almost herbaceous flavour which differs from it's black counterpart.
The cumin adds a warm nuttiness as well as a hint of smokiness. It also adds incredible depth.
The coriander seeds add a light nuttiness whilst also adding a mild sweet citrusy note. Cumin and coriander are two spices that are often used in conjunction as they just pair together so well. You'll have to trust me on this.
How to make this lemongrass fried rice
1+2) Using the back of a knife or any blunt object, lightly bash the lemongrass stalks
3) Peel off the fibrous and woody outer layer of the lemongrass and trim the tough stem off as well
4) Roughly mince the the lemongrass, as this will aid with the next step
5) Place the lemongrass into a pestle and mortar and pound until it forms a rough, coarse paste. A food processor can also be used here
6) Then add the garlic and bird's eye chillies and continue to pound
7+8) Once coarsely pounded, sauté in oil over a medium heat whilst continually stirring until fragrant (2-3 minutes)
9) Then add the vegetables, i.e. the red pepper, carrot and mushrooms. Mix to combine
10) Add in the protein of choice. I've used tofu puffs which I've cut into pieces
11) Meanwhile toast white peppercorns, cumin seeds and coriander seeds on a low heat until fragrant. This does not take long and the spices can burn if left for too long
12) Then transfer the spices to a pestle and mortar and grind to a fine powder
13) Add the sauces and ground spices to the pan and mix to combine
14) Then add the rice and continue to mix
15+16) Finally add in the fresh Thai basil and finely sliced spring onions. Turn the heat off and allow the remaining heat from the pan to slightly wilt the basil. Serve hot.
Questions and Answers:
Can the lemongrass, Thai basil or mushroom sauce be substituted?
The lemongrass is essential for flavour and hence cannot be substituted.
The Thai basil adds freshness, a herbaceous note and a slight star anise like flavour. It can't be substituted exactly. However adding a small star anise to the spices as they toast and grinding that along with them will help to somewhat replicate the Thai basil flavour.
The mushroom sauce can be substituted for more dark and light soy sauce but please try and find a mushroom sauce in your local East Asian supermarket. It adds a level of flavour, depth and umami that soy sauce cannot.
It's sometimes sold as a 'mushroom stir fry sauce' and it will have a thick consistency. It will not be labelled as a 'mushroom soy sauce' as that is a different sauce entirely and normally very runny.
Rice sticking together or turning into mush?
Your rice was either overcooked or had not had enough time to dry out. Use day old rice if you can, it makes a huge difference.
Best way to cook rice?
A rice cooker or an Instant Pot in my opinion. I used 200g of brown rice to 285ml water which took 6 minutes in the Instant Pot on high pressure and immediate venting. You can do this by placing the rice and water in a wide bowl. Then place that bowl on a trivet in the Instant Pot. Ensure there is around 1″ of water at the base of the pot.
However follow the instructions on your packaging or rice cooker. Most of the time I honestly use my index finger to measure water as that was how I was taught. The general rule is to rest the tip of your index finger on top of the surface of the rice and add enough water until it reaches the first line on that finger.
It works, try it.
To wash or not to wash rice before cooking
I always recommend washing prior to boiling rice as it eliminates some of the outer starchy coating and removes any dust or debris that may be present. My general rule is to wash 3x. I don't wash till the water runs completely clear, it's not necessary in my humble opinion.
What other vegetables or proteins can be substituted here?
Honestly any vegetable you like, let your mind run wild. Green beans, green/yellow/orange peppers, onions, Thai aubergine, pak choi, garlic chives, bean sprouts and more. All will work really well.
As it's a stir fry, you want vegetables that can cook relatively quickly.
For protein you could use other variations of tofu, or seitan, or even paneer. Seitan works brilliantly here and adds a good boost of protein too, so it's definitely a good choice.
I'm a vegetarian and hence I can only advise on vegetarian proteins.
What else can lemongrass be used for?
Lemongrass can be used for so many different things. Try adding some to your tea as it brews, I love adding some to my chai. The flavour it adds to chai is incredible and pairs brilliantly with the spices. Or you could even throw it into soups and curries for an additional freshness and zing.
Try making my Spicy Lemongrass Noodles which is also another great idea.
Lemongrass Fried Rice
Try this lemongrass fried rice for a fragrant and aromatic dish. Throw in some vegetables and tofu like I have to turn it into a delicious meal. Subtle spices and aromatics truly make this a one of a kind fried rice.
Equipment
Pestle and mortar or Food processor
Ingredients
600

g

of cooked day old rice

equal to 200g dry rice. Preferably medium or long grain white rice, brown rice, or jasmine rice

2

lemongrass stalks

4

cloves

garlic

2

red bird's eye chillies

1

carrot

thinly sliced

1

red pepper

thinly sliced

150

g

oyster mushrooms

or any other mushroom of choice, thinly sliced

100

g

tofu puffs

or any other protein of choice

3

tbsp

mushroom sauce

2

tbsp

dark soy sauce

1

tbsp

light soy sauce

1/2

tsp

white peppercorns

1/2

tsp

cumin seeds

1/2

tsp

coriander seeds

2

spring onion greens

finely sliced

Handful of Thai basil

3

tbsp

neutral oil

e.g. vegetable, sunflower, rapeseed
Instructions
First using the back of a knife or any blunt object, lightly bash the lemongrass stalks to break open the layers

Then peel off the fibrous and woody outer layer of the lemongrass and trim the tough stem off

Roughly mince the lemongrass as this will aid with the next step

Place the lemongrass into a pestle and mortar and pound until it forms a rough, coarse paste. A food processor will also work here

Then add in the garlic and bird's eye chillies and continue to pound until coarsely ground

Sauté this aromatic mixture in the oil over medium heat whilst continually stirring until fragrant. This will take around 2-3 minutes

Next add in the carrots, mushrooms, and peppers and mix to combine

Add in the tofu and once again toss to combine

Meanwhile toast the white peppercorns, cumin seeds, and coriander seeds on a low heat until fragrant for around 1 minute

Transfer these spices to a pestle and mortar and grind to a fine powder

Add the spices along with the mushroom sauce, dark soy sauce, and light soy sauce to the pan

Add in the cooked (day old) rice and continue to mix everything together

Finally turn the heat off and add in the fresh Thai basil and finely sliced spring onion greens. Allow the heat of the pan to slightly wilt the basil

Best served immediately