Try this aubergine and garlic chive stir fry dish. Full of melt in the mouth aubergine and spicy red chillies tossed with herby garlic chives.
This is a dish that I highly recommend on trying. It's become a go to for me on busy weeks when I need a satisfying tasty meal.
I love quick dishes like this one that are full of flavour and require minimal effort. It's a great side dish but also works wonderfully with a big bowl of steamed rice or noodles.
Aubergine and garlic chive stir fry
This aubergine and garlic chive stir fry is one that you need to have in your repertoire of easy, flavourful meals.
Long Japanese aubergines tossed with garlic, garlic chives, and dried facing heaven chillies with an umami rich sauce. Finished with toasted sesame oil for a lovely nutty note.
What's not to love?
It's definitely quite the simple dish but it's certainly not shy and boasts bold flavours. Sometimes simplicity is everything.
The garlic chives add a herbaceous and garlicy note which compliments the aubergines beautifully. The Japanese aubergines are bright in colour but sweet and mellow in flavour.
They are the perfect canvas to work with, hence they take on the flavour of each ingredient perfectly. It's a spicy, garlicky dish with an umami rich sauce that is genuinely just a big bowl of comfort after a busy day at work.
The aubergines melt in your mouth and this texture is key when cooking with aubergines.
When cooking recipes that only require a handful of ingredients, selecting the right ones can make all the difference. Good quality fresh produce will make this a stand out dish. The seasoning in this dish is also simple, but that allows each flavour to truly shine.
What you'll need
The full recipe can be found at the end of the blogpost
For this dish, you'll require:
Aubergines – I recommend using the Japanese variety for best results. I'll explain this in more detail in the next section
Garlic
Dried chillies – I recommend using facing heaven chillies which are a mild, small, citrusy chilli. If using any other type, consider using fewer chillies than what is stated in the recipe
Garlic chives – this will be explained further down in the blogpost too. Garlic chives are wonderful things to have on hand
Light soy sauce – this will act as a form of seasoning
Mushroom sauce – see below for more information. It's a brilliant sauce which adds a ton of depth and savouriness
Toasted sesame oil – adds a lovely nutty finish to the dish
The mushroom sauce may seem like a strange ingredient and may be unfamiliar to some. It's a godsend of a sauce that can easily transform any dish.
Mushroom sauce is a sauce that's made primarily of shiitake mushrooms and it's full of umami. It's a great substitute for oyster sauce is often used as a vegetarian alternative. This can be found in East Asian supermarkets or online.
However if you're really struggling to find this ingredient, then substitute it with some extra dark and light soy sauce.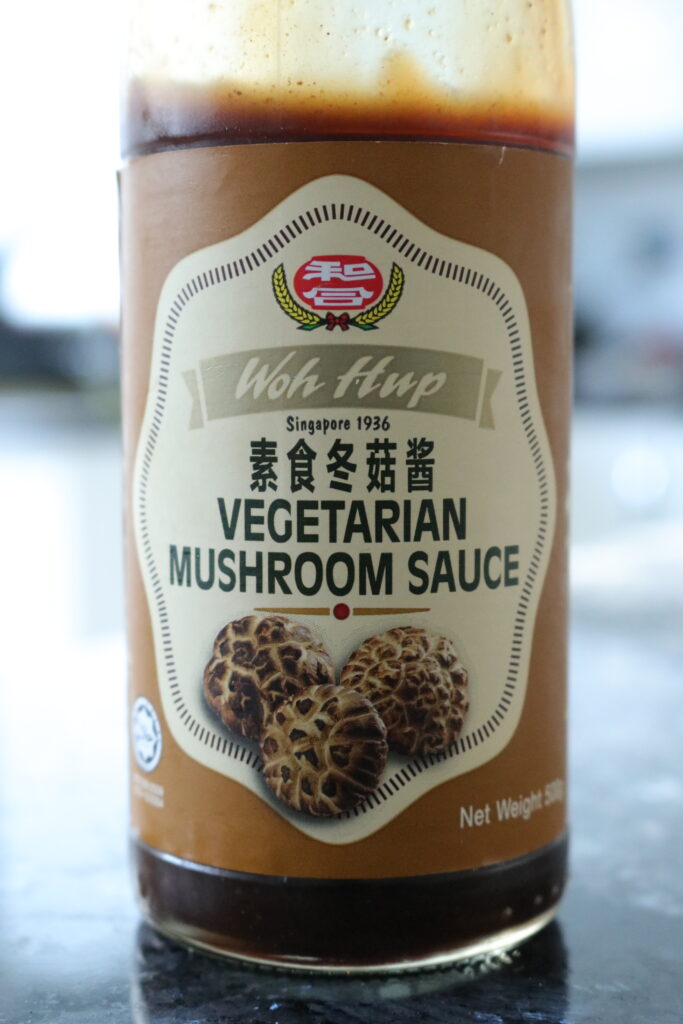 This is an example of the one that I use, but there are quite a few different brands available
Types of aubergines
There are many different types of aubergines available and each has different characteristics. These characteristics impart different textures during cooking.
The most common types that will be familiar to most are the globe and Italian variety. They're darker, wider and tend to have a tougher texture than other varieties. There are also Indian aubergines (known as baby aubergines) that exist, Chinese and Japanese varieties, and several others.
I've used the Japanese variety here which works perfectly. Both the Japanese and Chinese varieties are very similar and hence either will work. These longer and thinner than the globe counterparts with a lighter purple colour to them.
They are sweeter in flavour with fewer seeds thus making them less bitter. They also cook much more quickly which makes them perfect for this recipe. I purchase my Chinese and Japanese aubergines from my local East Asian supermarket where it's readily available.
However if you cannot access those aubergines, feel free to use any other type that you can get a hold of.
Garlic chives? What are they?
Garlic chives are amazing. Enough said.
They are a long green herb with a broad green stem and white/yellow flowers. Garlic chives are also often known as Chinese chives or Asian chives. They look similar to a broader chive and it is the stem that we want to use in dishes.
The flavour profile of garlic chives are more reminiscent of garlic than they are of chives. It also has a lovely herbaceous tone to it which works well in this dish.
There are normally two main types of garlic chives that are readily available. The first being the standard garlic chive – which are the ones used in this recipe.
There are also flowering chives which have a yellow bud on the end. These have a much more pronounced garlic flavour and would also work perfectly well for this recipe.
I purchase my garlic chives from my East Asian supermarket where it's normally very easy to find. If you struggle to find garlic chives you can alternatively use wild garlic. Or add in some extra garlic cloves along with some spring onions.
Dried chillies
One of the best parts of this dish are the bites of chillies. I've used facing heaven chillies which are small, bulbous, mild chillies. They have a slight citrusy note to them and work brilliantly here.
It originates from the Sichuan province in China and is named as such due to the way the chillies face upwards as they grow.
The thick skin on these dried chillies enables them to have a good bite. Along with the combination of the mild/medium heat it works well to not overpower the rest of the dish.
These are also purchased from my local East Asian supermarket and very easy to find as they are a commonly used chilli. One thing which I recommend is to remove the seeds from these before adding to the stir fry. You want as much of the citrusy note as possible and less of the heat.
Other chillies you can substitute these with are dried Kashmiri chillies or Sichuan long dried chillies. Sichuan long dried chillies are extremely hot and fiery, so make sure to reduce the number of chillies used.
Also it would still be worth de-seeding these to reduce the heat level.
Facing heaven chillies and Sichuan long dried chillies (left). Facing heaven chillies de-seeded and cut open (right).
Aubergine and garlic chive stir fry serving suggestions
The best way to enjoy this dish (in my humble opinion) is with a bowl of steamed jasmine rice. That's my personal go-to combination as they just work so well together.
It's simple but so incredibly flavourful. The rice soaks up the extra sauce from the aubergines is divine. Another amazing combination would be to pair it along with some rice noodles.
If you want to really wow some guests, serve it alongside my Lemongrass Fried Rice. So worth it.
This even works really well as a side dish on its own. It's a bowl of comfort and flavour and the melt in the mouth aubergine is just the best texture.
How to make this aubergine and garlic chive stir fry
1) Slice the aubergine into wedges around 2 inches in length
2) Sauté the garlic and dried chillies on a medium low heat for around 1-2 minutes
3) Add the aubergines and toss, cook uncovered for around 2 minutes
4) Add a splash of water (around 4tbsp) and cover the pan with a lid. Allow to cook on medium heat until the aubergines are 3/4 of the way cooked through. Check the pan every so often to ensure the aubergines aren't catching. Add a splash of water if required
5) Once the aubergines are 3/4 of the way cooked through, uncover the pan
6) Add the mushroom sauce and light soy sauce and toss to combine
7) Add more water (around 5tbsp) – this will help to form the sauce
8) Add the garlic chives and toss to combine
9) Continue to cook until the garlic chives have started to wilt and the aubergine is fully cooked through. Turn the heat off and add a the toasted sesame oil. It will instantly smell fragrant and nutty
Aubergine and Garlic Chive Stir Fry
Ingredients
4

Japanese aubergines

or 2 globe aubergines – cut into 2 inch wedges

10

dried facing heaven chillies

de-seeded and sliced in half. Or use any dried chilli of choice

6

cloves

garlic

minced

3

tbsp

mushroom sauce

9-10

tbsp

water

1

tbsp

light soy sauce

2

tsp

toasted sesame oil

Large handful of garlic chives

sliced into strips, or spring onion greens

4

tbsp

neutral oil

e.g. sunflower/vegetable/peanut or rapeseed
Instructions
Sauté the garlic and dried chillies in oil in a wide frying pan on a medium-low heat for around 1-2 minutes. Ensure to stir continuously to prevent burning of the garlic

Add the aubergines and toss, cook uncovered for around 2 minutes

Add a splash of water (around 4tbsp) and cover the pan with a lid. Allow to cook on medium heat until the aubergines are 3/4 of the way cooked through. Check the pan every so often to ensure the aubergines aren't catching. Add a splash of water if required

Once the aubergines are 3/4 of the way cooked through, uncover the pan

Add the mushroom sauce and light soy sauce and toss to combine

Add the garlic chives and a touch more water (around 4-5tbsp) and mix. This will now start to form a sauce

Continue to cook just until the sauce has thickened and the garlic chives have begun to wilt slightly. The aubergine should also be fully cooked through now

Finish with toasted sesame oil and enjoy