Learn how to make perfect homemade burger buns from scratch. These are soft and delicious just like the ones from your favourite burger spots.
Ah burger buns…the bun of all buns.
I truly believe that a good bun is essential to compliment a good burger. I'd say it's just as important as the burger itself. Someone asked me recently if I had a good recipe or any tips for a classic burger bun, well indeed I do.
And dare I say this may be one of the best burger buns around. If you're looking for an easy and light homemade burger bun recipe, then you're definitely in the right place.
I've been baking bread, pizzas, rolls, buns and all sorts for a number of years so I'd like to think I know my way around a good recipe. These buns are light and soft, whilst having a good amount of structure so they can hold their shape.
The dough is also lightly enriched in order to elevate its flavour and texture. I developed this recipe several years ago and haven't looked back, it's been my go-to burger bun ever since. I usually make a huge batch of these and keep some frozen for emergencies.
It's perfect to have on hand any time of the year but especially around the summer time when it's peak barbecue and grilling season. Get these buns toasting on the grill along with your favourite burger and you'll be on to a winner!
What's so special about these homemade burger buns?
Firstly, they're homemade! Homemade burger buns are easier to make than most people realise, and the difference between homemade and shop-bought buns are huge.
These buns mimic potato rolls in terms of their texture due to the addition of starch via the tangzhong method (which I'll explain later). This provides the buns with additional softness, tenderness and provides heaps of structure. This means you can load up your burgers and hold them as tightly as you like, and the buns won't collapse.
My biggest pet peeve with burger buns are when the buns just give way and turn into mush the minute you try and hold them. You can squash these buns as much as you like and they will still hold their shape – just like potato rolls do.
I'd argue that potato rolls are one of the best things to use for burgers and I will share a recipe for those in the future – but these burger buns mimic the texture exactly and are my go-to recipe every time.
I'll say it again, these are hands-down the best burger buns you will ever make.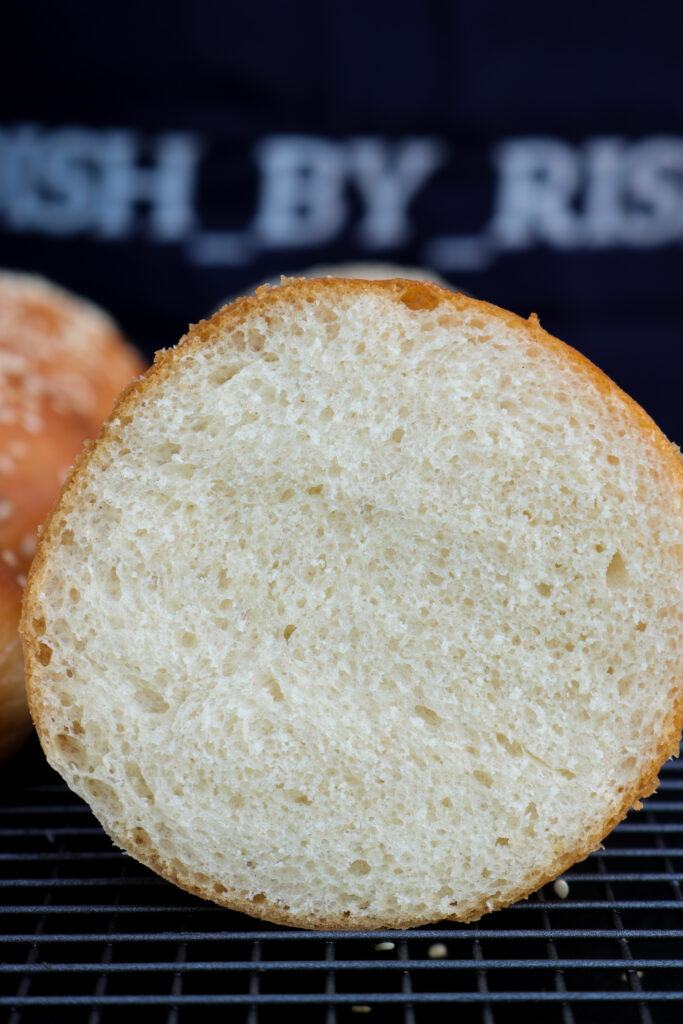 What's tangzhong?
Tangzhong is a bread-making method which originated in China and shares similarities to the Japanese yudane method. Both are techniques which are used to gelatinise some of the starch in the flour.
This is done before it gets added into the dough. Both yudane and tangzhong provide very similar results here but I've found tangzhong to be more convenient.
In tangzhong this is carried out by cooking a portion of the flour with liquid (normally water or milk). This process only takes around 1-2 minutes as the flour and liquid slurry thickens quite rapidly. During this time, the heat is causing the starch in the flour to absorb the liquid and swell up.
The mixture will then become gelatinous in texture as it goes through this irreversible process. I allow the tangzhong to then cool to room temperature before adding into the dough. The entire process will be covered in the recipe steps below.
The tangzhong technique will do several things for your homemade burger buns:
It will add structure
Allow the flour in the dough to absorb more water, making it less sticky and easier to work with
Tenderise the final texture, providing a soft, moist result
It will create more 'oven-spring', in other words more rise as the dough traps more water. This creates more steam during baking
It will increase the shelf-life as the baked good will retain more moisture
Tangzhong increases shelf life
These buns have lasted for up to 10 days refrigerated. Even at 10 days they hadn't shown any sign of drying out or going rancid. Without adding in the tangzhong, the buns tend to start drying out around day 3.
This is the only way I make homemade burger buns and the results are consistent and incredible every time.
How to make these homemade burger buns
Making the tangzhong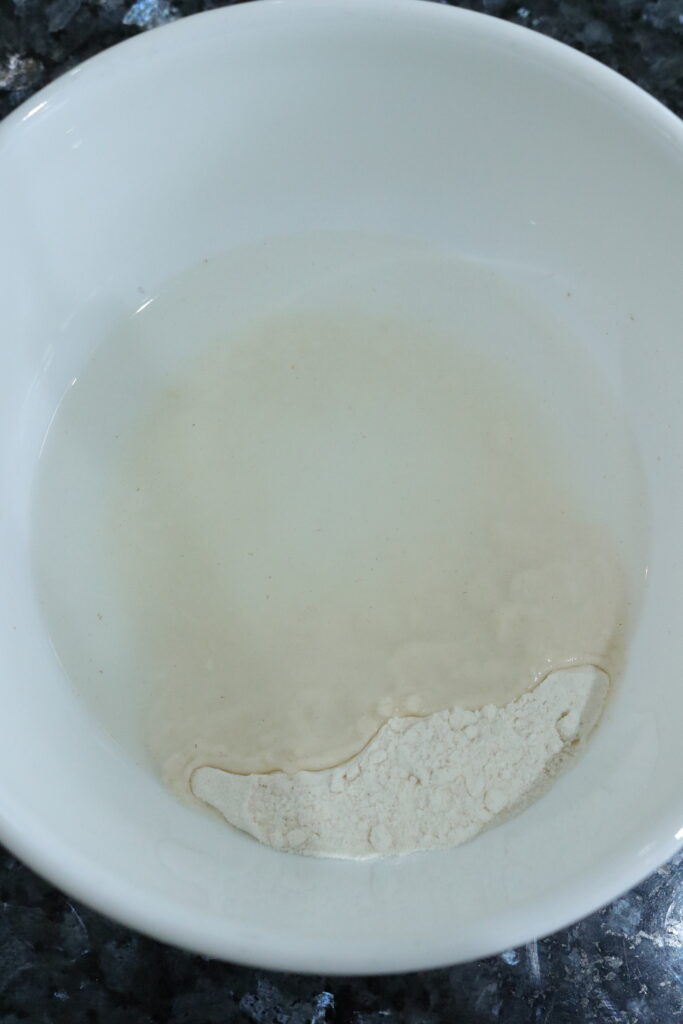 1+2) Whisk together your bread flour and water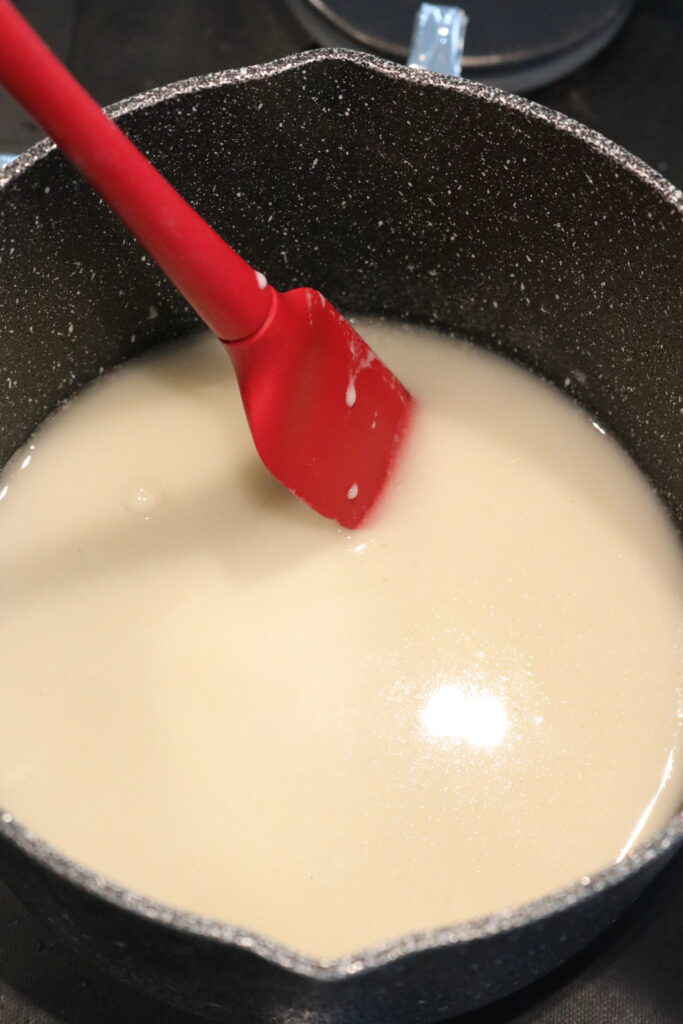 3+4) Transfer to a saucepan and place on medium heat. Continuously mix as it thickens (will take 1-2 minutes)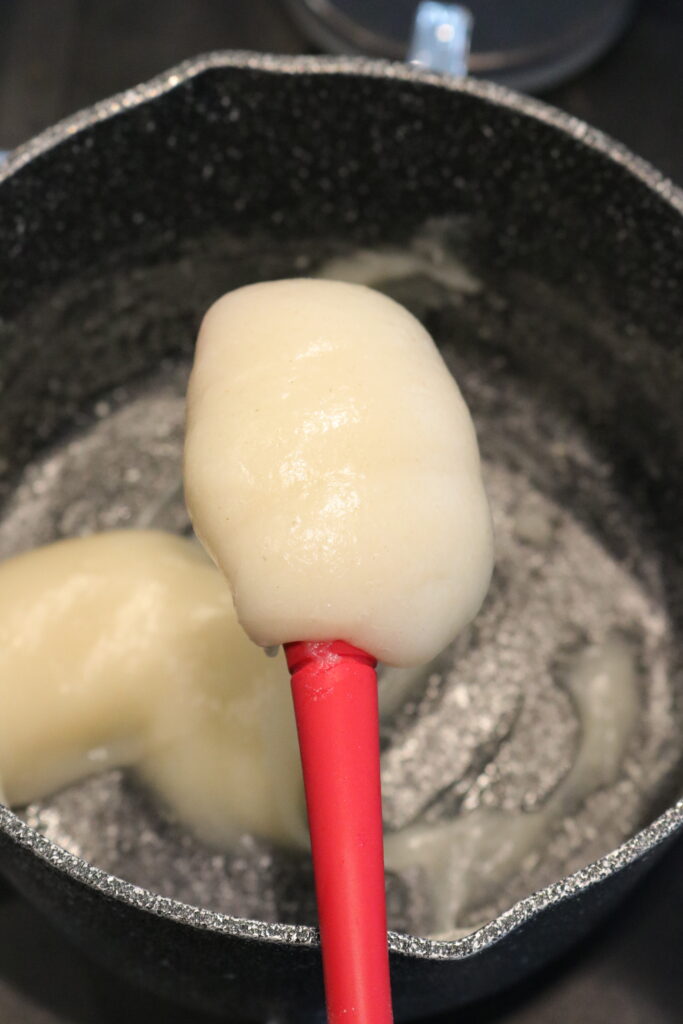 5) When it reaches this stage, transfer to a bowl and allow to cool completely
Making the burger bun dough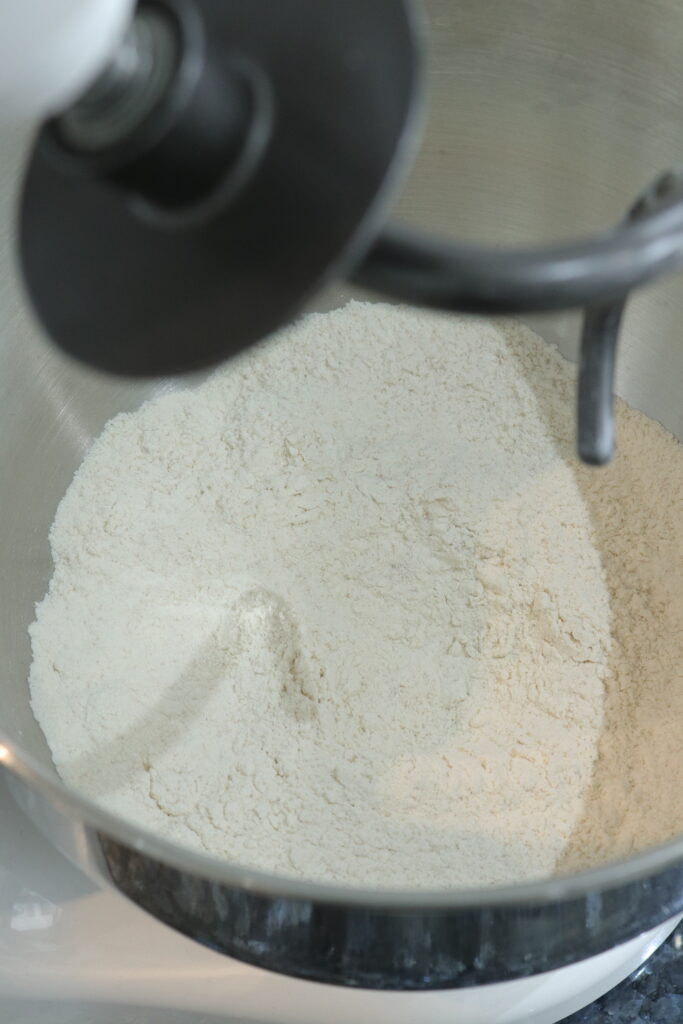 1+2) Mix together the flour, sugar, salt, and yeast. Then add the milk and cooled tangzhong. Start to mix on low speed until incorporated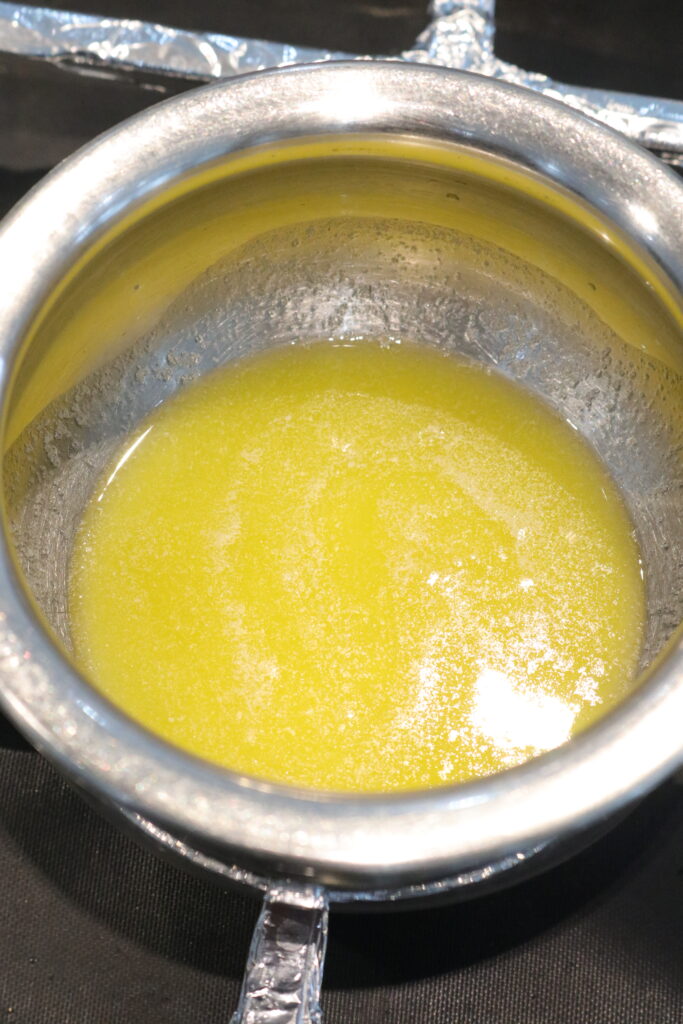 3) Melt the butter and keep aside to cool slightly
4) Once the mix is incorporated and appears as a 'shaggy dough', mix on medium speed for a further several minutes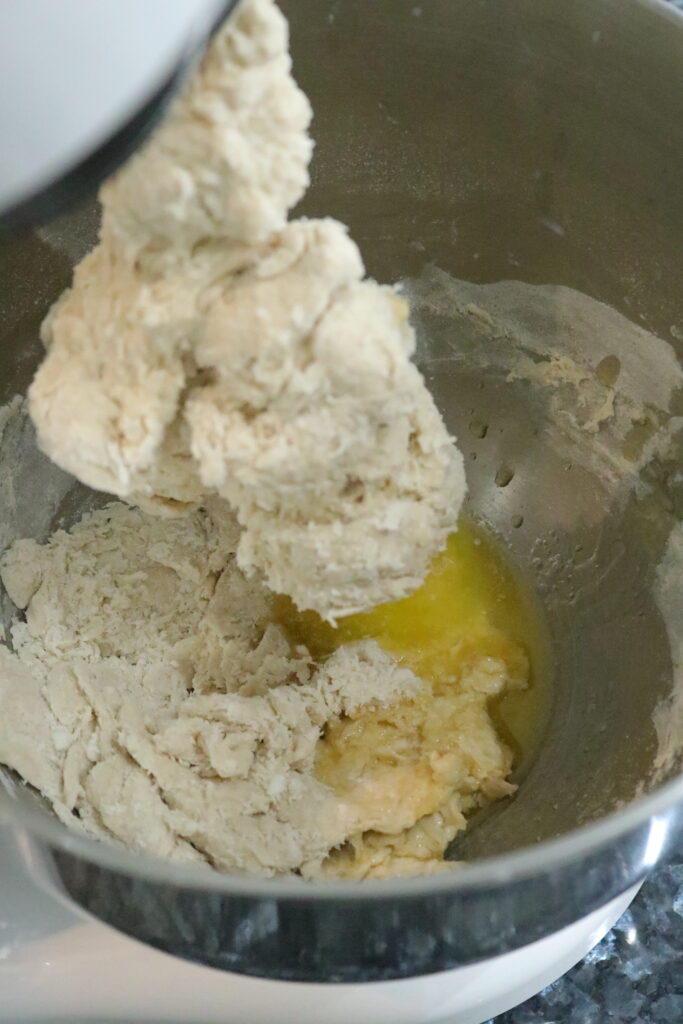 5+6) Add in the melted butter. The dough will still appear dry at this stage. Mix on low speed until all the oil has been incorporated (2-3 mins)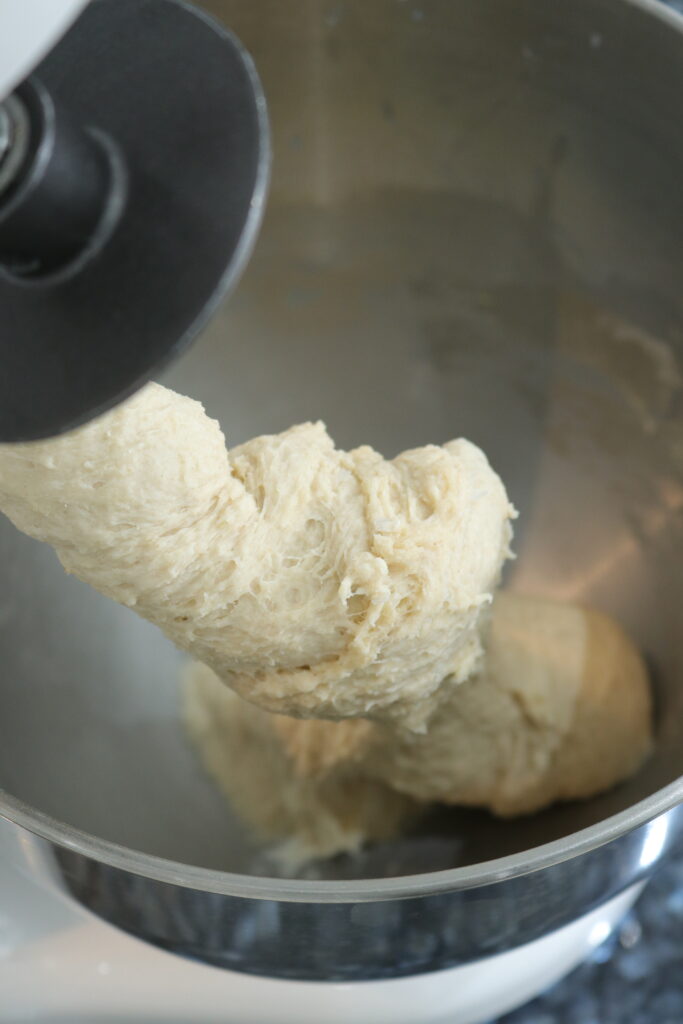 7) Once it resembles 7, place it on medium speed for a further 2-3 minutes until it looks like 8)
8) Now place it on high speed for a further 2-3 minutes
9) The dough will clean the bowl and now it's ready for shaping
10) Transfer the dough to a clean surface
11) Start to fold the dough in on itself to develop structure
12) Seam-side down, drag the dough against a clean counter to tighten up the doughball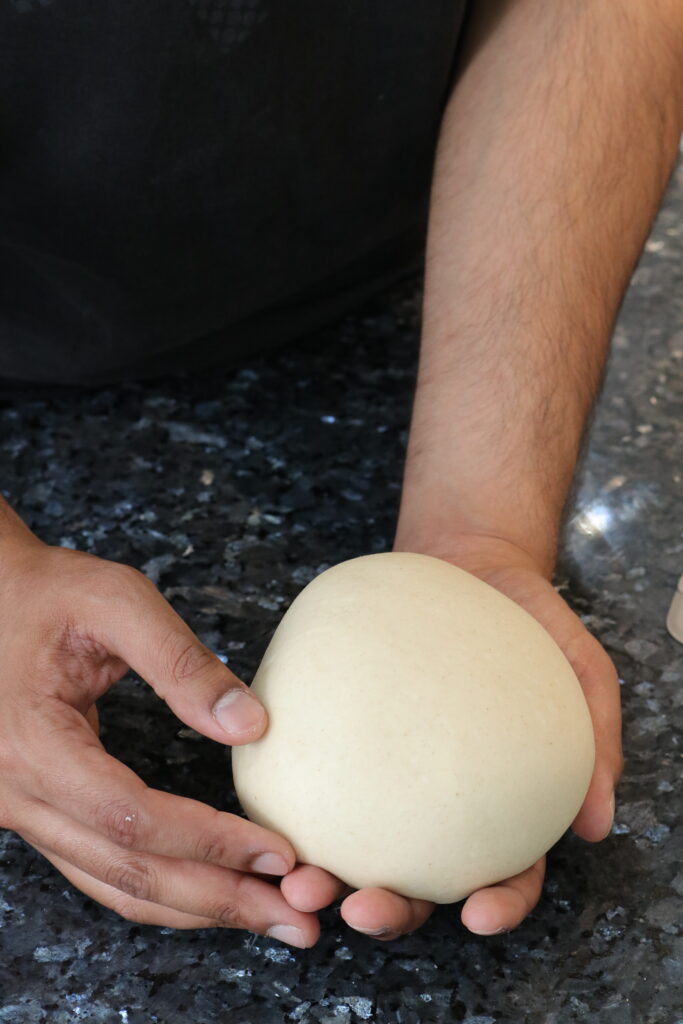 13+14) With the dough complete, transfer to a container/bowl and cover with a damp towel/lid/cling film. Place in a warm space until doubled in size, or refrigerate for 24-48hours
Shaping the buns and baking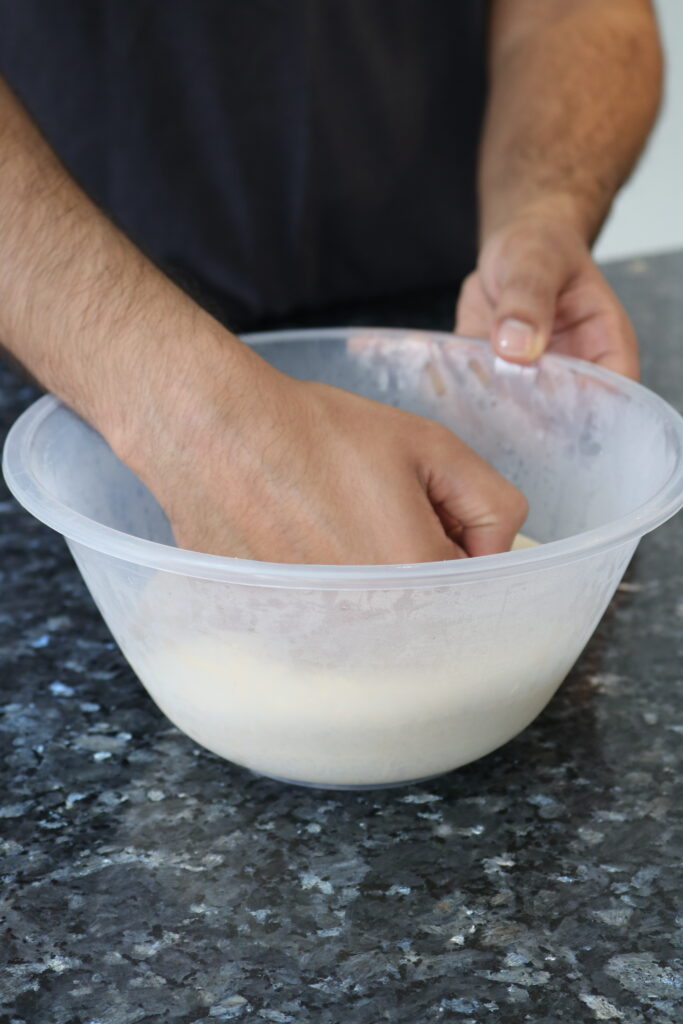 1+2) Punch the dough down after it has risen, and transfer to a floured surface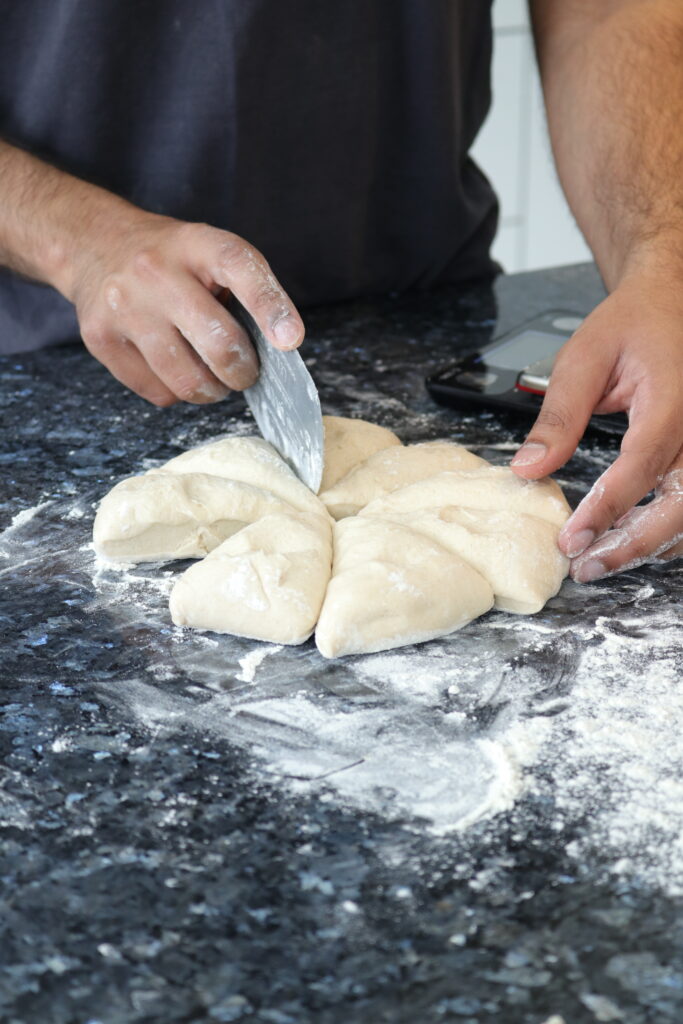 3) Portion into 8
4) With each piece, grab each corner and fold into the centre, keep doing this 5-8 times to develop structure and shape
5) You will feel the dough piece tighten up considerably
6) Flip over with the seam-side now facing down and roll against a clean counter to form a ball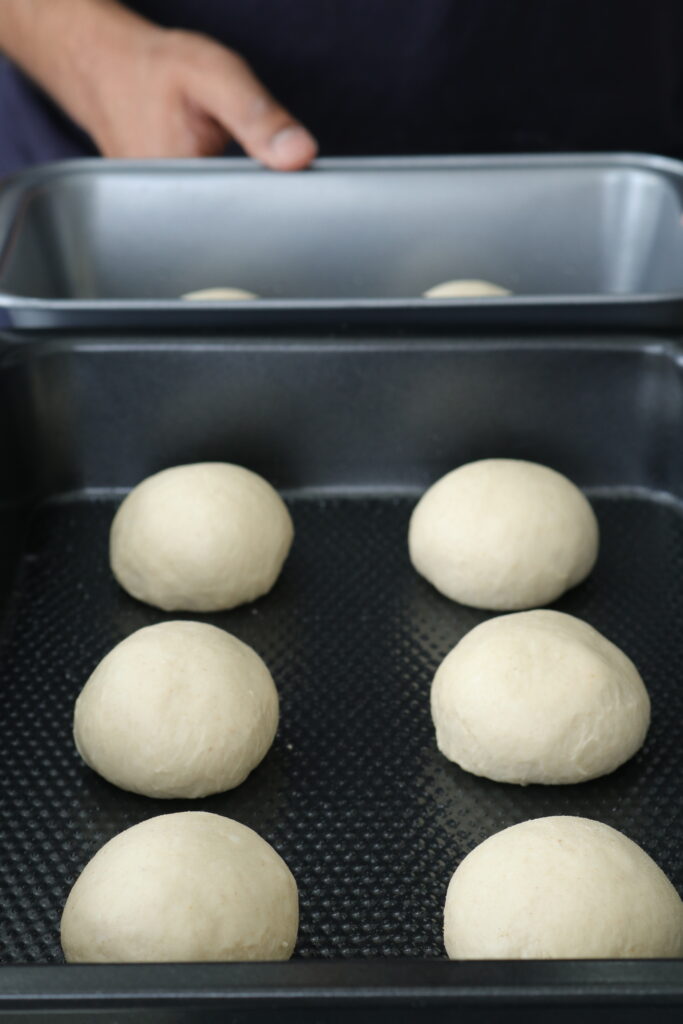 7) Transfer to a lightly oiled tray, each doughball spaced out by around 2.5″. Cover with a lid/clingfilm or a damp towel and leave to rise until around 1.5x in size (around 45 mins if room temperature dough, around 1.5 hrs if from the fridge). Preheat your oven 1hr before baking
8) Form your glaze right before baking with mayonnaise, milk, and butter. Microwave briefly for 5-10 seconds and mix to form a smooth paste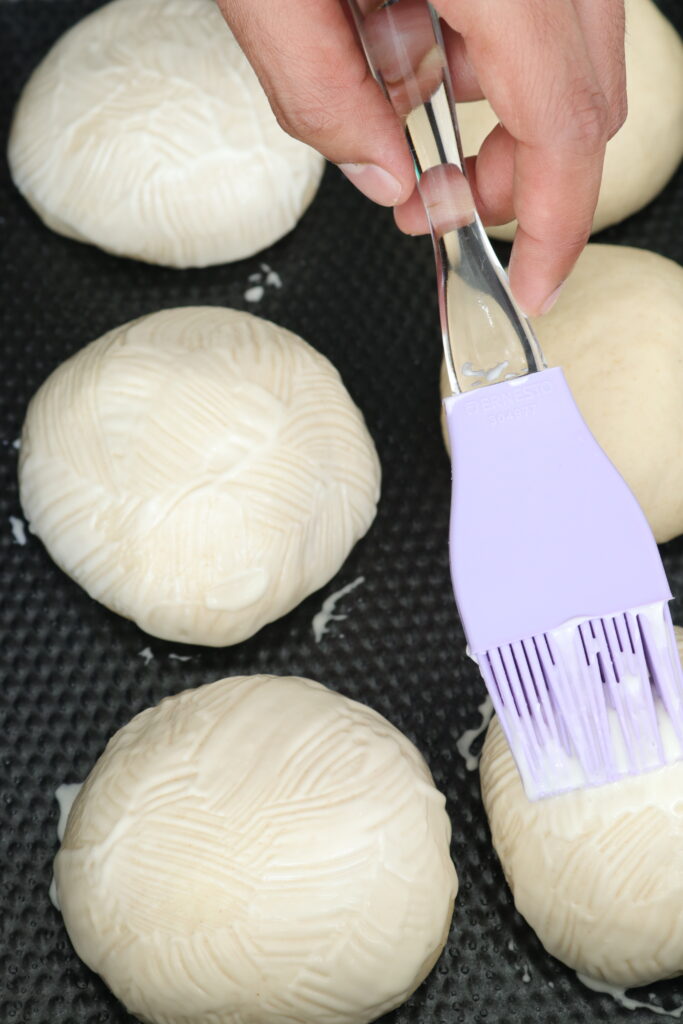 10+11) Brush each bun with the glaze and top with white sesame seeds (optional). Then bake until golden
Question and Answers
Do I have to use the tangzhong method?
Yes, the texture and overall result will be completely different without the tangzhong and no where near as good as these. They also won't last as long and will be much drier.
Can I make the dough by hand rather than with a machine?
Yes although I do find the machine to lend superior results as it allows for more gluten development. It's also much easier to incorporate the fat with a machine, and far less messy.
But by all means you can still make these by hand.
Can I use plain flour/all purpose flour instead of bread flour?
Ideally not but I know bread flour isn't accessible everywhere. Bread flour would provide the most superior results due to the higher gluten content.
This higher gluten content allows for more rise and a firmer texture which is ideal for homemade burger buns.
How can I make these homemade burger buns vegan?
Absolutely, use a plant based milk of choice – oat or soya milk work well. Use a vegan butter instead of dairy butter, and vegan mayonnaise in the glaze.
Can I use oil instead of melted butter?
You can do, but the buns will take on the flavour of the oil you use. Even with a light olive oil you will still get the olive flavour in the final buns. With oil it's not as rich in comparison to butter, but the buns lack the traditional 'burger bun' flavour in my opinion.
For me it's butter all the way.
Would these homemade burger buns work with gluten free flour?
Gluten free bread making is a whole other ball game which I don't have any expertise in. Yeast relies on gluten in order to form pockets of air, and hence without gluten the yeast won't quite work in the same way.
Hence for that reason I'm inclined to say no.
Sesame or no sesame?
For me – always sesame if it's for a burger bun. But this is entirely up to your personal preference.
The top of my buns cracked during baking, why did this happen?
This happens when the buns aren't sealed properly as they prove. You need a lid/cling film or a damp towel covering the doughballs as they prove. Without this the surface of the doughballs will dry out and form a crust.
This will crack during baking and won't give you that polished glossy finish.
What's the glaze for?
For a glossy finish, for browning, for helping the sesame seeds to stick, and for a little bit of flavour.
If you're looking for the perfect burger to go with these buns, tap on the image below to see my spicy black bean burger recipe!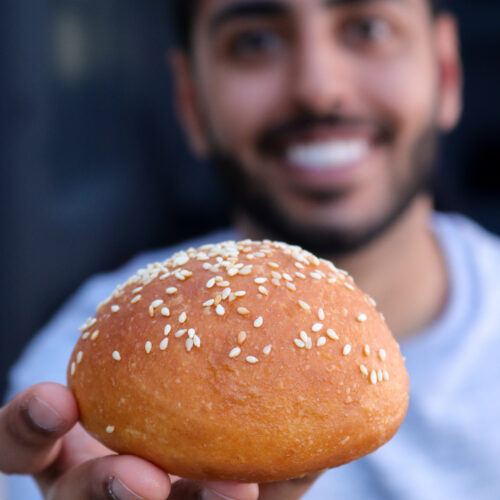 Homemade Burger Buns
Ingredients
Tangzhong:
20

g

white bread flour

100

ml

water
Bun dough:
300

g

white bread flour

20

g

white granulated sugar

6

g

salt

5

g

instant dry yeast

or 7g of active dry yeast*, or 10g fresh yeast* (see notes)

125

ml

whole milk

30

g

butter

melted but allow to cool slightly
Glaze:
2

tbsps

mayonnaise

or vegan mayonnaise

2

tsp

whole milk

1

tsp

butter

White sesame seeds

optional
Instructions
Tangzhong:
Whisk together the flour and water until combined

Transfer to a saucepan and place on medium heat. Keep stirring as it thickens (1-2mins) until it forms an almost thick gel-like substance. Transfer this back to the bowl and allow to cool completely
Bun dough:
Mix together the flour, sugar, salt, and yeast

Add in the milk and cooled tangzhong mixture and mix on a low speed until it forms a 'shaggy dough' (2-3 mins)

Then add in the melted butter and continue to mix on low speed for a further 2-3 mins until it has been incorporated

Now place the mixer on medium speed and continue to mix for a further 2-3 mins

Finally place the mixer on high speed and mix once again for 2-3 mins. The dough should be quite smooth at this stage and will have cleaned the bowl during mixing

Transfer the dough to a clean counter and shape into a doughball by folding the dough in on itself and dragging it seam-side down against the counter. This will develop tension

Place the dough into a container or bowl and cover with clingfilm/lid. Allow to prove for 1-2 hours or until doubled in size. Alternatively refrigerate and cold prove for 24-48hrs for best results
Second prove:
After the dough has risen, punch down to de-gas and transfer to a lightly floured surface

Cut into 8 pieces, these will weigh around 72-75g each

Shape each piece into a smooth doughball

Transfer these doughballs to a baking tray, allowing for 2.5″ of space between each one

Cover with clingfilm or a damp towel and allow to prove until they have increased around 1.5x in size. This will take ~45mins for dough that was risen at room temperature, and around 1.5hrs for cold risen dough
Glaze:
Mix together the mayonnaise, butter and milk. Microwave for 5-10 seconds and then mix until it forms a creamy paste

Brush on top of the buns and top with sesame seeds
Baking – preheat oven 1hr before:
Bake in a preheated oven at 180'C (fan) or 200'C (conventional) for 18-20mins or until golden brown on top

Transfer to a wire rack to cool completely
Notes
*For active dry yeast and fresh yeast, these will require activating. Heat together the sugar and milk until lukewarm, then add the yeast to this mix and allow to froth and bloom for 5-10mins. Add this yeast mix directly to the flour. Instant dry yeast does not require activating and hence I was able to add it directly to the flour.