These Szechuan paneer spring rolls are stuffed with vermicelli, paneer, and vegetables. All seasoned with chilli oil and ground Szechuan peppercorns.
I genuinely don't think you've ever had a good spring roll until you've made one yourself. Homemade spring rolls are far superior to anything shop bought. They're so versatile and you can truly fill them with absolutely anything you desire. All of that flavourful filling is then encased within a thin pastry and fried till perfectly golden.
We've all had a spring roll before, and we're pretty familiar with the normal vegetable rolls that are sold in the supermarkets or from local Chinese take-outs. They're all reasonably similar in terms of their filling and seasoning. It's quite rare to find a spring roll that particularly stands out and is memorable.
These Szechuan paneer spring rolls are totally different. They're definitely up there with some of the best rolls that I've ever had or made. The crisp shell is filled with crumbled paneer, vermicelli noodles, sliced cabbage and carrots. All of this is then seasoned with aromatics along with a handful of sauces to give you a spring roll packing with flavour and texture.
What you'll need to make these Szechuan paneer spring rolls
You'll just need a handful of ingredients but each is crucial for getting the right flavour:
Garlic
Ginger
Carrot
Green cabbage
Paneer – an Indian cottage cheese that can be purchased in supermarkets or made at home (plenty of recipes online)
Vermicelli noodles – long, thin noodles made from rice flour, also available in most supermarkets
Dark soy sauce
Light soy sauce – we're using both dark and light soy sauce for colour and seasoning
Rice vinegar – a little bit of acidity to balance out the heat
Chilli sauce – use your favourite one. Use sriracha or gochujang, or a Szechuan sauce of your choice
Ground Szechuan peppercorns – crucial for that traditional Szechuan flavour. I'll cover these in the next section
Chinese 5 spice – another dry seasoning that is crucial for flavour. I'll cover this later in the blogpost too
Sugar
Salt
Chilli oil – optional but adds a good amount of heat. I use my own homemade chilli oil but you can use any of your preference. This can be purchased from your local East Asian supermarket
Szechuan paneer spring rolls: The pastry
The pastry itself is an essential part of the Szechuan paneer spring rolls and it does make a huge difference to use the right one. I always use these 'Tyj Spring Roll' pastry sheets which I find in my local supermarket. It's normally stored in the freezer aisle. You can also use filo pastry sheets if you struggle to find specific spring roll sheets.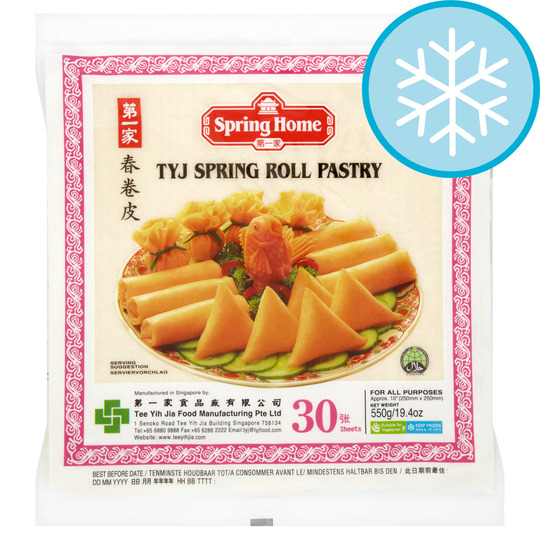 The main thing to be aware of when using spring roll pastry or filo is that it can dry out very easily. Firstly let the pastry thaw out in the fridge if you purchased the frozen one like myself. Then leave the pastry wrapped in a lightly damp towel to prevent them from drying out and work with a few sheets at a time. If the sheets start to dry out they will crack when rolling and you won't get a smooth finish on the spring rolls, you may even struggle to roll these out completely.
Szechuan peppercorns
Szechuan peppercorns originate from China, more specifically the Szechuan province in Northern China (also spelt as Sichuan). The spice itself comes from the Szechuan pepper, also known as Chinese prickly ash and is well known for it's tongue numbing sensation. These peppercorns can be found in your local East Asian supermarket or purchased online. They are a red/brown colour and often sold as whole peppercorns. I purchase mine whole and I grind half the batch into a fine powder for seasoning. I keep the other half as whole peppercorns which are great for seasoning oils or chilli oil.
The peppercorns provide a tongue numbing, spicy pepperiness that's quite crucial for the right flavour. However if you haven't got any Szechuan peppercorns, I'd recommend substituting it for white pepper instead. White pepper won't provide the tongue numbing sensation or the same flavour. However it will have a mild pepperiness that won't overpower the other seasonings. Black pepper will be far too strong so it's best to try and avoid that here.
Chinese 5 spice
5 spice is a Chinese spice mix that's available in some large supermarkets and in most East Asian specialty supermarkets. It's a mix of ground spices consisting of star anise, fennel, cloves, cinnamon and pepper (traditionally Szechuan or white pepper). The star anise is the prominent flavour but it's a very warming spice mix that adds a ton of depth and flavour to the filling. Some variations of 5 spice do exist which contain mandarin peel or sand ginger, either one of these mixes will be fine.
I purchase my 5 spice from my local East Asian supermarket but it's routinely sold in the spices and seasoning aisles in regular supermarkets. If you can't find this spice mix it will make quite a noticeable difference to the flavour of the filling, but the Szechuan paneer spring rolls will still work perfectly fine without it.
Szechuan paneer spring roll steps
Making the filling:
1) Finely mince the garlic and ginger
2) Julienne or finely slice the carrots and green cabbage
3) Grate the paneer and break the noodles into smaller pieces
4) Soak the noodles in cold water for ~5mins until softened
5) Start to sauté the garlic and ginger
6) Add in the carrots and cabbage and continue to sauté
7) Add the paneer and noodles and continue to mix
8) Add in the seasonings and sauces (soy sauces, chilli sauce, rice vinegar, 5 spice and ground Szechuan peppercorns, sugar and salt). Also add in the water and the chilli oil (if using)
9) Continue to mix the filling until dry, then allow to cool completely. Add in the spring onions once the mixture has cooled completely
Rolling the spring rolls:
1) Place your pastry sheet with one of the corners facing you
2) Place a good amount of filling in the corner that faces you, leaving around an inch gap from the corner itself
3) Fold the corner over the filling
4) Roll over the pastry once to seal the filling inside
5) This is how it should look after the first roll
6) Now seal one end adjacent to the filling with your finger and fold that corner into the centre, as shown in 7)
7+8) Now repeat with the other side
9) Start rolling over the spring roll until it approaches the last corner
10) Using a paste made from plain flour and water, brush this on to the final corner and roll to seal the spring roll
11) Completely sealed and no exposed filling. Fry these till golden!
Szechuan paneer spring rolls troubleshooting
Can I make these vegan?
Absolutely, substitute the paneer for extra firm tofu and you're good to go. These are delicious with tofu!
Where do I find Szechuan peppercorns? Can I leave them out?
You'll find them in your local East Asian supermarkets. I then grind them in a dry grinder or pestle and mortar.
If you really can't find them then omit them, they won't be Szechuan flavoured but will still be delicious. Try and find a Szechuan chilli sauce to add in for your chilli sauce.
Can I use filo pastry?
Yes, it's not exactly the same but it's pretty close.
What can I serve these with?
Because the filling itself still retains some moisture, you can actually serve these alone. I prefer these alone as they're so flavourful. When I serve these with a sauce, I try to make sure it's something that won't overpower the flavour of the spring rolls themselves.
My recommendation would be to serve these with a simple chilli oil or a Szechuan chilli sauce of choice.
Can I bake or air fry these Szechuan paneer spring rolls?
Yes you certainly can. I'll show you an image below comparing the results of fried, air fried and baked.
Fried led to the most golden result with that traditional spring roll finish. Air fried was not too far off, but the pastry became slightly drier due to the longer cooking time. Baking was the driest of them all and didn't develop much colour.
Having said that, I'd happily air fry these as the results were not too far off from fried. The instructions for air frying and baking will be in the notes section of the recipe.
Szechuan Paneer Spring Rolls
Ingredients
4

cloves

garlic

minced

1

inch

piece of ginger

minced

75

g

carrot

julienned or grated

75

g

green cabbage

julienned or grated

2

spring onion greens

finely sliced

250

g

paneer

grated

75

g

vermicelli noodles

soaked in cold water for 5 mins to soften

1

tsp

dark soy sauce

1

tbsp

light soy sauce

1

tbsp

rice vinegar

or lemon juice

3

tbsp

water

1

tbsp

chilli sauce of choice

2

tsp

ground Szechuan peppercorns

1

tsp

Chinese 5 spice

1

tsp

sugar

1/2

tsp

salt

2

tsp

chilli oil

optional

16

sheets of spring roll pastry

Oil for frying
Instructions
Making the filling:
First sauté the minced garlic and ginger until fragrant

Add the carrots and cabbage and continue to sauté until they begin to soften

Then add the paneer and softened noodles and cook for a further 2 minutes

Then add both soy sauces, rice vinegar, water, chilli sauce, Szechuan peppercorns, 5 spice, sugar, salt and chilli oil if using. Continue to mix and cook until all the sauces have been incorporated and the filling becomes drier

Add in the spring onion greens, and then allow the mix to cool completely
Preparing the spring rolls:
To prepare your paste to seal the spring rolls, simply mix 1-2tbsp of plain flour with just enough water to form a thick but runny paste

Place 2 heaped tablespoons of filling in one corner of the pastry sheet, an inch away from the edge

Fold the corner of the pastry sheet over the filling and roll it over once

Seal the edges of the filling with your finger and pull each corner of the pastry sheet (left and right) to the centre

Roll the spring roll till it's near the final corner

Brush the paste over the remaining corner and continue to roll the spring roll until it's completely sealed

Deep fry the spring rolls, 3-4 at a time until golden. For air frying and baking methods, please see the recipe notes.
Notes
Air frying: brush each spring roll with oil and air fry for 10-11 minutes at 195'C
Baking: brush each spring roll with oil and bake for 20 minutes in a preheated oven at 180'C fan/200'C conventional