Try my homemade trofie in a creamy fennel sauce. The sauce is infused with garlic, shallots, nutmeg and a subtle hint of wholegrain mustard.
Pasta is hands down one of the best meals to make. It's quick, it's easy and it literally goes well with any sauce!
Name me one other item of food that goes well with ANY sauce… yup there's nothing.
We're big pasta fiends in my house and it's always the first answer when we're stuck deciding what to make for dinner. Everyone enjoys it and more importantly, everyone agrees on it.
Granted the majority of my pasta dishes end up using my arrabbiata recipe or my green sauce recipe – we still enjoy a little bit of luxury here and there.
This trofie in fennel sauce has to be one of my top pasta dishes to date. It's creamy, really well flavoured and well balanced. It's got garlic and shallots for flavour along with a hint of aniseed running through from the fennel.
The cream catches all the flavour and there's a subtle nuttiness and warmth with the nutmeg and black pepper. There's also a little dash of wholegrain mustard which completely cuts through the richness.
For all you couples out there, this is perfect for your date nights!
What is trofie?
Trofie is a short strand pasta shape that's made with a simple dough (I'll cover this later) and hand rolled. It's got little twists in it which are perfect for collecting up pesto and sauce.
This pasta originates from Linguria (north-west Italy) and the most traditional way of serving trofie is with pesto. Pesto Genovese originates from the same region!
I've gotten into making my own pasta over the last year and it's honestly been a huge learning curve. Traditionally a lot of pasta dough is made using flour and eggs, but in order to make it eggless I've had to play around with flours to achieve the same effect.
This applies more so to long strand pasta shapes (e.g. tagliatelle, fettuccine, pappardelle etc) as short strand shapes are easily made without eggs.
The dough for trofie is very simple, normally just water and 00 flour. I personally use fine semolina which is made by milling durum wheat. This provides a firmer trofie and a lovely subtle yellow hue.
Trofie in fennel sauce – making the trofie
I always start with a 2:1 ratio of fine semolina flour to warm water. I'll add additional spoonfuls of water at a time if required and I knead until the dough is smooth and not sticky.
The kneading takes around 10 minutes and the dough then gets covered and rested on the counter for 15mins.
This resting period relaxes the gluten in the semolina, but due to the lower gluten quantity it only requires a short rest.
I then take small portions out of the dough (make sure you leave the dough covered whist working to stop it from drying out!)
The technique for rolling trofie is to roll the small ball in your palm away from you to form a log.
Then roll it back towards you at a 45 degree angle using only the edge of your hand. There's a video on my Instagram page for any Insta users.
Don't stress if you don't get it spot on, it takes a ton of practice! You can always re-roll any failed ones but just keep trying and you'll get the hang of it for sure.
Toss your trofie in some more fine semolina flour and keep aside if using the same day. Alternatively place on a wire wrack to dry out for a minimum of 6-7 hours and transfer to an air tight container to store.
If you're boiling on the same day, the timing depends on the size of your trofie. But I found 8-9mins in boiling salted water to be perfect for al-dente trofie. By all means take one out and give it a try, after all that's a guaranteed way to find out!
Salt your water!
And when I say salted, your water must be salted – as salty as the sea allegedly. Under-salted pasta and overcooked pasta are two of my pet peeves!
Trofie in fennel sauce – the fennel
I've noticed some people are always hesitant with preparing fennel but it's honestly really simple.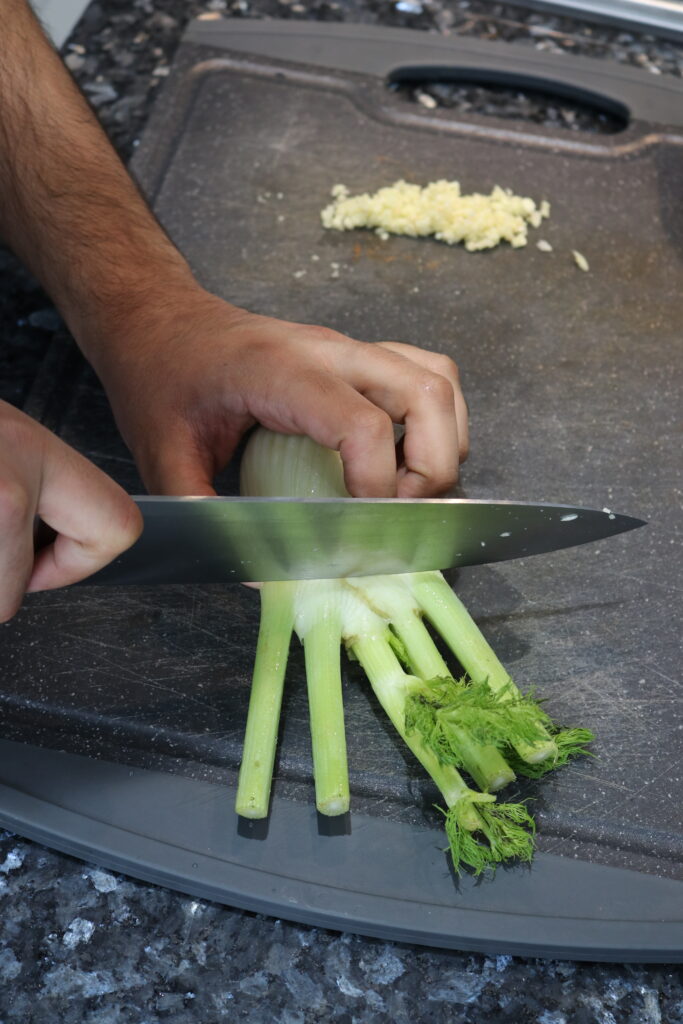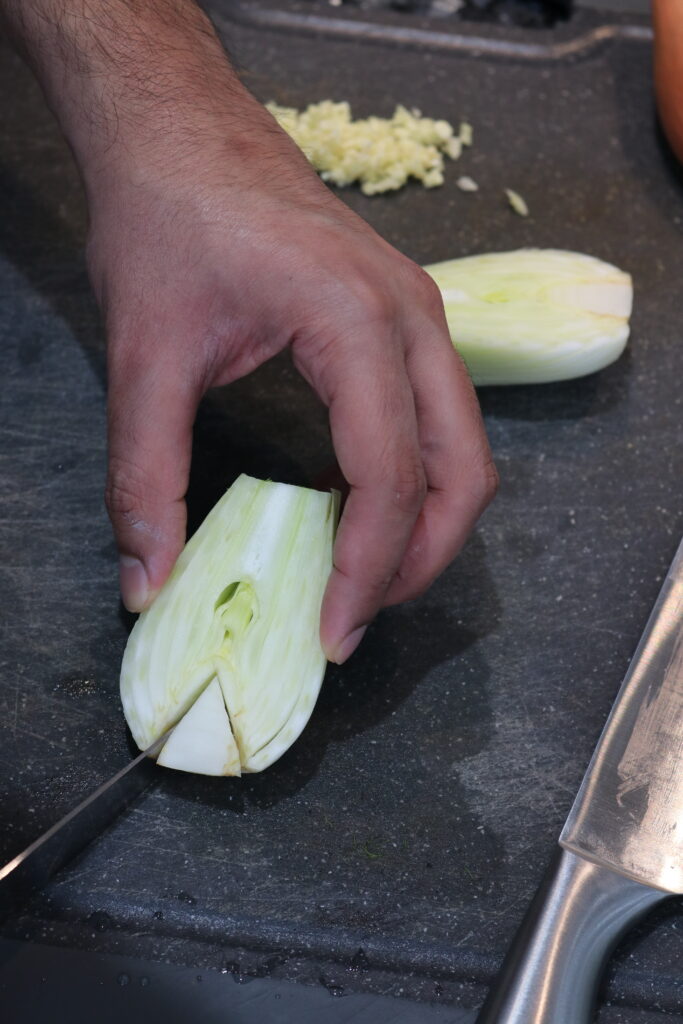 It's as easy as that and it doesn't take long at all. Full sauce recipe and method is listed below. I hope you all thoroughly enjoy this one as much as I did. We all need a little luxury and homemade pasta now and again!
Enjoy!
Trofie in a Fennel Sauce
Ingredients
1

tbsp

olive oil

1

fennel bulb

finely sliced

3

cloves

garlic

minced

1

shallot

finely sliced

200

ml

single cream

1/2

tsp

dijon mustard/wholegrain mustard

1

tsp

salt

Freshly cracked black pepper

1/4

tsp

ground nutmeg

~300g

trofie or pasta of choice

reserve some of the pasta cooking water

Pecorino/parmesan
Instructions
Sauté the minced garlic in olive oil on a medium low heat for around 1 minute or until lightly golden

Add the shallots and fennel and continue to sauté for a further 3-4 minutes or until both have softened

Reduce the heat to low and add the cream, salt, black pepper and nutmeg and simmer on low heat for 3-4 minutes to allow the flavours to mingle

Then add in the mustard and simmer for a further minute

Add in pasta and a splash of pasta water, mix to combine

Cover your pan and simmer for a further minute on low heat. This will allow the sauce to emulsify and coat the trofie/pasta

Garnish with grated pecorino/parmesan and a pinch of ground nutmeg
Notes
If serving along with sides, this can definitely be stretched to serve 3.