These halloumi and red pepper fritters are crispy, herby and full of fresh herbs. Drizzled with a vibrant roasted red pepper mayonnaise.
Halloumi and red pepper fritters are a top tier way of using your halloumi. They're crisp, herby and pretty dang easy.
If you're feeling like your pan fried halloumi needs a revamp then try these out. They're perfect served on their own or with some greens, and they work really well in sandwiches or rolls.
The mayo sauce compliments these really well and I would definitely advise pairing the two together. They also make a great lunch addition and they're epic as a side dish or an appetiser.
We love halloumi in our house. When I say we love, I mean we LOVE. This stuff is like cheese gold, but more accessible and way more affordable. During the warmer months we normally have the barbeque out ready to grill halloumi.
There's nothing quite like that charcoal infused, smoky and soft halloumi. But I knew I had to come up with a halloumi recipe that would be perfect for the rest of the year, and that led me to these fritters.
So what is halloumi?
Halloumi is a firm, white Cypriot cheese that's usually made from a mixture of goat's and sheep's milk. Sometimes you may also see it made from cow's milk.
Due to its high melting point it holds shape during cooking which allows it to be a perfect choice for grilling – similar to paneer.
Flavour wise it's salty and has a lovely freshness but overall it's quite neutral. You can often buy halloumi which has been coated in mint leaves. It is usually available in the cheese/dairy section of most supermarkets.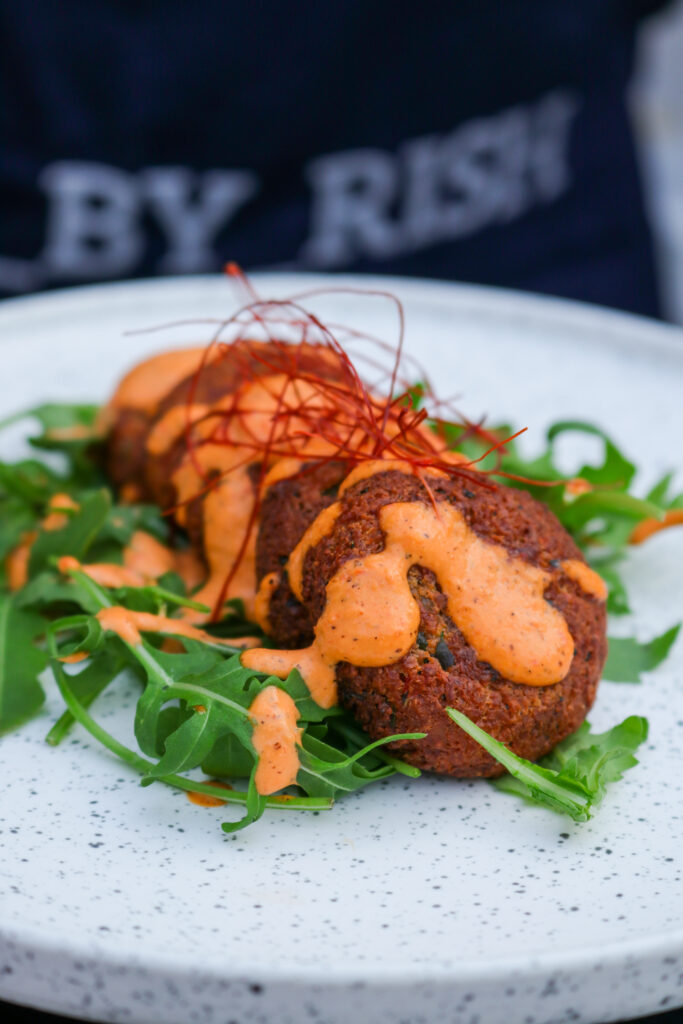 What you'll need for the halloumi and red pepper fritters
For the fritters:
Halloumi – which will be soaked in boiling water to soften and to reduce the saltiness
Red pepper – this will be roasted until softened. Half will be used for the fritters and the other half will be used for the sauce
Mint and parsley – both herbs will add flavour, freshness and pair really well with halloumi
Olive oil – additional flavour
Corn flour – to help bind these and crisp them up
Salt – to season
For the sauce:
Mayonnaise – for creaminess and flavour. Vegan mayo will also work for anyone who doesn't eat eggs
Roasted red pepper
Red chilli – for some heat
Garlic
Lemon juice
Salt
How else can I eat these?
Add them to your lunches, sandwiches or salads. You could even make larger fritters and use them as burgers. Just be sure to increase the cooking time if you do increase the size. The main way of knowing these are done is by the colour and crisp – it should form an even brown crust all over.
Halloumi and Red Pepper Fritters
Ingredients
Fritters:
225

g

halloumi

cut into 1cm cubes and soaked in boiling water for 10 mins, then patted dry

1

red pepper

roasted (half will be used for the fritters, half for the sauce)

Handful of mint

Handful of parsley

2

tsp

olive oil

1

tsp

salt

2

tbsp

corn flour
Sauce:
4

tbsp

mayo

vegan or regular

1/2

of the roasted red pepper

1

red chilli

1

clove

of garlic

1/2

tbsp

lemon juice

1/2

tsp

salt
Instructions
To roast your red pepper, slice lengthways, de-vein and de-seed, drizzle with olive oil and a pinch of salt. Place in an 180'C oven for 15-20 mins or until softened. Half will be used with the fritters and the other half with the sauce

Blitz your fritter ingredients together in a food processor, it will resemble a cous-cous like consistency but will hold together when shaped

Shape into fritters, I went on the smaller side with around 1.5tbsp of the mix for each

Either air fry at 190'C for 7-10 mins, flipping these over half way to ensure even cooking. OR bake at 190'C fan/210'C conventional oven for around 15-20 mins, flipping half way. (note: baking tends to cause these to flatten out slightly so keep your fritters thicker to compensate for this)

Blitz your mayo ingredients together in a food processor until smooth