This almond and apple pie is perfect for your festive table. Filled with a mixed apple and almond filling, encased in a buttery shortcrust pastry.
Apple pie has to be one of my favourite desserts that doesn't involve dark chocolate. I don't know what it is about soft, sweet, slightly tart apples that makes them so addictive. I remember as kids my mum rustling together apple pies and apple tarts for us to enjoy, I don't know how she made them but they were incredible. In all honesty, she doesn't remember either – but her apple tarts were the best.
I do love a classic apple pie, but I thought I would try something a little different by throwing in a little bit of almond. I used to feel pretty neutral towards almonds, but over the last year I've grown to enjoy it more and more. I've always been a fan of homemade shortcrust pastry, and that's one thing I think I can do with my eyes closed, it's so simple! I've got my shortcrust pastry recipe on my Instagram highlights.
What you'll need
Shortcrust pastry- either shop bought or make your own. I have a recipe on my Instagram highlights.
Apples – I use a mix of bramley and braeburn which has always been my go-to combination. This allows for sweetness and tartness. Braeburn are crisp, sweet apples that hold their shape throughout the baking. Hence you get chunks of apples that are soft but still have a gentle bite for texture. Whereas bramley are tart apples that cook down almost into a mush. However, bramley apples also contain a higher amount of pectin and this allows that mush to almost turn into an apple jelly when simmered along with sugar and water. That's why I always use a combination of these two apples.
Sugar – a mix of white and brown sugar which add sweetness as they start to caramelise when forming the sugar syrup. They also help the pectin to be released from the apples
Cinnamon, nutmeg and vanilla – because what's an apple pie without these?
Almond extract and almond butter – both will provide the almond flavour and the butter enhances the richness of the filling
Milk, syrup and butter – for an eggless 'egg-wash'
Sugar syrup
For the apple and almond pie, there is a cinnamon sugar syrup that's simmered first. This is done until the sugar is completely dissolved, there should be a strong smell of cinnamon and the mixture will start to froth and bubble up the pan.
Apple filling
Simmer the apples with the sugar syrup on a medium heat for 12-15 mins or until no liquid remains, the bramley apples will have fully softened and the braeburn will have just slightly softened.
Assembly
How to assemble your pie: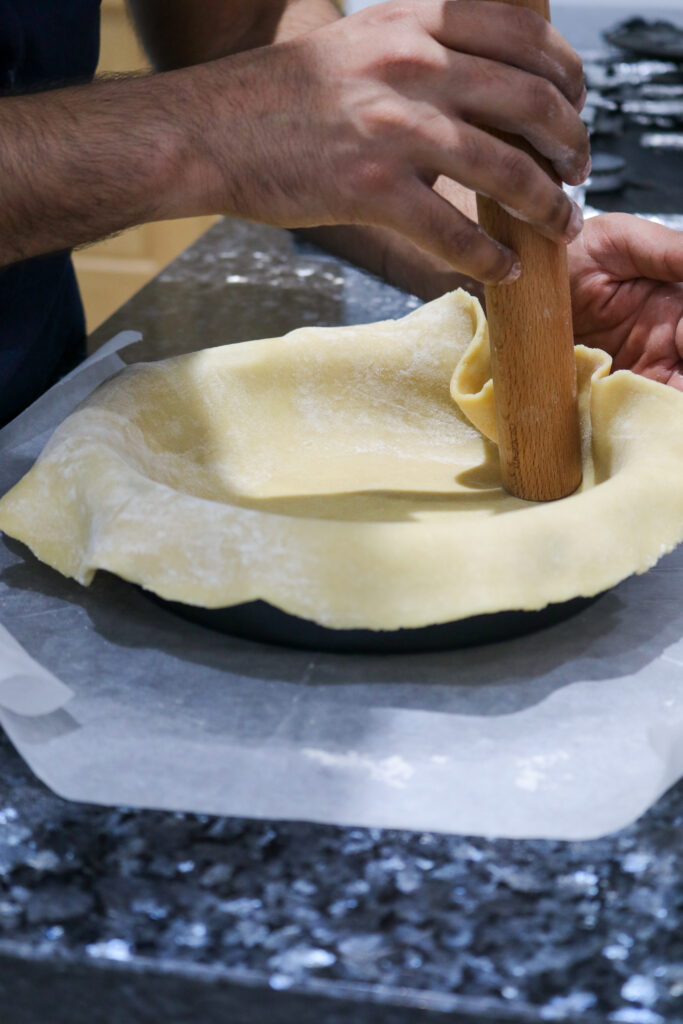 Add filling in at this stage, and then place another layer of pastry on top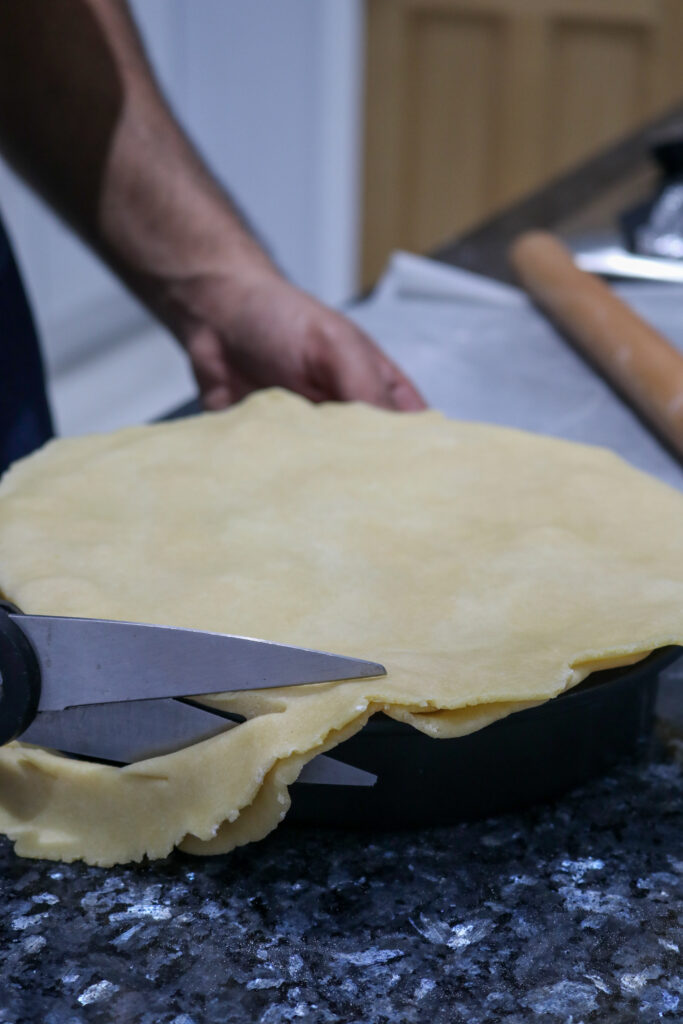 You then want to ensure you cut your steam vents, glaze with the 'eggwash' and an optional dusting of demerara sugar.
Serve with vanilla or salted caramel ice cream!
Almond and Apple Pie
Equipment
8″ round pie dish with a 2″ depth
Ingredients
Ingredients:
2

sheets shortcrust pastry

or see my Instagram highlights for my pastry recipe

2

large bramley apples

peeled, cored, and cubed

3

large braeburn apples

peeled, cored, and cubed

100

ml

water

90

g

white granulated sugar

35

g

dark brown sugar

1

cinnamon stick

1/2

tsp

ground cinnamon

1/4

tsp

ground nutmeg

1

tsp

each of vanilla and almond extract

1.5

tbsp

almond butter
Eggwash:
1/2

tbsp

milk

1

tsp

syrup

maple/golden/agave

1

tsp

butter
Instructions
Method:
Preheat oven to 220c fan with a pizza stone/oven tray placed on the lower 1/3rd rack

Simmer water, sugars, and cinnamon stick together on medium heat, until reduced by half, thickened, and foaming. This will form your sugar syrup ~5-7mins

Turn the heat off and pour into a wide based pan with your apples

Add cinnamon, nutmeg, vanilla, and almond extract

Place on medium heat for ~12 mins until no liquid remains. Bramley apples should be fully softened and the braeburn will have softened slightly

Turn the heat off, add your almond butter and mix to combine. Adding the butter whilst apples are hot will allow for a more even distribution. Cool completely, then refrigerate till cold

Fill pie base with the apples and place your top crust on top, cut any excess away and crimp to your desired style

Heat your eggwash ingredients together in the microwave for 10s, and mix to combine

Create a minimum of 4 slits on the top pastry for steam venting, brush make-shift eggwash and bake on the preheated tray for 10 mins at 220'C. Reduce temp to 170'C and continue baking for 40-45mins or until golden

Allow to cool for 30 mins before cutting into the pie
Treat yourself with a warm drink on the side, try my spiced nutty hot chocolate! (give the photo a tap)