This fiery Gochujang and Garlic aubergine/eggplant is a 30 minute recipe! It's great for spice lovers and perfect served with rice or noodles
I'm all for easy but delicious meals.
Especially during busy weeks or those evenings when you're just depleted and need something quick and tasty. It's great to have quick and easy recipes in your repertoire that you can pull out for those days.
This is one of the ones in my repertoire and is often made on repeat. This has been a regular lunch and dinner, I hope you guys enjoy it too!
Gochujang and Garlic Aubergine
Some call it aubergines whilst others call it eggplant. But we can all agree it's a wonderful thing and so versatile.
For this recipe we're air frying (you can also roast/pan fry) the aubergines until they're soft and literally melt in your mouth. We're then throwing them into this spicy gochujang and garlic sauce.
Now this sauce is not only incredibly easy to make, but it's also incredibly delicious too!
It's part of my '30 Minute Recipes' series!
It is indeed! And the FIRST ONE IN THE SERIES! It's a dish that I make so often, that I had to get this one out first.
This entire series will be full of recipes that can all be made in UNDER 30 MINUTES. They're perfect for busy days, or for those evenings when you just want something quick.
In fact, they're all recipes that I make for my own lunches and dinners. Though I'm always cooking for the blog, those recipes don't make up my lunches and dinners.
So I usually have to make something quick in-between recipe shoots. Or I'm totally shattered by the time it hits 7pm and I don't really feel like cooking after spending an entire day doing just that. That is when I need something quick and easy.
If this resonates with you, then I hope you find these set of recipes useful.
The Gochujang and Garlic sauce is what makes this recipe super addictive
This sauce only requires a very few handful of ingredients. Gochujang being the main one and the star of the show.
For anyone unfamiliar with gochujang, it is a spicy, fermented, Korean red pepper paste. It's made from red chillies, rice, fermented soya beans and salt.
I use the Chung Jung One brand of gochujang, which I'll link below.
And then we have garlic which is equally a big star (as it deserves to be). You end up with this spicy, garlicy sauce that coats the aubergines perfectly, with just enough extra sauce for some rice or noodles!
The aubergine/eggplant is air fried which makes this recipe even easier and even quicker
Air fryers have taken the world by storm, and understandably so. They are essentially just mini convection ovens but they are incredibly efficient and cook food far quicker than other means.
Air frying the aubergines/eggplants here takes them from raw to fully cooked in just under 15 minutes. I have NEVER been able to cook aubergines that quickly in my oven.
It's simply a case of chopping up the aubergines, tossing lightly in some oil, and placing straight into the air fryer. It's as simple as that.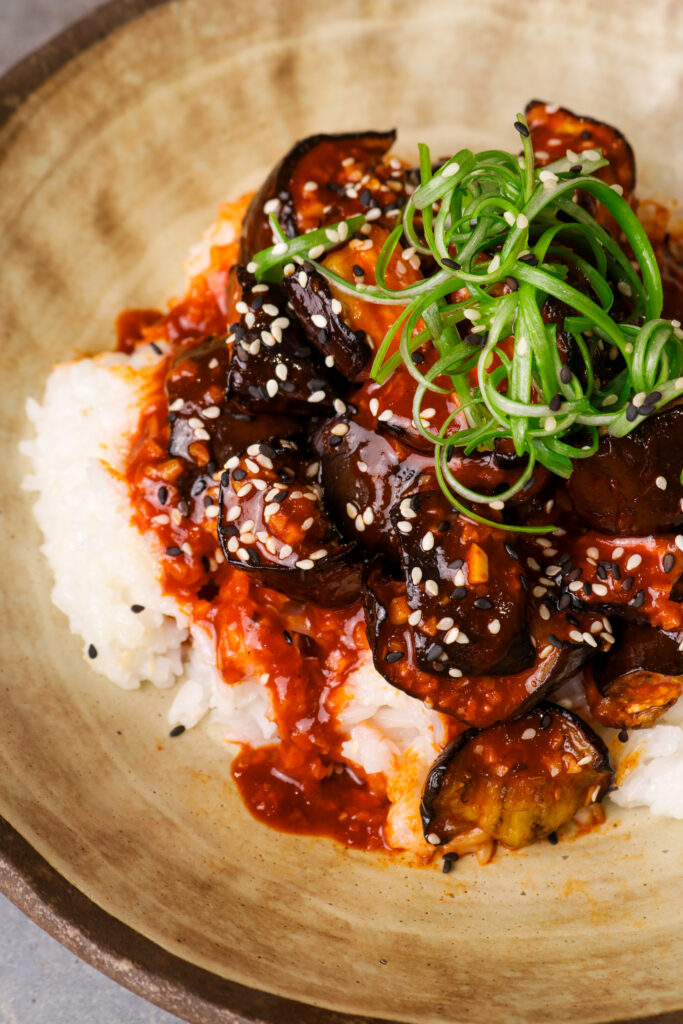 What if I don't have an air fryer?
You can alternatively roast these in the oven, or pan fry. But please keep in mind that roasting will take longer and this recipe may be a 'just over 30 minute' recipe.
My Gochujang and Garlic Aubergine serving suggestions
I'd personally recommend serving these over rice, and preferably jasmine rice. There is something about the texture and aroma of jasmine rice that works beautifully with Gochujang and Garlic Aubergines. I love it.
But alternatively any rice of choice would also work, so use whatever you keep on hand. You could also serve these over noodles, whether that be rice noodles, wheat noodles, glass noodles. It'll be great on just about everything.
This recipe does create a bit of extra sauce, so it's always nice to have something to enjoy it with.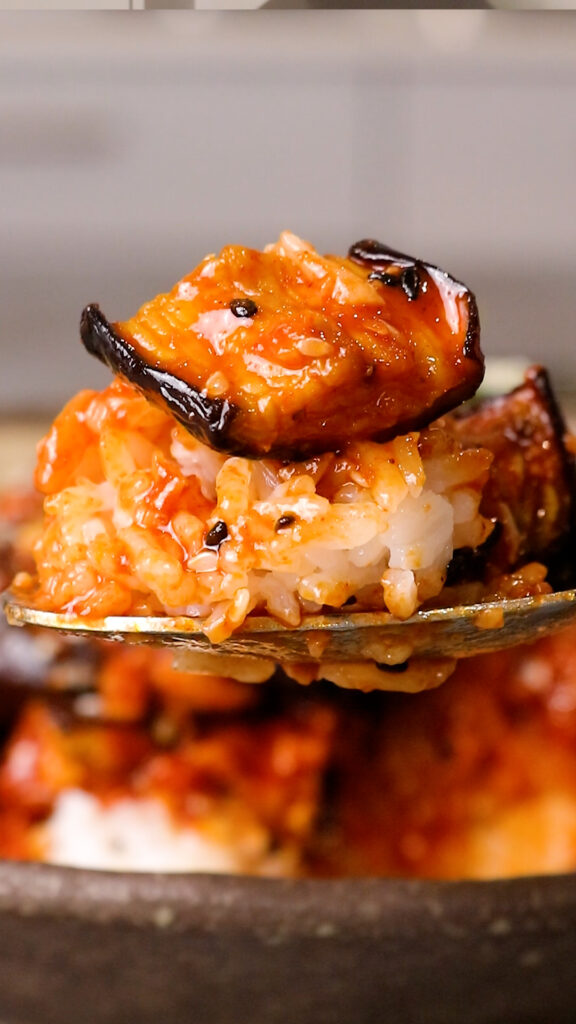 What you'll need
The full recipe can be found at the end of the blogpost
Gochujang – there's a section above explaining this further and I've linked the one that I use. I purchase mine from my local East Asian shop
Garlic
Light soy sauce
Mirin – this is a sweet rice wine. It gives a little bit of sweetness to balance the spice, whilst also helping to make a glossy sauce
Water
White pepper – it's more earthy and musky than black pepper. But feel free to substitute with black pepper if you don't keep it on hand
Aubergines – also known as eggplants
And only 30 minutes (or less) of your time.
How to make this Gochujang and Garlic Aubergine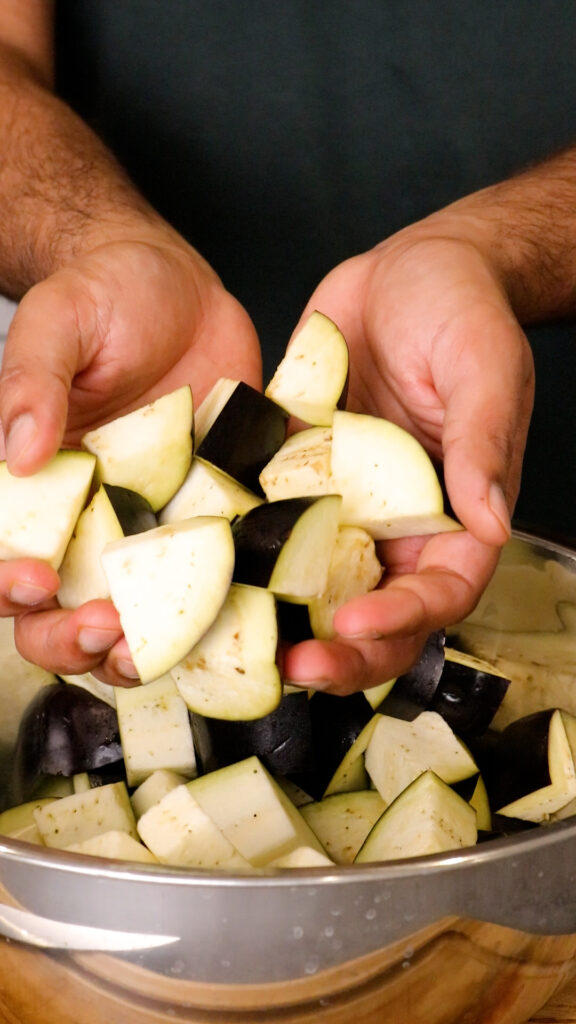 1) Cut the aubergines/eggplants into chunks (the larger they are, the longer they'll take to cook)
2) Drizzle with oil and add the salt, toss to combine
3) Place into an air fryer basket/oven tray. Roasting in the oven will take longer than the air fryer. This would also be a great time to get some rice boiling if you're planning to serve with rice!
4) Place all the sauce ingredients into a jug
5) Give the sauce ingredients a good mix
6) Mince the garlic (you can also grate or finely slice the garlic if you wish)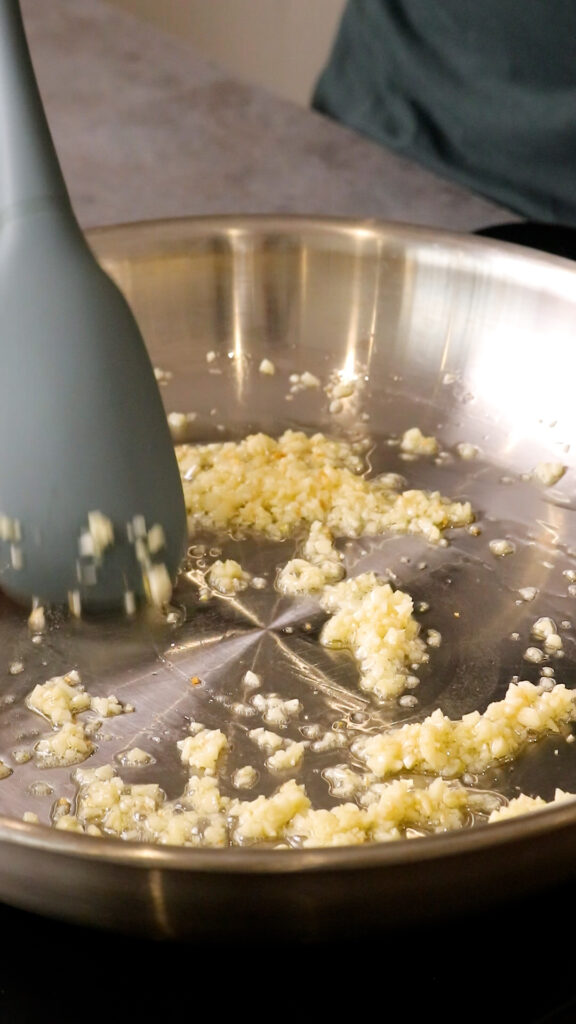 7) Sauté the garlic for around a minute
8) Add in the cooked aubergines and the sauce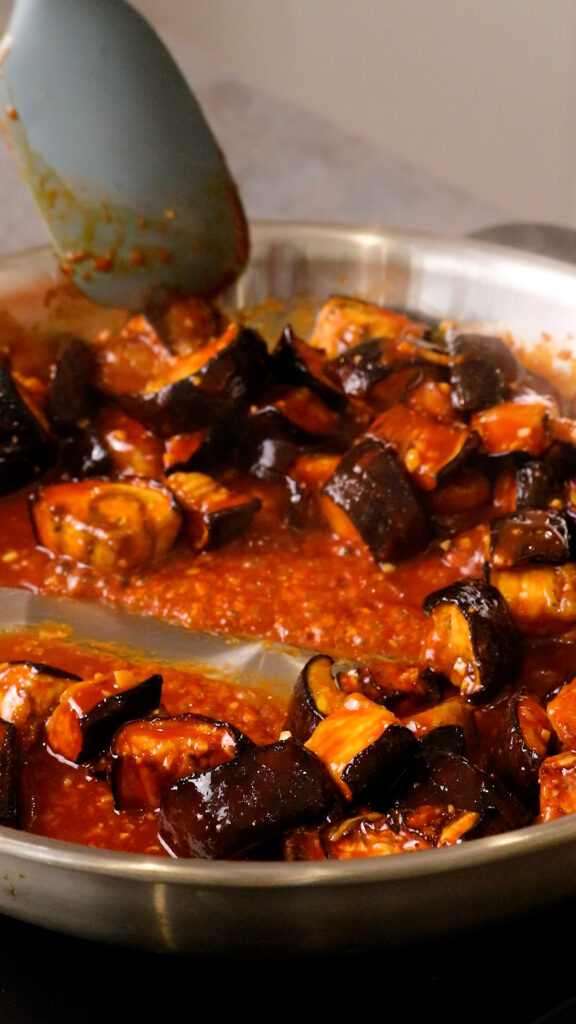 9) Cook for a further minute, the sauce will thicken slightly
10) Spoon the Gochujang and Garlic Aubergines over rice and top with spring onions and sesame seeds
Frequently asked questions
I really want to try this recipe, but I don't like aubergines/eggplants. What can I do?
And that's ok! Everything would be boring if we all liked the same things. This recipe is totally versatile, that sauce can be used for just about anything.
So if you'd like to substitute it for a different vegetable like potato or cauliflower, or even broccoli perhaps.
Or a protein (tofu works great!), or even paneer! They will all taste great with that gochujang and garlic sauce.
What else can I use gochujang for?
Two of my personal favourite recipes that use gochujang are my Gochujang Kurkuri Bhindi and my Spicy Garlic and Sesame Fries.
If you enjoyed this recipe
Please do let me know! Leave a review and a rating below, I'd love to know how you got on.
You can also tag me on Instagram at @dish_by_rish. Or follow me on Facebook, Pinterest, Youtube, and TikTok to keep up with all my cooking and baking creations.
Until then, happy cooking!
This post contains an Amazon Affiliate link. This is the product that I use in this recipe. It is not a gifted or sponsored product. By using this affiliate link, I receive a small commission which is at no expense to yourself. This helps to support this blog for its day to day running. Many thanks.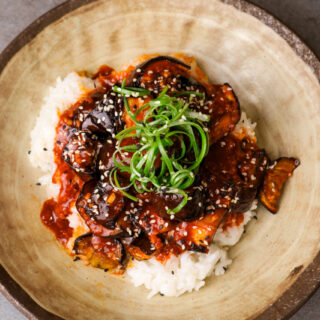 Gochujang and Garlic Aubergine
This fiery Gochujang and Garlic aubergine/eggplant is a 30 minute recipe! It's great for spice lovers and perfect served with rice or noodles.
Ingredients
2 aubergines/eggplants
3tbsp gochujang
2tbsp light soy sauce
2tbsp mirin*
1/4tsp white pepper
3tbsp water
6 cloves garlic, minced
4 tbsp neutral oil (sunflower/rapeseed/vegetable etc)
1tsp salt
Optional garnishes
spring onions/scallions
toasted sesame seeds
Instructions
Start by cutting the aubergines/eggplants into bite-sized chunks (the larger they are the longer they'll take to cook, the smaller they are the quicker)
Drizzle with 2tbsp of oil and the salt and toss top combine
Place the aubergines into the air fryer and cook at 185'C/365'F for 13-14 minutes. Toss them every few minutes to ensure even cooking. Alternatively roast them in the oven at the same temperature, however this will take longer to cook (~30 minutes). If you're planning to serve with rice - this would be a great time to get some boiling
In a jug or a bowl, whisk together the gochujang, soy sauce, mirin, white pepper, and water
Once the aubergines are cooked, heat up a pan over a medium low heat and sauté the garlic in the remaining 2tbsp oil for around a minute
Then add in the aubergines and the sauce and cook for a further minute
Finish with sliced spring onions/scallions and toasted sesame seeds
Notes
*If you don't have mirin, substitute with a little bit of rice vinegar along with any syrup of choice (agave/maple/or honey if you're not vegan)