These Nutty Toasted Oat Chocolate Chip Cookies are crisp on the outside, gooey on the inside. Finished with extra dark chocolate and sea salt.
Who doesn't love a good cookie?
A good biscuit or cookie is always a source of pure joy. But a great one can be life changing. And I know that may sound like a complete exaggeration.
But think about it, I'm sure you can recall your favourite cookies or your favourite place to buy them. It's because they're that memorable and brought you that much joy.
Growing up I wasn't a huge fan of nuts in my cookies. I felt like they were a hinderance or an obstacle to the real star of the show. The chocolate chips.
It's safe to say that has all changed and I'm now a huge fan of nutty flavours. I also absolutely love the texture nuts brings into both sweet and savoury dishes. As you may have realised based on the abundance of nut-based desserts on my blog.
Whether you're a cookie dunker or a cookie purist, you will always need a good cookie recipe to fall back on. And this recipe meets that criteria exactly.
Nutty Toasted Oat Chocolate Chip Cookies
I feel like the name of these cookies does indeed give it all away. But I'll explain it as best as I can regardless.
These cookies are filled with chopped up roasted pistachios, hazelnuts and plenty of dark chocolate. They're nutty, sweet, and incredibly decadent.
These cookies are inspired by my Chocolate Chip Cookies recipe. Which was one of the first recipes I developed over 10 years ago.
They're buttery, chewy, and still have the perfect little crisp exterior.
But I love cookies with a bit of texture and pistachios are my go-to for everything! One of the varieties of cookies I make (arguably more often than my regular chocolate chip cookies), are these nutty chocolate ones.
But there is one step in this recipe which adds even more nuttiness to these, plus a little extra texture too! I'll cover this below, it's worth it, I promise.
By the way, these cookies have NO eggs and you can make them VEGAN
The base recipe for these cookies was developed out of a desire to create an eggless cookie. One that was able to hold its own in terms of texture and flavour against the plethora of egg-based ones on the market.
This is perfect for anyone with an egg allergy, or for any vegetarians who follow an eggless diet, or for vegans. Or if you've just run out of eggs and desperately crave a cookie that you can truly love.
So eggs traditionally provide fat for richness, protein for browning, and also act as an emulsifier. But the ratios and combinations of ingredients in the recipe I've developed take all of this into account.
In turn this compensates for all the functions the egg would normally provide. You won't miss it in these cookies.
With regards to making these cookies vegan friendly, it is incredibly simple. All it requires are very simple plant based substitutes for the butter and milk.
Also just ensure that the chocolate you use is vegan too. That's all!
I call it… cookie mood
Perhaps it's just me, though I'm sure there are plenty of you guys out there too. Sometimes all you're craving is a good cookie.
And when you're in the cookie mood, that's the only thing that's going to fix it. But there are requirements, the cookies has hit the mark if you're going to indulge in it.
These Nutty Toasted Oat Chocolate Chip Cookies are meant for those very moments. So start preheating your oven and get your baking face on.
The secret to extra nutty Nutty Toasted Oat Chocolate Chip Cookies
The top secret to making these cookies extra nutty all lies in one ingredient. Oats.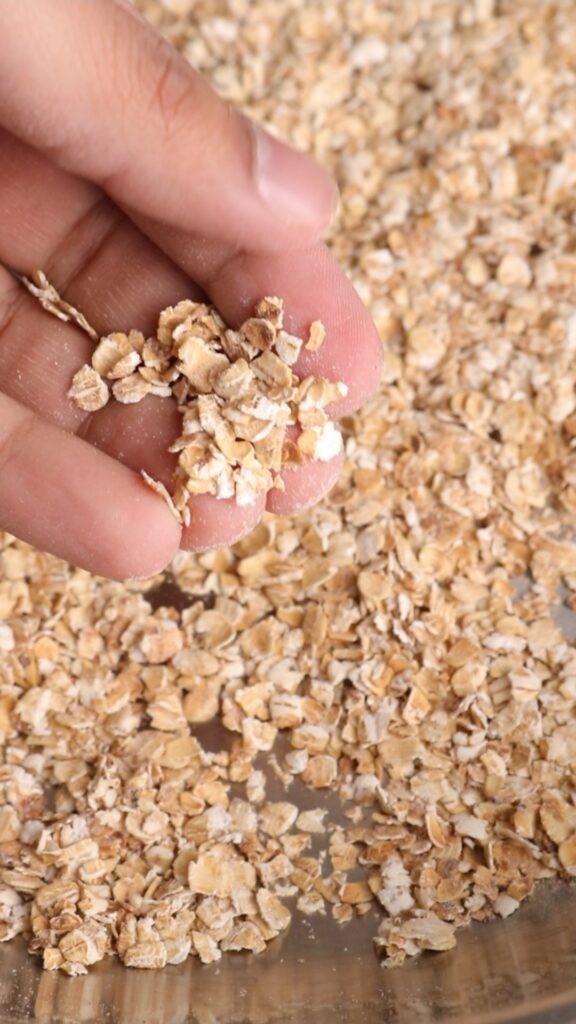 Now hear me out, oats are not just for breakfast. They're a great ingredient in baked goods for adding texture and flavour. But you'll want to incorporate them properly.
So, by properly, what I mean is to toast the oats beforehand. This in turn develops a nutty flavour within the oats that compliments the nuts in the cookie.
Toasting the oats also provides them with a firmer texture and an almost deep caramel-like scent. Actually I'd say it's almost like a nutty caramel aroma.
When you smell it you'll know what I mean.
Toasting the oats is easily the best oat hack I could ever give you. I do the exact same trick for my Biscoff Flapjacks as it really transforms the flavour of the oats.
And it only takes 5 minutes. So yes, it's definitely worth it.
If you don't like nuts
Honestly if you're not a fan of nuts, then as much as I hate to say this. This may not be the recipe for you.
However I have plenty of other recipes I think you would enjoy!
If you're still after a cookie recipe to satisfy those cravings. I can confirm I still have some that you'll enjoy.
Try my Chocolate Chip Cookies or my Double Chocolate Chip Cookies.
They're great recipes (if I may say so myself) and they don't require much work either. So if you're in the cookie mood, I've got you sorted.
What you'll need for these Nutty Toasted Oat Chocolate Chip Cookies
The full recipe can be found at the end of the blogpost
You'll require:
Plain flour – also known as all purpose flour in the US
White granulated sugar
Dark brown sugar – light brown sugar will also work, I'll discuss the differences in the next paragraph. NOT demerara sugar or turbinado sugar
Butter
Baking powder – this is not baking soda/bicarbonate of soda so don't use those
Milk
Vanilla paste – or extract
Rolled oats
Unsalted pistachios
Hazelnuts
Chocolate – but try and use your favourite chocolate bar here. I always use a 70-74% dark chocolate bar
If you really want to go all out you can even garnish the cookies with some:
Flaky sea salt – I definitely recommend finishing the cookies off with this. It adds another dimension of flavour
What is dark brown sugar?
Brown sugar in general is a type of unrefined sugar that's mixed with molasses. This creates a sugar that has a deep brown colour and a rich toffee-like flavour.
The brown sugar not only contributes to flavour in the cookies, but also considerably to texture. The added molasses in the sugar is what creates a chewy texture whilst also providing a deeper, richer flavour.
Brown sugar also provides additional moisture which prevents a dry cookie. Because no one wants a dry cookie, am I right?
The difference between light brown sugar and dark brown sugar is simply the quantity of molasses. Dark brown sugar has a higher percentage of molasses so in turn provides a deeper flavour and a chewier texture in comparison to light.
Demerara sugar and turbinado sugar are both still brown sugars per se but the process by which they're made differs from light brown and dark brown sugars. And hence they both contain a lower proportion of molasses and are much drier sugars.
Using a drier sugar like demerara or turbinado is going to yield a drier, more crumbly cookie. In comparison to the chewy cookie that these Nutty Toasted Oat Chocolate Chip Cookies should be.
How to make these Nutty Toasted Oat Chocolate Chip Cookies (photos)
Let's start with the toasted oats
1) Start by toasting the oats in a pan on a medium-low heat. It will take around 5-7 minutes
2) Once the oats have turned golden brown and smell like popcorn, transfer aside
Next let's make some brown butter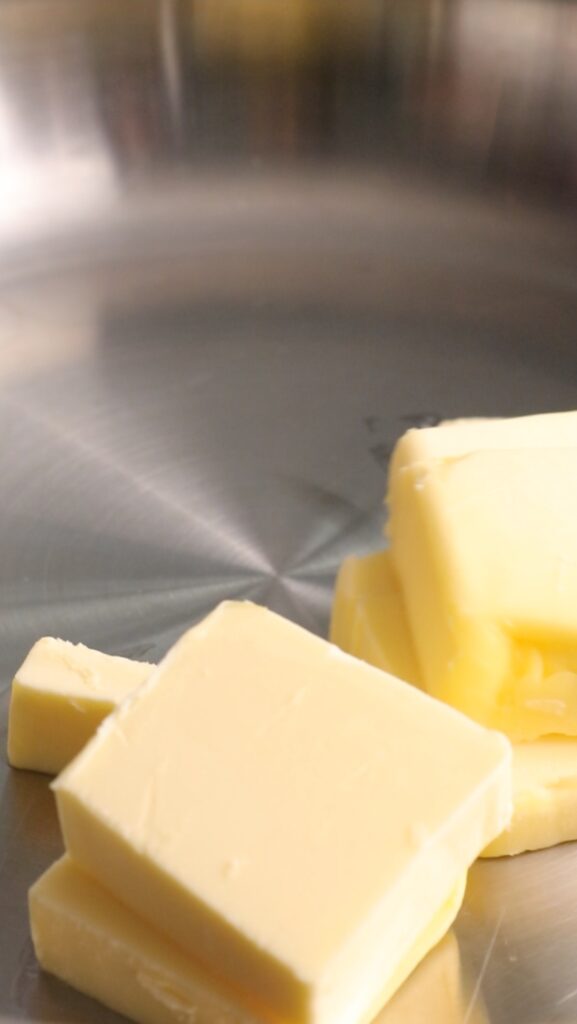 1) Start melting some butter on a low heat until completely melted
2) Bring to a medium heat and keep an eye on it, it will foam up and then subside. You will also start to see white/cream specs at the base of the pan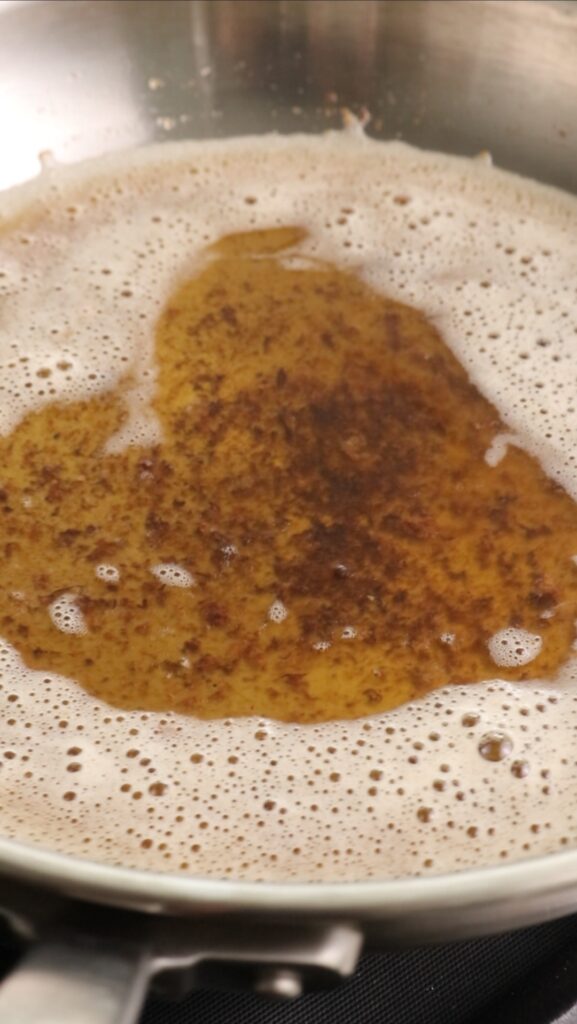 3) Once those specks (milk solids) turn brown and there's a strong nutty aroma, your brown butter is done. Transfer to a separate bowl or pan to prevent the brown butter from cooking further and burning
It's time to make the cookies
1) Once the brown butter has cooled, place in a mixing bowl
2) Add the sugars and vanilla paste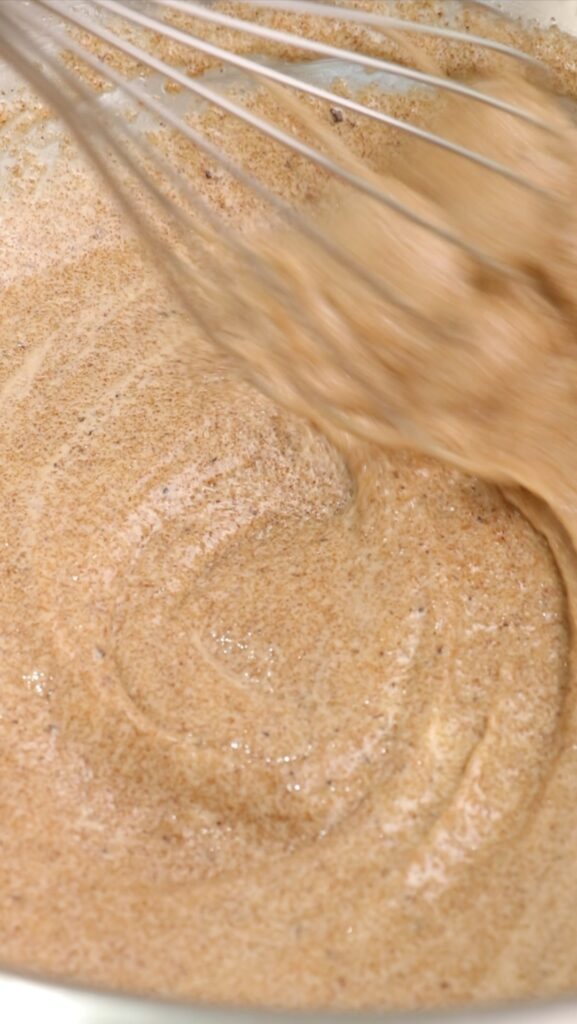 3) Begin whisking the butter and sugar mixture. It will start off runny and slowly thicken like 4) and finally 5)
5) It will thicken up to this stage. Avoid over whisking as this does not need to be aerated like cake batter
6) Add the flour, salt, baking powder, toasted oats, nuts, and most of the dark chocolate
7) Begin incorporating the mixture, and once roughly mixed add the milk
8) Continue to mix just until a rough cookie dough has formed. Do not knead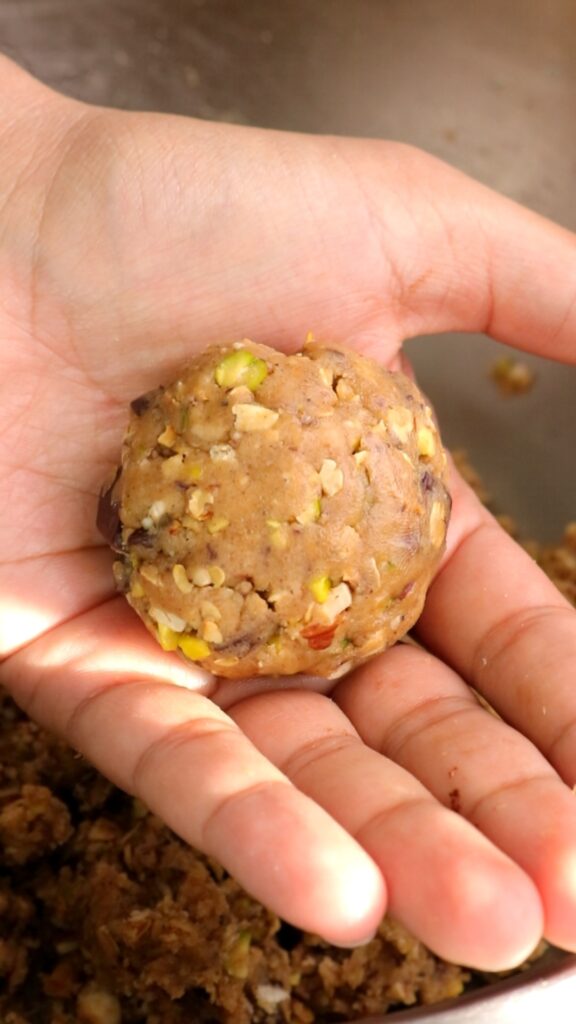 9) Weigh 60g of cookie dough and roll into a ball
10) Place onto a lined baking sheet and squash a few extra chocolate pieces on top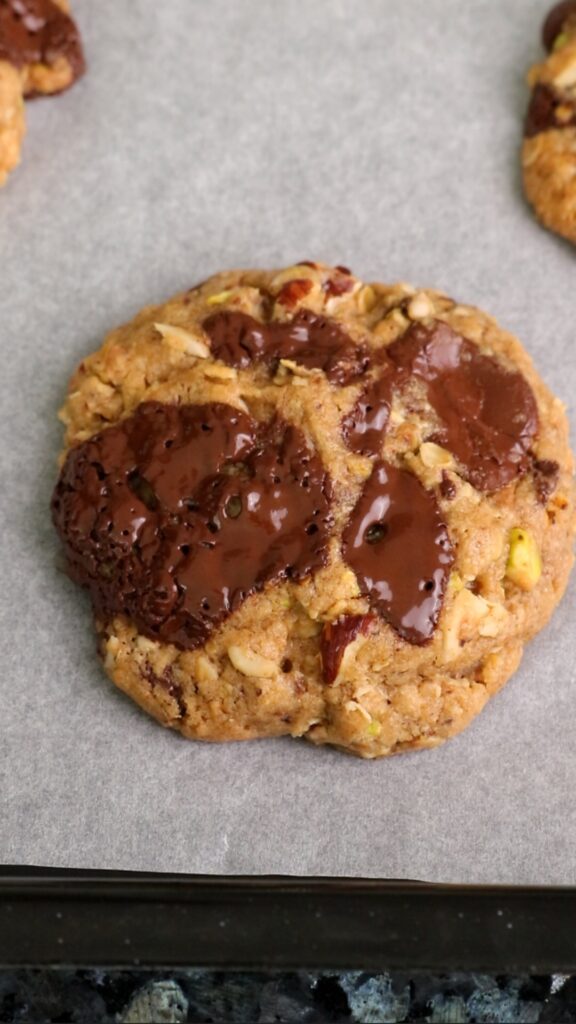 11) Bake the cookies, they will smell amazing!
12) Whilst still warm, use a round cookie cutter or bowl to rotate around the cookie to shape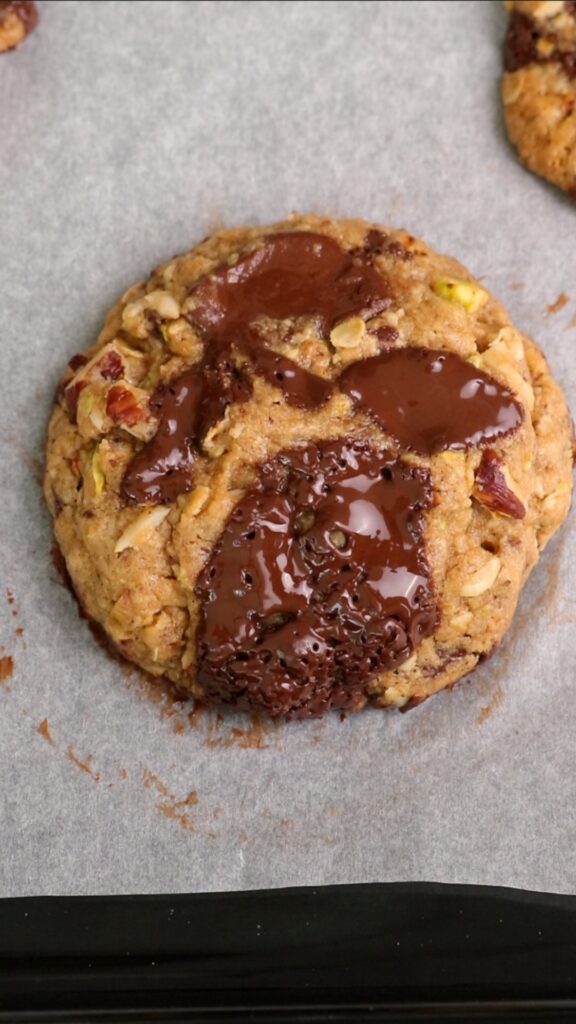 13) Perfectly round cookies!
14) Allow to cool for 5 minutes and then transfer to a cooling rack to cool completely
15) Finish with some flaky sea salt and you're done!
Enjoy warm for an incredibly gooey centre or allow to cool to firm up slightly.
How to make these Nutty Toasted Oat Chocolate Chip Cookies (video)
Frequently asked questions
Can these Nutty Toasted Oat Chocolate Chip Cookies be made gluten free?
I haven't tried myself but many users have had great success on my other cookie recipes with a simple substitute for gluten free flour.
Can these be made vegan?
Yes absolutely, substitute the butter for a plant based butter block and the milk for any plant based milk of choice. Also just make sure you use a plant based chocolate bar too.
Nutty Toasted Oat Chocolate Chip Cookies
These Nutty Toasted Oat Chocolate Chip Cookies are crisp on the outside, gooey on the inside. Finished with extra dark chocolate and sea salt.
Ingredients
200

g

plain flour/all purpose flour

1

tsp

baking powder

1/2

tsp

salt

125

g

unsalted butter

70

g

white granulated sugar

70

g

dark brown sugar

1

tsp

vanilla bean paste

or extract

130

g

dark chocolate

roughly chopped

50

g

rolled oats

40

g

hazelnuts

roughly chopped

50

g

unsalted pistachios

roughly chopped

4

tbsp

milk of choice

I used oat milk

Flaky sea salt

(optional)
Instructions
Start by toasting the oats in a pan on a medium-low heat. Once the oats smell like popcorn and are a deep golden brown, transfer aside to cool. This will take around 5-7 minutes

To make brown butter, melt the butter in a pan on a low heat until completely melted. Then turn the heat to medium. The butter will foam up and then subside, and white/cream specs will form at the bottom

Once these specs (milk solids) have turned a deep brown, transfer the brown butter to a cool pan or bowl to prevent further cooking and burning. Allow to cool

Once the brown butter has cooled, transfer to a large mixing bowl and add in the white sugar, brown sugar and vanilla. Whisk just until incorporated. The mixture will start off runny and very quickly thicken up. Avoid over whisking

Add the flour, salt, baking powder, toasted oats, nuts and most of the dark chocolate to the butter and sugar. Keep a small handful of chocolate aside for pressing into the cookies

Start mixing for around 1 minute, then add in the milk and mix until all incorporated

Weigh 60g of cookie dough for each cookie and roll into a ball. Place on a lined baking tray, spaced out with 2" between each cookie dough ball

Press a few extra pieces of chocolate into the top of the cookie dough ball, then bake in a preheated oven at 150'C fan/170'C conventional for 15-16 minutes. The outer edges of the cookies should be just slightly firm to the touch

As soon as the cookies are out of the oven, use a round cookie cutter that's larger than the cookies to rotate around them. This will help to shape them into an even round shape.

Allow to cool on the tray for 5 minutes to firm up, then transfer to a wire rack to cool completely

Finish with flaky sea salt for added flavour (optional)
Notes
Changing the weight of the cookies will impact the bake time
Using less cookie dough will require less time in the oven and produce smaller cookies
Using more cookie dough will require more time and produce larger cookies
For best results, weigh out exactly 60g for each cookie
If you do struggle to roll the dough into balls, add an extra tbsp of milk to bind