Try this spicy silken tofu, inspired by liangban tofu and hiyayakko tofu. Melt in the mouth tofu with a spicy, salty, Szechuan infused sauce.
This cold tofu dish is one that needs to be tried.
I'm currently writing this at 11pm whilst it's 29 degrees Celsius. All I can think about is wanting something cold to drink and something cold to eat. A dish like this would be perfect right now.
It's no secret that tofu is one of my many food loves. It makes up 2-3 meals a week for me as it's so versatile, healthy and the perfect sponge for all flavour.
I often alternate between extra firm tofu, to tofu puffs, and then to silken tofu. I've usually got all 3 in my fridge/freezer for emergencies. But silken tofu is one that I've noticed many shy away from using.
Perhaps due to the fact it breaks so easily and cannot be used in the same way as extra firm tofu. Or that it's texturally different from the other types. This recipe will show you how to serve silken tofu and dress it up for maximum flavour.
Spicy Silken Tofu
Whilst I was at university, I have fond memories of exploring my local East Asian supermarket. It was literally within a 2 minute walk from my flat. Every morning there would be fresh firm silken tofu, weighed, boxed and ready to be purchased.
To this date I've still never had tofu that good. The texture and freshness of it made it perfect for making spicy silken tofu.
This spicy silken tofu is inspired by liangban tofu and hiyakko tofu. It consists of a cold block of silken tofu which is first cut into thin slices or cubes. However it may also occasionally be served as a block in its entirety.
The silken tofu is then doused in a flavourful sauce which can vary considerably. As tofu itself is flavourless, it's hence incredibly important for this sauce to be packed with flavour.
Common sauce combinations can include soy sauce, chilli oil, spicy black bean paste, sesame oil and aromatics such as garlic and chilli. Pouring the sauce over the tofu creates a mesmerising sight!
The finishing touches often include finely sliced spring onions, coriander and more sesame seeds. Edamame and avocado may also accompany hiyakko tofu.
You can serve this spicy silken tofu alone as an appetiser, or even alongside some freshly steamed rice. I always serve this alongside steamed jasmine rice. It's quite the flavour affair and the rice is perfect for picking up any extra sauce.
What is silken tofu?
It is essentially an undrained and unpressed form of tofu. In terms of how it's made, the soy milk is coagulated without being left to curdle and hence it creates a uniform texture.
It also contains the highest water content in comparison to other forms of tofu. Silken tofu can be purchased in varies types, ranging from soft silken tofu to firm silken tofu.
For other forms of tofu, the soy is curdled and then pressed together. Because this doesn't happen with silken tofu, the result is one that is much softer and more fragile.
This is a fragile type of tofu that will not lend well to stir fries, marinades or frying. Due to the high water content it will immediately splatter if fried. It will also crumble and break if not handled gently.
Soft silken tofu is great for desserts and blending into sauces due to its creamy consistency. Firm silken tofu may also be used this way, however as the name suggests it is ever so slightly firmer than the soft counterpart.
In general, you can consume silken tofu cold, hot or even raw. Silken tofu can even be used in vegan cheesecakes and mousses as the texture works perfectly for desserts.
For this recipe, a firm silken tofu is what you will require.
What you'll need
For this recipe you will require:
(The full recipe card is at the end of the blogpost)
Firm silken tofu
Neutral flavoured oil – e.g. sunflower, rapeseed, peanut, vegetable
Garlic
Szechuan sauce- I have my recipe here but feel free to use a shop bought one or any chilli sauce of choice
White rice vinegar
Mushroom sauce – I'll explain this in more detail below. A vegetarian oyster sauce will also work
Light soy sauce
Palm sugar – or any other sweetener of choice. Honey/sugar/maple syrup/agave syrup will all work well
Chilli oil – find my chilli oil guide here if you're keen to learn how to make your own
Water
Mushroom sauce – what is it?
This may seem like a strange ingredient and may be unfamiliar to some. It's a godsend of a sauce that can easily transform any dish.
Mushroom sauce is a sauce that's made primarily of shiitake mushrooms and it's full of umami. It's a great substitute for oyster sauce is often used as a vegetarian alternative. This can be found in East Asian supermarkets or online.
However if you're really struggling to find this ingredient, then substitute it with some extra dark and light soy sauce.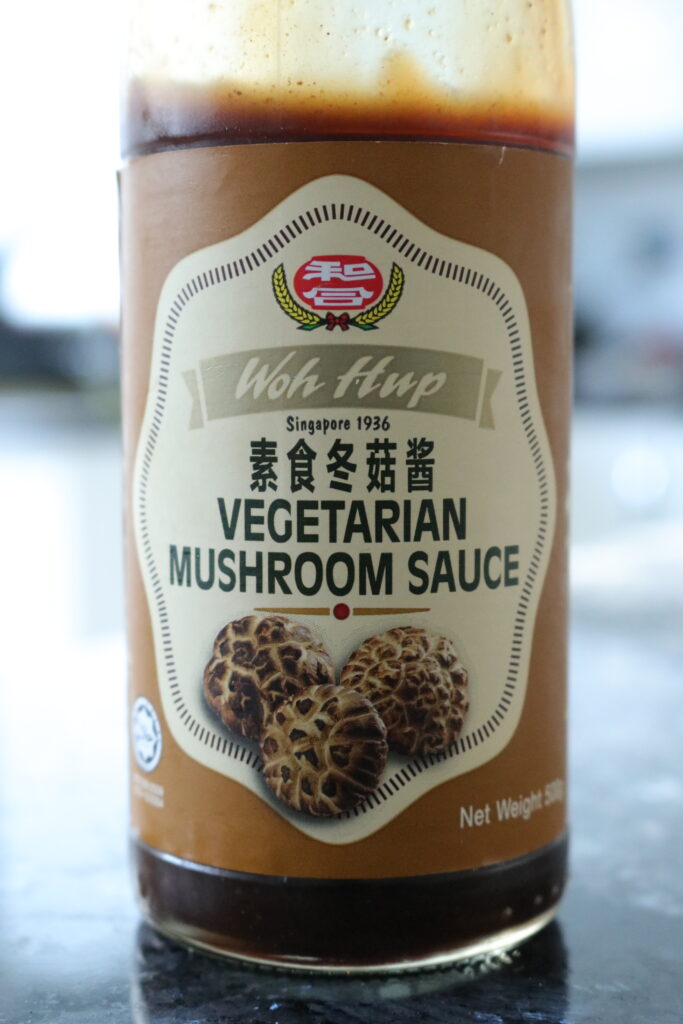 What's the best way to serve this?
You can eat this dish alone, it makes for a great appetiser. It's cold, soft, creamy and spicy. The coldness of this dish actually makes it rather refreshing.
All you have to do is take a spoon and just dig in.
It's a great one to share with friends/family or any guests you have over. As tofu is also healthy and high in protein, it's a good dish if you're looking to incorporate more protein in your diet. I often have this after my workouts.
You can also serve this with some steamed jasmine rice. That's my go to method of serving cold tofu dishes. The hot and cold mixed together is a great vibe. Plus rice is always great for soaking up all the leftover sauce.
How to make this Spicy Silken Tofu
1) First sauté the garlic in oil. I love to use sesame oil here but it needs to be a cooking oil and not toasted sesame oil. Toasted sesame oil has a low smoke point and shouldn't be used for cooking
2) Add the vinegar and allow the acidity to cook out. It will immediately bubble
3) Then add all the remaining sauces, chilli oil and palm sugar and mix together
4) Add water
5) Bring to a simmer
6) Meanwhile grab your firm silken tofu, there is a technique to opening these cartons
7) Most cartons will have dotted lines and numbers indicating where to cut first. Simply follow these in order. I always do the same cut on the top and bottom of the carton, even if it doesn't specify to. It helps to release the tofu cleanly hence I'd recommend doing the same
8) And sometimes you may get a little damage, but not to worry!
9) Carefully slice the tofu around 0.5cm thick. Then place them in serving bowls
10) Spoon over the sauce whilst hot, making sure to get all the tofu covered
11) Add plenty of spring onions
12) As well as a good handful of toasted sesame seeds
13) Finally drizzle on some extra chilli oil if you desire
Spicy Silken Tofu
Try this spicy silken tofu, inspired by liangban tofu and hiyayakko tofu. Melt in the mouth tofu with a spicy, salty, Szechuan infused sauce. Perfect to pair with steamed jasmine rice.
Ingredients
2

tbsp

neutral oil

e.g. sunflower, vegetable, rapeseed. I used sesame oil (not the toasted kind)

4

cloves

garlic

minced

2

tbsp

rice vinegar

1

tbsp

Szechuan sauce

or any chilli oil of choice. My Szechuan sauce recipe is on my website

2

tbsp

mushroom sauce

2

tbsp

light soy sauce

2

tsp

chilli oil

my chilli oil guide is on my website

2

tsp

palm sugar

or honey/agave/maple syrup

4

tbsp

water

1

Firm silken tofu pack

349g pack
Garnishes:
Spring onion greens

finely sliced

Black and white sesame seeds

Chilli oil
Instructions
First sauté the garlic in oil over a medium low heat until lightly golden and fragrant

Add the rice vinegar, it will immediately bubble. Allow the acidity to cook out for around 1 minute

Then add the mushroom sauce, Szechuan sauce, soy sauce, palm sugar and chilli oil. Mix to combine

Add water and bring to a simmer. Cook for a further minute

Gently cut thin slices of silken tofu, around 0.5cm in thickness. Layer the tofu slices in a bowl/plate

Spoon over the hot sauce, covering as much of the tofu as possible

Garnish with spring onions, toasted sesame seeds and more chilli oil if desired