Try this incredible vegan Thai drunken noodles recipe! Rice noodles, tofu and vegetables tossed in a spicy sauce and finished with Thai basil.
Pad kee mao, also known as Thai drunken noodles ae hands down one of the best noodle dishes to exist (at least in my opinion).
It's quite a humble dish that's synonymous with Thai street food and readily found in a lot of Thai restaurants. It's super easy to make at home and quite adaptable, whilst also being extremely delicious and flavourful.
A must-try!
Vegan Thai drunken noodles
These noodles, also knows as 'Pad Kee Mao' are one of my favourite noodle dishes of all time. There are so many different theories on how this dish got its name but there's no definitive reason or story behind it.
Despite being termed drunken noodles it does not contain any alcohol whatsoever. Though it's a great dish to enjoy alongside a cold beer!
It is believed that this dish came about as a fusion between Chinese and Thai cooking, with influence from Laos.
The dish itself is simple but so flavourful. It's spicy, salty, and sweet with a lovely subtle aniseed flavour that's brought in by the Thai basil.
Pad kee mao is traditionally made with wide rice noodles along with a mixture of vegetables and protein. There are quite a few variations and riffs within pad kee mao and it's generally quite a versatile recipe.
But I'll touch on that more in the next section.
Thai drunken noodles is a very fresh tasting dish and the most important part of the recipe is just balancing the sauces perfectly. The spice and heat is quite prominent but that can be adjusted and toned down to preference.
This dish is perfect for a week night meal and a great way to use up any leftover vegetable. This recipe is for vegan Thai drunken noodles and it's incredibly delicious and fragrant.
Why this vegan Thai drunken noodles recipe is worth trying
Firstly, it's vegan which makes it perfect for the vegan and vegetarian community. It's also incredibly delicious and a very popular dish to order, so why not gave it a go and make it yourself in your own home. It's also not a difficult dish to make either.
But it's also a dish that's hugely adaptable, in the sense that you can customise it to your preference and what you have on hand. The vegetables can be whatever you've got on hands, be it carrots, peppers, shallots, mushrooms, broccoli, baby corn, cabbage for example.
I use mushrooms, and red peppers in this recipe but I've added in carrots, baby corn and shallots in the past. It's wonderfully adaptable. The amount of heat can also be adjusted based on personal preference.
It is traditionally quite a spicy dish but by all means reduce the number of chillies, omit entirely or even increase it if you're a brave soul.
This recipe is also simple and easy to throw together. It's a crowd pleasing dish that does not take much time at all. The sauces are also likely to be ones you have on hand making it a pantry friendly recipe.
Types of noodles required
Traditionally for pad kee mao, the right type of noodle to use are wide rice noodles. These are normally quite wide as you'll see in my photos.
Now these are not always readily available and I struggled to find wide dry rice noodles like this. In the end I used cheung fun rolls which I cut and steamed, then unrolled each strip individually into noodles.
Cheung fun are essentially rice noodle rolls and hence worked perfectly here.
However this step did add some extra time to the recipe. To avoid this you could use any dried rice noodles of your choice instead. And that's absolutely fine to do.
But just try and ensure you use the widest ones you can find to keep it as close to traditional as possible. If you'd like to use the same cheung fun rolls that I did, then you'll find them with the fresh produce in your local East Asian supermarket.
If you're using dried rice noodles, simply soak in boiling water until al-dente (have a slight bite). They will finish cooking in the wok once the sauce has been added.
Types of basil
Getting the type of basil right is key for success of this recipe. The three main types of basil are Italian basil, Thai basil and Holy basil – with the latter being quite difficult to get a hold of.
Italian basil is the one that's most commonly found and the one that most are familiar with. It has a subtle sweet flavour and pepperiness and works well to add freshness to dishes.
It's quite a unique flavour in itself but it's not the right basil for this recipe. It won't provide the flavour profile we need so I wouldn't recommend using it here.
Thai basil has a very distinctive flavour that's completely different from Italian basil. It's got more of a liquorice note and it's quite potent too.
It adds a great amount of depth and flavour to broths, soups and many other dishes. This type of basil will work perfectly in order to achieve a good flavour profile for this recipe.
Holy basil is another type of basil with a completely different flavour. It's spicy and peppery and actually very hard to get a hold off in the UK (at least in my experience).
This would in fact be the perfect type of basil for pad kee mao, however I've found it impossible to find. The easiest way of obtaining some seems to be by growing it from seeds, which is not ideal if you want to make a recipe then and there.
Due to the difficulty of obtaining holy basil, I recommend using Thai basil here as it's far more readily available. The flavour it provides is still delicious and very fitting for this dish.
Pad Kee Mao vs Pad Thai vs Pad See Ew
Pad kee mao, i.e. drunken noodles are one of the popular Thai noodle dishes but others also exist. Some of the other dishes are pad Thai and pad see ew. All 3 are hugely fragrant and flavourful dishes but all hold different flavour profiles.
Pad Thai is made from similar rice noodles, although the ones used for this dish are often thinner in comparison to the wide rice noodles used in pad kee mao. Pad Thai is also nuttier, sweeter and more sour in comparison to pad kee mao.
This is due to the addition of tamarind, palm sugar and peanuts. Pad kee mao is a much spicier and more savoury dish in comparison. Both dishes can have the additions of vegetables and protein to taste.
Pad see ew is another dish that's traditionally made from rice noodles, however the sauce is far heavier on the soy sauce and oyster sauce. Drunken noodles and pad see ew tend to be similar dishes in terms of their sauces.
This recipe for pad kee mao does lean slightly towards pad see ew due to the addition of light soy, dark soy and vegetarian mushroom sauce (an oyster sauce substitute).
Pad kee mao tends to be spicier due to the addition of chillies and garlic, but it also has a different flavour profile due to the addition of Thai basil which pad see ew doesn't traditionally have.
If you love these types of dishes, be sure to check out my Spicy Lemongrass Noodles!
What you'll need
The full recipe can be found at the end of the blogpost
To make this vegan Thai drunken noodles, you'll need:
Rice noodles – preferably wide, but you can use whichever you're able to get a hold of
Mushroom sauce – see the next heading for more information. Alternatively a vegetarian oyster sauce will work well too
Light soy sauce
Dark soy sauce
Palm sugar – the next best substitute will be brown sugar
Garlic
Thai bird's eye red chilli
Shiitake mushrooms – but feel free to use any other type you like
Red pepper
Spring onions
Tofu – I recommend using deep fried tofu puffs
Thai basil
What is mushroom sauce?
This may seem like a strange ingredient and may be unfamiliar to some. It's a godsend of a sauce that can easily transform any dish.
Mushroom sauce is a sauce that's made primarily of shiitake mushrooms and it's full of umami. It's a great substitute for oyster sauce is often used as a vegetarian alternative. This can be found in East Asian supermarkets or online.
However if you're really struggling to find this ingredient, then substitute it with some extra dark and light soy sauce.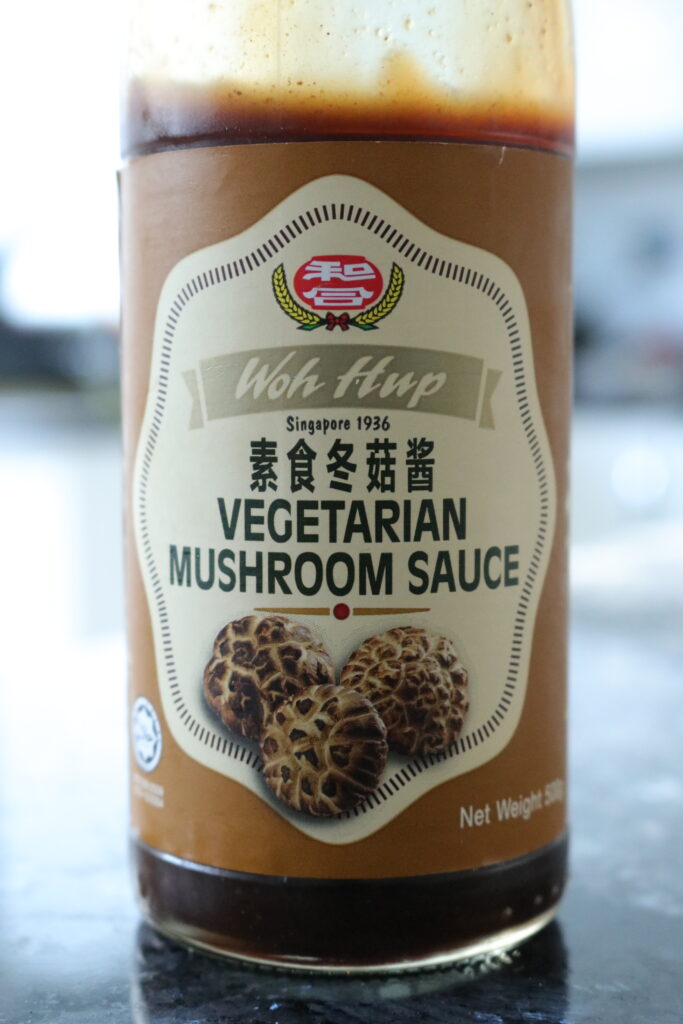 This is an example of the one that I use, but there are quite a few different brands available
How to make vegan Thai drunken noodles
1) Mince the garlic and chilies
2) Separate the whites and the greens of the spring onion. Finely slice the whites and leave the greens aside for garnishing at the end
3+4) Mix together the sauce ingredients, i.e. the mushroom sauce, light soy sauce and dark soy sauce. Grate in the palm sugar if using a block. Liquid palm sugar can be mixed straight in
5) Prepare the vegetables of choice
6) I'm using tofu puffs as my protein. These are deep fried pieces of tofu that can be purchased from East Asian supermarkets
7) Sauté the garlic and chilli in a wok until fragrant and the garlic becomes lightly golden
8) Add in the spring onion whites
9) Add in the vegetables and continue to sauté until just cooked through
10) Then add in the tofu puffs
11) Add half of the sauce and continue to mix. Reserve the remaining sauce for when the noodles are added in
Preparing the noodles
I've used fresh wide rice noodles that I've prepared from cheung fun rolls from my local East Asian supermarket. This is not essential.
Feel free to use dried rice noodles if that's more accessible for you. If you're using dried rice noodles, simply soak in boiling water until al-dente (have a slight bite). They will finish cooking in the wok once the rest of the sauce has been added.
1) For the cheung fun rolls, slice into 1″ wide pieces
2) Place the pieces on a greased tray and steam for around 5-7 minutes
3+4) Whilst still warm, open up each piece into long wide rice noodles
5) Add the rice noodles to the wok and add the remainder of the sauce. Gently toss to mix everything together. Be careful not to break the noodles
6) Add the Thai basil leaves and toss once more
7) Garnish with spring onions and serve immediately
Q+A
Can normal dried rice noodles be used?
Feel free to use dried rice noodles, it will work perfectly fine. If you're using dried rice noodles, simply soak in boiling water until al-dente (have a slight bite). They will finish cooking in the wok along with the sauce.
Can we substitute the mushroom sauce?
If you really struggle to find this, then substitute it by adding more dark soy sauce, light soy sauce and palm sugar. MSG can also be added in to help replicate the umami you would get from the mushroom sauce.
Can firm tofu be used instead of tofu puffs?
Yes it can. I'd recommend squeezing out as much water from the tofu as possible by wrapping in a kitchen towel and placing a weight on top for 30-60 minutes. Cut the tofu into pieces and toss in oil and corn flour. Bake or air fry until crispy.
Add these crispy pieces of tofu in instead of tofu puffs.
Vegan Thai Drunken Noodles (Pad Kee Mao)
A vegan take on a classic spicy and fragrant Thai street food noodle dish.
Ingredients
350

g

Cheung fun rolls

or 300g dried wide rice noodles

5

cloves

garlic

minced

4

Thai bird's eye red chillies

minced – use less for a milder dish

125

g

shiitake mushrooms

sliced

1

red pepper

sliced

150

g

tofu puffs

see notes for using extra firm tofu

4

tbsp

mushroom sauce

3

tbsp

light soy sauce

3

tbsp

dark soy sauce

2

inch

piece of palm sugar

grated – or 2tbsp brown sugar

2

spring onions

separate the whites and greens

Handful of Thai basil

3

tbsp

neutral oil

e.g. sunflower, vegetable, rapeseed
Instructions
First prepare your noodles. If using cheung fun rolls, cut into 1" thick pieces and steam on a greased tray for 5-7 minutes. Unravel each roll whilst warm to get long wide rice noodles. If using dried rice noodles, soak in boiling water until al dente

Sauté the garlic and chilli in the oil for around 30s or until fragrant, ensuring they don't burn

Then finely slice the spring onion whites and add these in and continue to sauté for a further 30s. Leave the greens for garnishing

Add in the mushrooms and red pepper and continue to cook for a further minute

In a separate bowl mix together the mushroom sauce, light soy sauce, dark soy sauce and the grated palm sugar. Mix to combine

Add the tofu to the pan along with half of the sauce mixture and mix to combine

Next add in the noodles along with the remaining sauce. Toss to combine and continue to cook until the noodles are fully cooked

Add the Thai basil and finely sliced spring onion greens. Best served immediately
Notes
Instead of tofu puffs, firm/extra firm tofu can also be used. I'd recommend pressing out as much water as possible by wrapping the tofu in a kitchen towel and placing a weight on top for 30-60 minutes. Then cut the tofu into cubes, toss in some oil and cornflour and bake/air fry until crisp.