Try my pistachio kulfi milk cake, a pistachio and cardamom infused sponge soaked in saffron milk, topped with a sweet whipped cream.
This pistachio kulfi milk cake is soft, moist, decadent and so incredibly flavourful.
It pulls inspiration and flavours from two incredible desserts. It's a fusion between the Indian 'pistachio kulfi' and the Latin American 'Tres Leches' cake.
It sits somewhere between the two, combining my favourite aspects of both recipes and merging them together to form this beautiful bake. If you've never heard of either of these desserts then feel free to read the next few paragraphs in the blogpost. I'll explain everything.
But first, let me tell you a little bit more about this pistachio kulfi milk cake. It consists of a soft pistachio sponge that's been soaked in a flavourful milk until every drop has been absorbed. That's what gives each bite of the cake its light and moist texture.
The cake is then finished with a sweet whipped cream and garnished with toasted pistachios and rose. This cake is served cold and hence it's perfect for a summer bake. It's honestly one of the most refreshing cakes to eat on a hot day.
What is pistachio kulfi?
Kulfi is a traditional Indian ice cream that's commonly made with milk, sugar, nuts and cardamom. The milk is often simmered for a long period of time to thicken it and to evaporate some of the liquid, in turn leaving a high proportion of fat solids.
This allows for a more creamy, rich, and slightly more dense result, which is usually served straight out of a kulfi mould.
Kulfi is an immensely popular dessert and it encompasses a huge variety of flavours. Think of it as the Indian equivalent to gelato, it's a broad term and it's available in so many incredible varieties. Some of these include:
Mango kulfi
Malai kulfi
Pistachio kulfi
Strawberry kulfi
Saffron and pistachio kulfi
Coconut kulfi
The list is honestly endless. For this recipe I've been influenced by the pistachio kulfi (my personal favourite) and I've encompassed those flavours within the cake.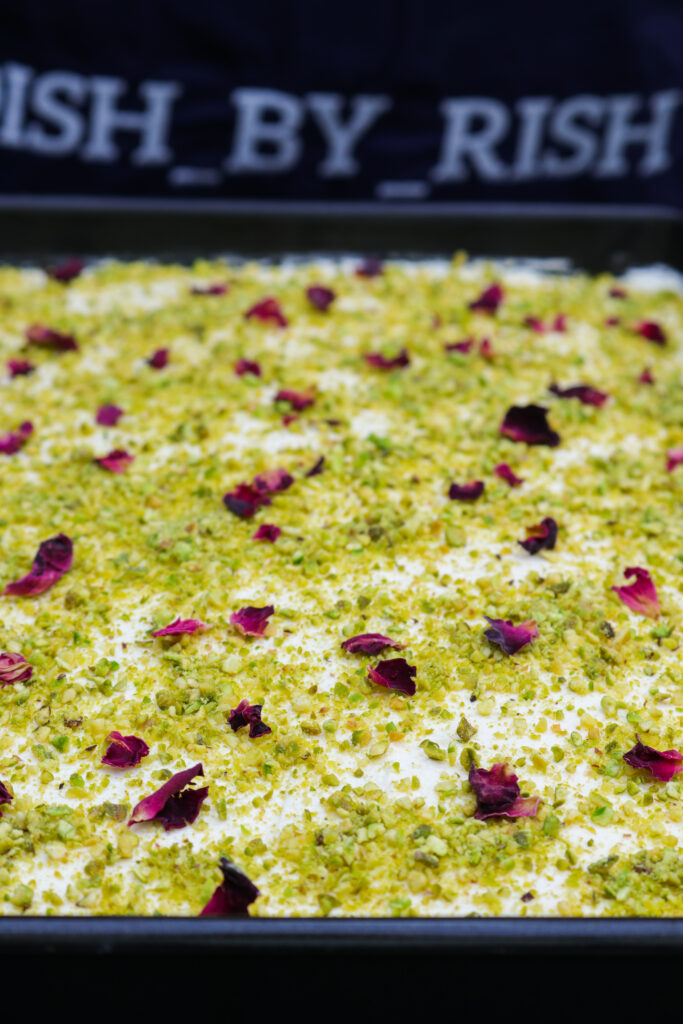 What is a tres leches cake?
Tres leches directly translates to 'three milks' and is a popular Latin American cake. The 'three milks' refers to the combination of milks that are used to soak the cake in. The cake portion of the tres leches consists of a super light sponge which is not too dissimilar to an angel cake.
The sponge is pierced all over and the milk mix poured on top and allowed to soak in. It's not hugely available around the UK and I've only ever seen it on a handful of menus. It's quite a simple cake but one that's incredibly rich and more-ish.
The three milks that are traditionally used in tres leches are:
Whole milk or heavy cream
Evaporated milk
Sweetened condensed milk
The sponge usually has a lower fat content and relies quite heavily on eggs to provide structure. It is also usually drier than a traditional sponge, to allow it to absorb the milk mixture more readily.
The cake is traditionally topped with a whipped cream and often some fresh fruit or a light dusting of cinnamon. Tres leches is usually prepared in advance to allow it to soak up all the liquid and is kept refrigerated so that it can be served cold.
This cake genuinely gets better day by day as it continues to take up all that sweet milky flavour.
Pistachio kulfi milk cake
There are a few differences in this pistachio kulfi milk cake compared to the traditional tres leches. For starters, I've only used 2 milks and a lesser quantity of the mixture itself. This is because as much as I love the moistness and milky texture, I'm not keen on my cake drowning in it.
I did test a few batches with a higher quantity of the milks, and it was just far too soggy for my preference. I've also decided to omit the evaporated milk. I felt that the sweetened condensed milk and whole milk were sufficient for adding sweetness and the traditional milky flavour.
The sponge in my pistachio kulfi milk cake contains no eggs, and hence there is a higher proportion of fat to compensate in comparison to a traditional tres leches. It's still an incredibly light sponge and perfect for soaking up all of the milk.
You may also notice that this sponge differs slightly from my normal sponge recipe. One of the main differences is the lack of flax seeds here. The main reason for this is because the 'flax egg' largely adds moisture to the cake which is completely unnecessary here.
We want the cake to be slightly on the drier side as it's going to soak up the milk and that will be the main source of moisture, and hence there is no need for the flax.
This cake is also finished with a beautiful whipped cream topping which is quite traditional for a tres leches. It's a necessity and hence I strongly advise that you don't skip this!
What you'll need
This is not the full recipe – the full recipe can be found at the end of the blogpost
To make the sponge portion of the pistachio kulfi milk cake you'll require the following ingredients:
Plain flour
Pistachios, blitzed into small chunks
Ground cardamom
Vanilla extract
Flavourless oil – (sunflower, vegetable etc)
Milk of choice – either dairy based or use oat or soy for the best plant based results
Baking powder
Salt
For the milk portion of the cake, you'll also require:
Sweetened condensed milk – if you're making this vegan, there are vegan sweetened condensed milk tins readily available
Whole milk – or use a full fat/barista blend of oat milk
Saffron
And finally, for the whipped cream layer, you'll need:
Double cream – or coconut cream for a vegan alternative
Icing sugar
Vanilla extract
Pistachios, blitzed
How to make this Pistachio Kulfi Milk Cake (photos)
Making the pistachio sponge: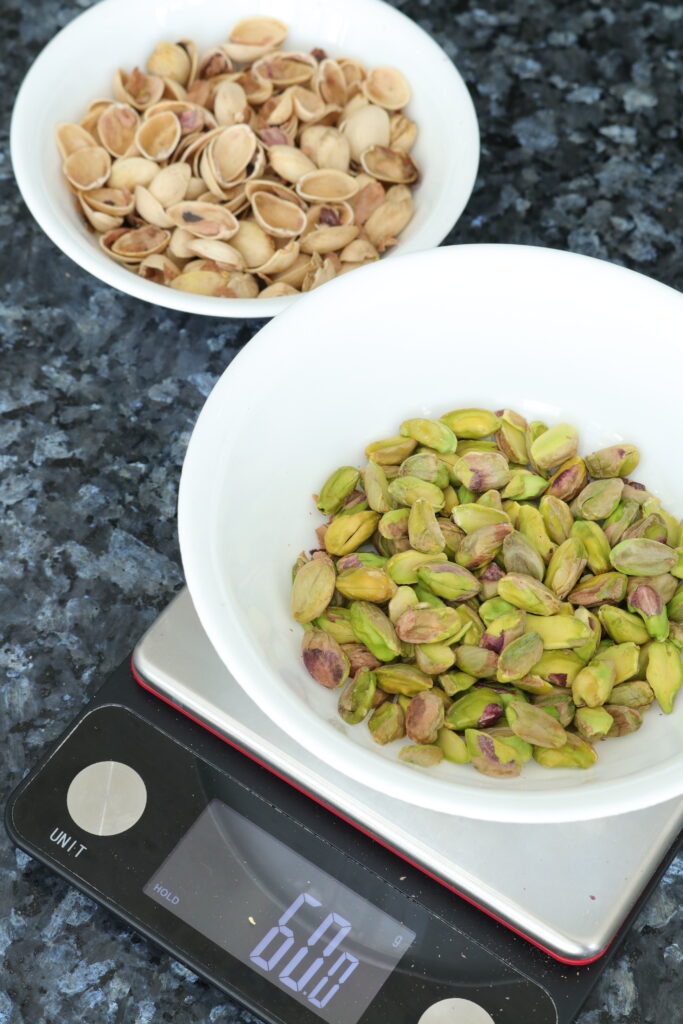 1+2) For best results shell the pistachios yourself to ensure maximum freshness. Then blitz in a food processor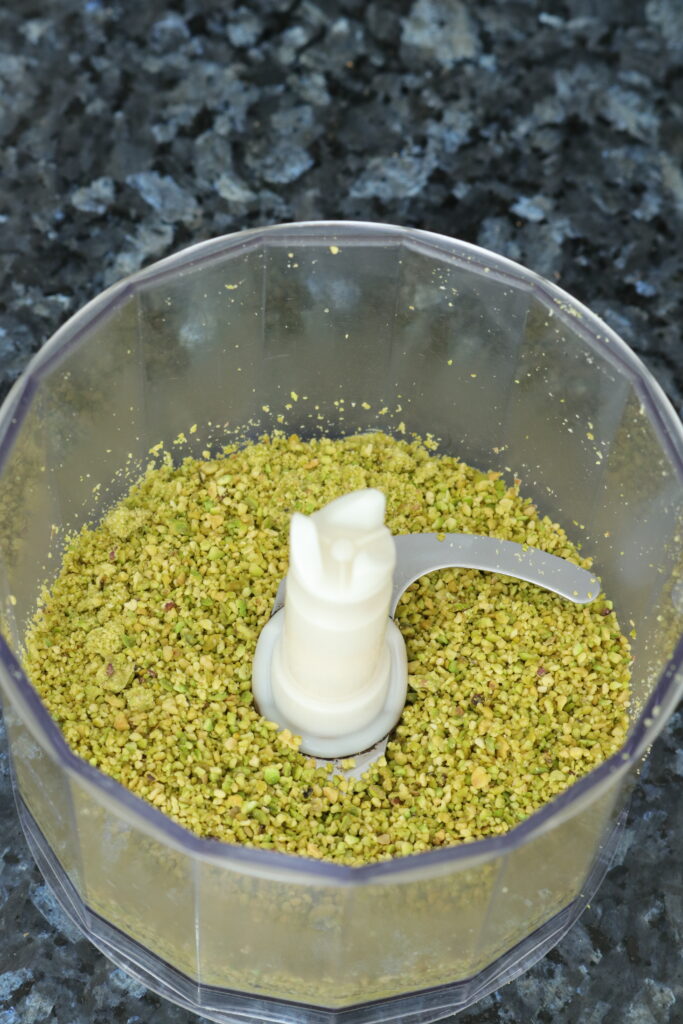 3) Blitz the pistachios until small chunks, do not turn it into a paste
4) Placed the pistachios, ground cardamom and sugar in a mixing bowl
5+6) Add vanilla extract and the oil, then whisk until incorporated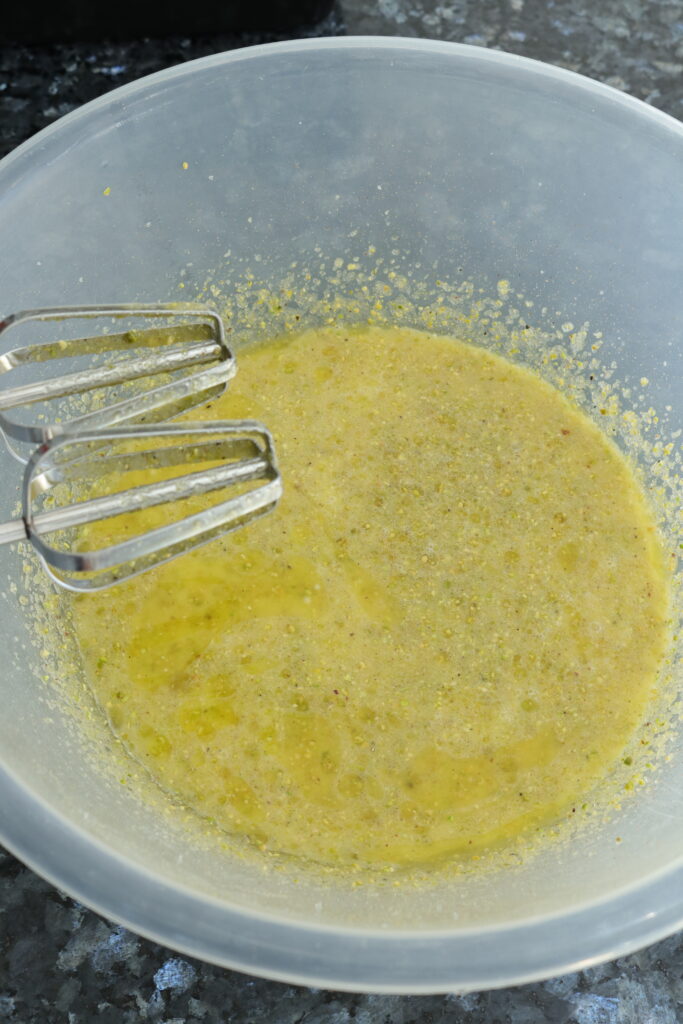 7) Add the milk and continue to whisk until incorporated
8) Mix the flour, baking powder and salt in a separate bowl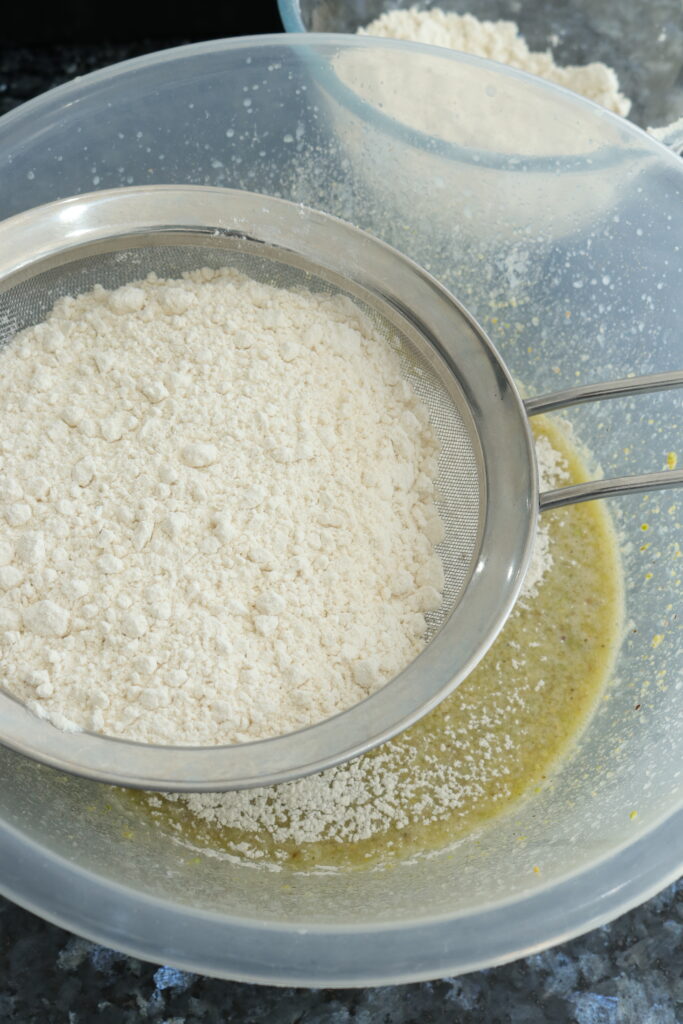 9) Sieve the flour mix, don't skip this step. As much as it can be a bore, does make a difference
10) Whisk in the flour briefly, then fold until incorporated
11+12) Pour the cake batter into a 35×25 rectangular tray that's been lined with baking paper. This will make removal far easier so I highly recommend using baking paper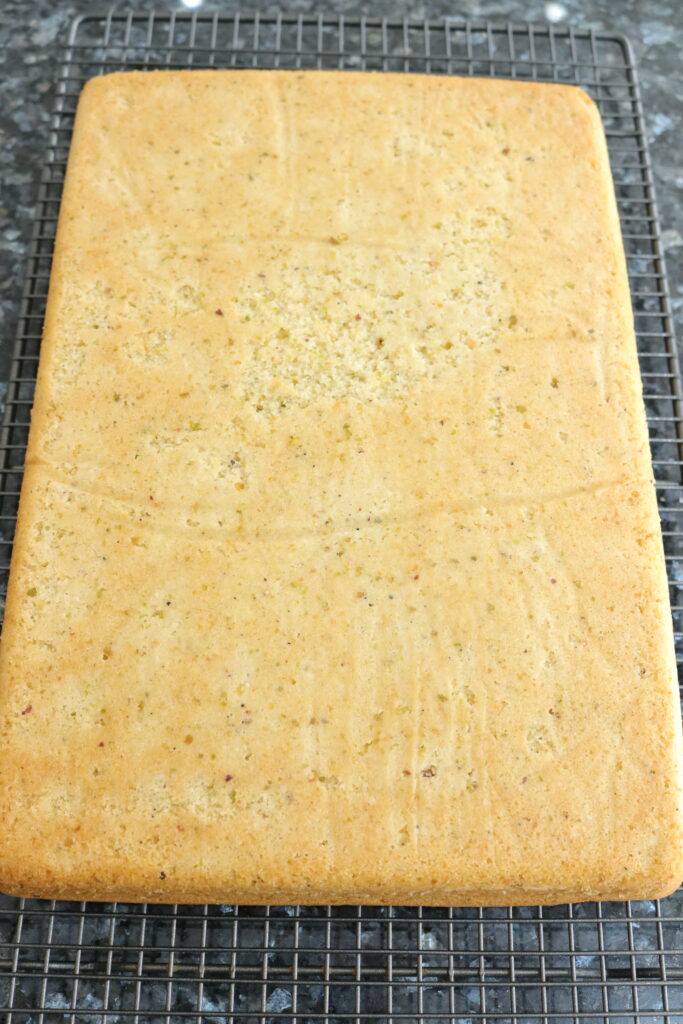 14) Once the cake has baked, turn this out onto a wire rack till completely cooled
15) Then transfer back to the baking tray and use a toothpick or chopstick to poke holes all over
Making the milk mix
1+2) Bring the sweetened condensed milk and whole milk to a gentle simmer on low heat. As soon as the edges bubble, turn the heat off and add a pinch of saffron. This does not need to infuse for long as the saffron flavour can become overpowering
3) Pour the milk mixture over the cooled cake, then cover the tray with cling film. Place this in the fridge for a minimum of 2 hours or overnight for best results. The cake should soak up all the milk
Making the whipped cream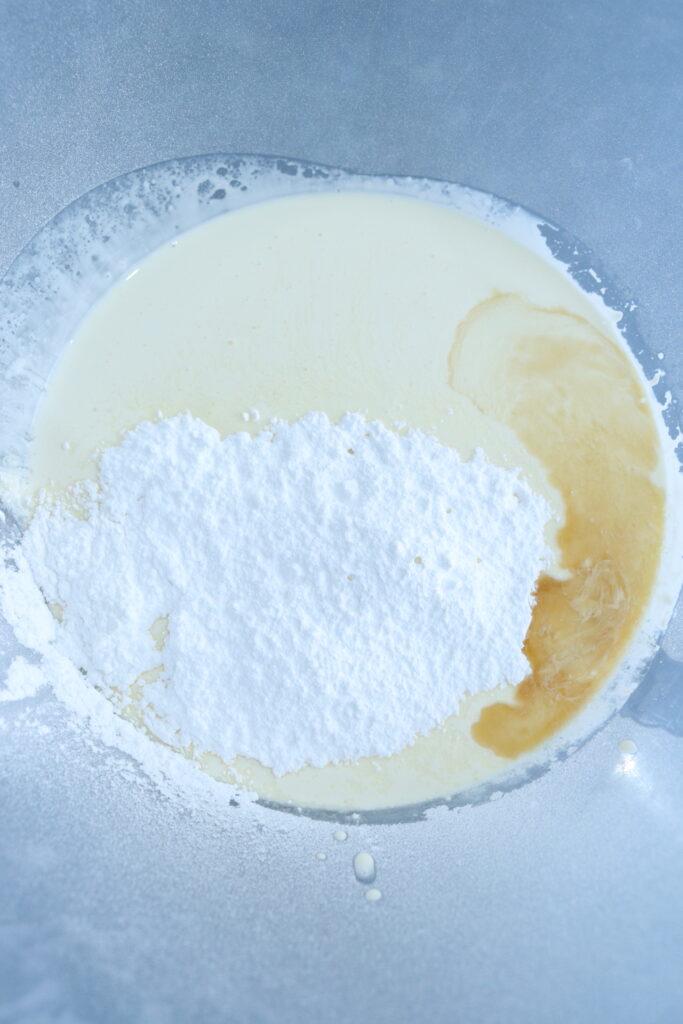 1+2) Place the double cream, icing sugar, and vanilla in to a mixing bowl and whisk until thickened. Do not over whisk or you risk this clumping and turning into a sweet butter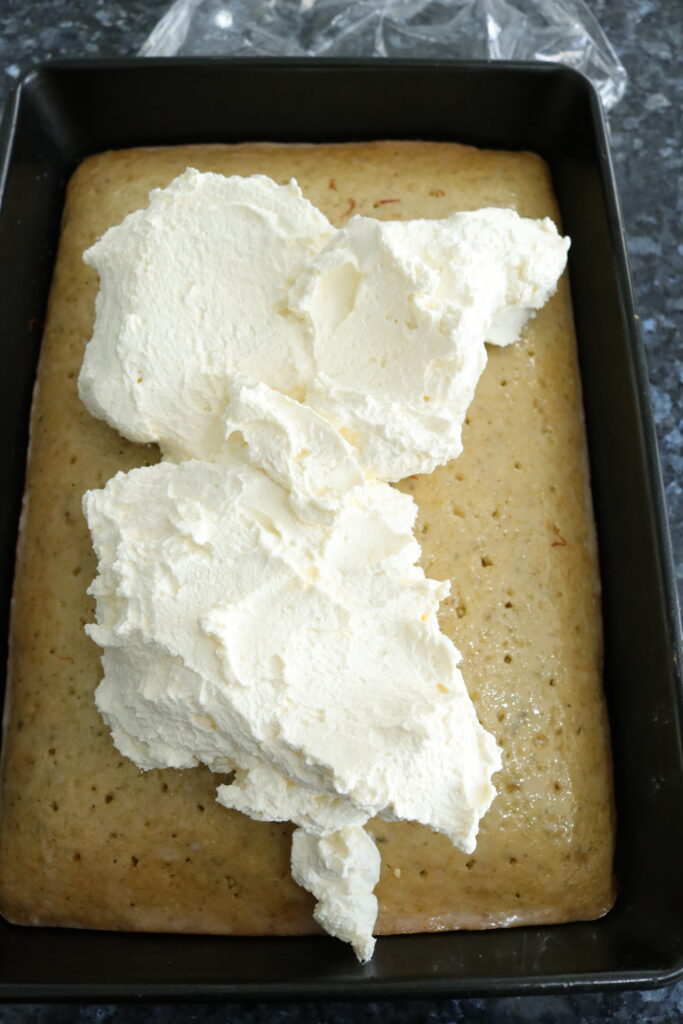 3) Place the cream over the cake and smooth on top
4) Add more pistachios to a food processor and blitz
5) You can blitz the pistachios further if you wish, this is down to preference
6) Top the pistachio kulfi milk cake with the ground pistachios and rose petals (optional). You can wrap the tray in cling film once again, the cake will continue to get better and better
How to make this Pistachio Kulfi Milk Cake (video)
Pistachio paste:
You can also top the whipped cream with some pistachio paste (which I HIGHLY recommend). It's an optional step and you don't have to do it. But if you can get a hold of it, it really adds a great finishing touch to the Pistachio Kulfi Milk Cake.
The one I use will be linked below:
This post contains an Amazon Affiliate link. This is the product that I use in this recipe. It is not a gifted or sponsored product. By using this affiliate link, I receive a small commission which is at no expense to yourself. This helps to support this blog for its day to day running. Many thanks.
I can't advise on making your own pistachio paste as mine has never come out as smooth as the shop bought jars. In order to really achieve that smooth creamy texture, you need to use a melanger. This is a machine that grinds nuts and cocoa between stone or granite until it is entirely smooth.
That texture is not achievable with a normal household blender.
Pistachio kulfi milk cake tips:
It's better to overbake the cake than underbake. Don't worry if it goes a little over, the sponge will soak up the milk mixture so it will not be dry
Shell the pistachios yourself for maximum freshness, vibrancy and flavour
Turkish, Iranian or Californian pistachios tend to be the best for flavou and colour
Roasted pistachios are preferable. Hence if yours are not roasted, place them in a wide pan on low heat and gently toast them for around 5-7 minutes
Refrigerate overnight for best results
Serve cold for a refreshing bite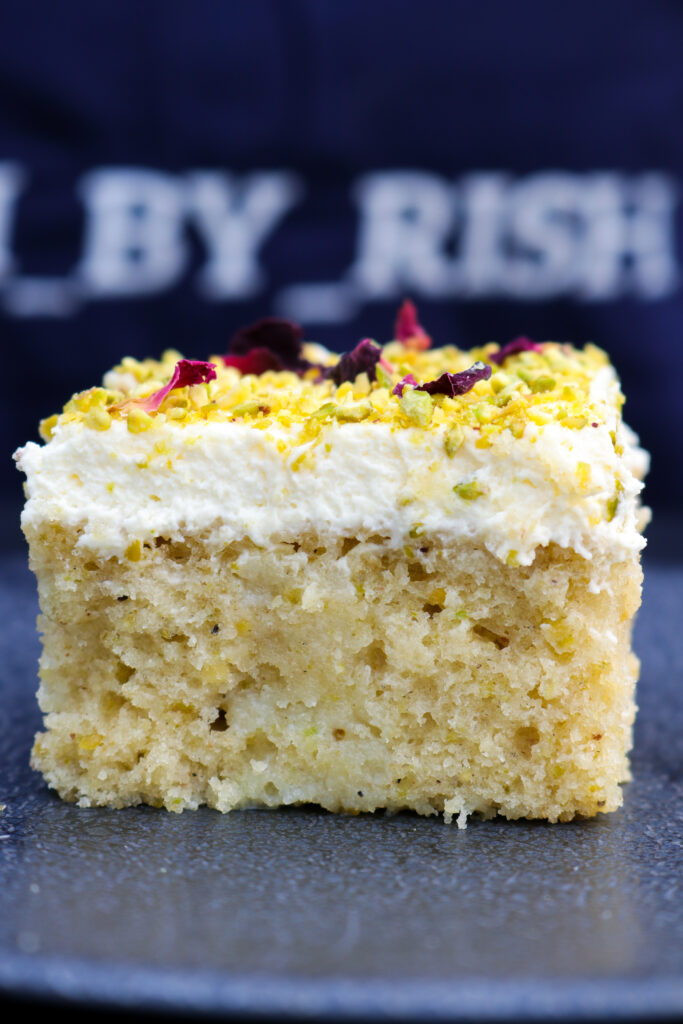 Frequently asked questions
Can I make this vegan?
Yes, use an oat or soy milk for the sponge portion of the recipe. Use vegan sweetened condensed milk and a full fat oat milk/barista blend for the milk portion. Finally use coconut cream instead of double cream for the topping. It's easily doable and tastes great.
How long will the pistachio kulfi milk cake last?
It's best served the next day, but can be kept refrigerated for 3-4 days. Make sure to cover the cake with clingfilm if refrigerating
What if I want this to be more milky?
You can increase the amount of milk, but this will alter the level of sweetness so you may need to balance this out with more sweetened condensed milk and saffron. If you add too much milk, the cake will not soak this all up and hence you run the risk of it becoming very soggy.
I'm aware that this is actually how some prefer their tres leches cakes to be, but personally I'm not too keen on an overly soggy sponge.
Why is the cake baked at a lower temperature?
This will allow for a more even rise and will prevent a crust forming on top.
If you enjoyed this recipe
Please do let me know! Leave a review and a rating below, I'd love to know how you got on.
You can also tag me on Instagram at @dish_by_rish. Or follow me on Facebook, Pinterest, Youtube, and TikTok to keep up with all my cooking and baking creations.
Until then, happy cooking!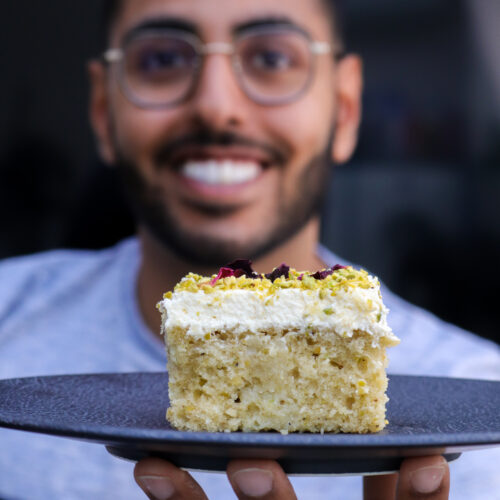 Pistachio Kulfi Milk Cake
A pistachio and cardamom sponge soaked in saffron milk with a whipped cream finish
Ingredients
Pistachio kulfi sponge:
400

g

plain flour

200

g

white granulated sugar

60

g

roasted unsalted pistachios

blitzed

1

tsp

ground cardamom

1

tbsp

vanilla extract

200

ml

flavourless oil

vegetable or sunflower

400

ml

milk of choice

16

g

baking powder

(around 4.5tsps)

1

tsp

salt
Milk mixture:
225

g

sweetened condensed milk

225

ml

whole milk

Pinch

of saffron
Whipped cream:
450

ml

double cream

40

g

icing sugar

1

tsp

vanilla extract
Topping:
20

g

roasted unsalted pistachios

ground

Dried rose petals

optional

Pistachio cream

optional
Instructions
Preheat your oven to 140'C fan/160'C conventional

Grease a 25x35cm baking tray and line with baking paper

Shell pistachios until you have 60g, then blitz into small pieces

Add these pistachios to the sugar and cardamom in a large mixing bowl

Add the oil and vanilla, and whisk until incorporated

Then add the milk (for the sponge portion) and continue to whisk

In a separate bowl, mix the flour, salt and baking powder

Sieve the flour mix into the wet mix and briefly whisk to mix. Then fold to ensure the flour has been fully incorporated

Pour the batter into your lined tray and bake for 50 mins in the middle rack of your oven. A toothpick should come out clean

Allow the cake to cool for 10 mins before transferring to a wire rack to cool completely

During this time heat the sweetened condensed milk and whole milk together in a saucepan over low heat until the edges just begin to bubble. Turn the heat off and add a pinch of saffron and leave briefly to infuse and for the mixture to cool down

Once cooled, transfer the cake back to the tray and poke all over with a toothpick or chopstick, then pour the milk mixture all over

Allow the cake to sit for 30 mins at room temperature, then cover with cling film and place in the fridge for a minimum of 2 hours for the sponge to soak up all the milk. For best results leave overnight

Then whisk the double cream, icing sugar and vanilla together until thickened. Do not over whisk or the cream will begin to clump. Use an electric whisk for ease

Place the whipped cream over the cake and smooth till even

Drizzle with pistachio cream if using, followed by the ground pistachios and dried rose petals

Best served cold
Notes
See blogpost for vegan alternatives