This Homemade Mint Sauce is refreshing, light, and cooling. It's reminiscent of the mint sauce served in Indian restaurants and pairs well with spicy food.
In a lot of British Indian restaurants and takeout spots, it's common for food to be served with an array of sauces and chutneys. One of these sauces is often a creamy mint sauce which helps to cool down some of the more spicy dishes that are often ordered. I for one, love this sauce.
It's great even with masala pappad (a poppadom served with a spicy cold slaw), and drizzled on spicy tandoori paneer (paneer marinated in a thick masala paste and grilled in a tandoor).
The sauce itself is incredibly easy to make and I actually prefer this homemade version. It's simple, fresh and has a subtle sweet note which adds to its cooling effect.
You can pair this with a ton of different dishes and I'll list a few of my favourite for you below!
Homemade Mint sauce: what you'll need
Yogurt – I recommend using a thicker yogurt like a strained Greek yogurt. This lends the best texture in my opinion
Fresh mint – this is where all the flavour is at!
Honey or any vegan syrup alternative – this will provide the subtle sweetness that the sauce needs. It also adds a shine to the mint sauce. You can use sugar if you wish too however you'll lose out the classic shine the sauce should have
Salt – just a pinch!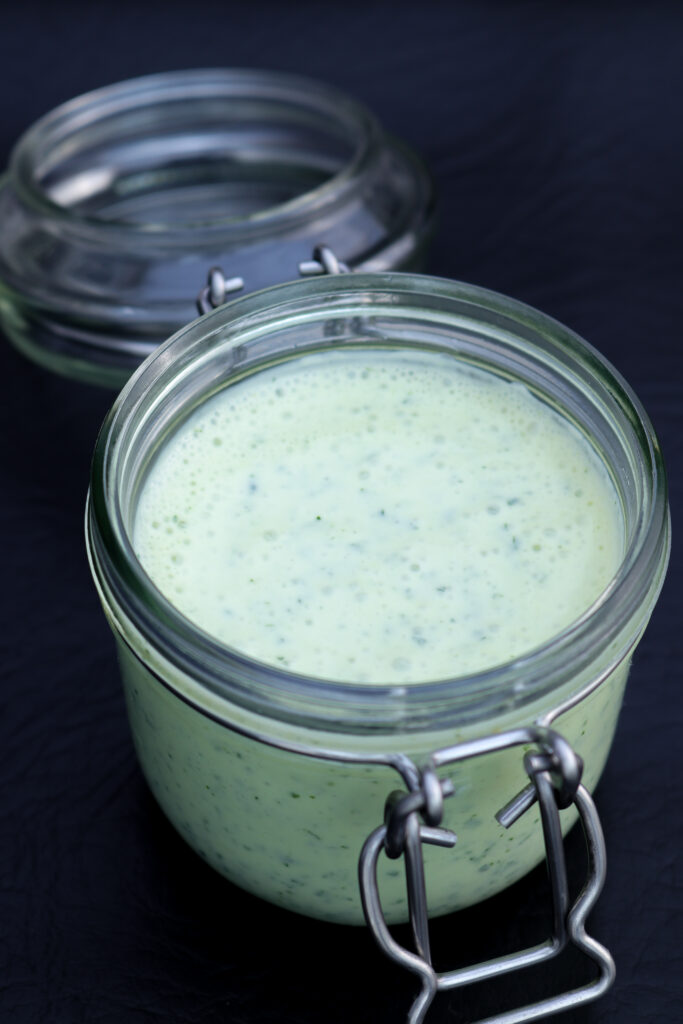 How to make this Homemade Mint Sauce
Take this recipe as your base recipe for a Homemade Mint Sauce. There are plenty of riffs that you can do to turn this into a variety of condiments.
I'll cover a few ideas later on in the blogpost!
Simply place all ingredients into a food processor and pulse. I prefer a food processor over a blender as the small pieces of mint are synonymous with how the sauce should look. Rather than a homogenous green sauce.
Store in an air tight container and refrigerate for a minimum of 1-2 hours. This will allow the sauce to thicken slightly.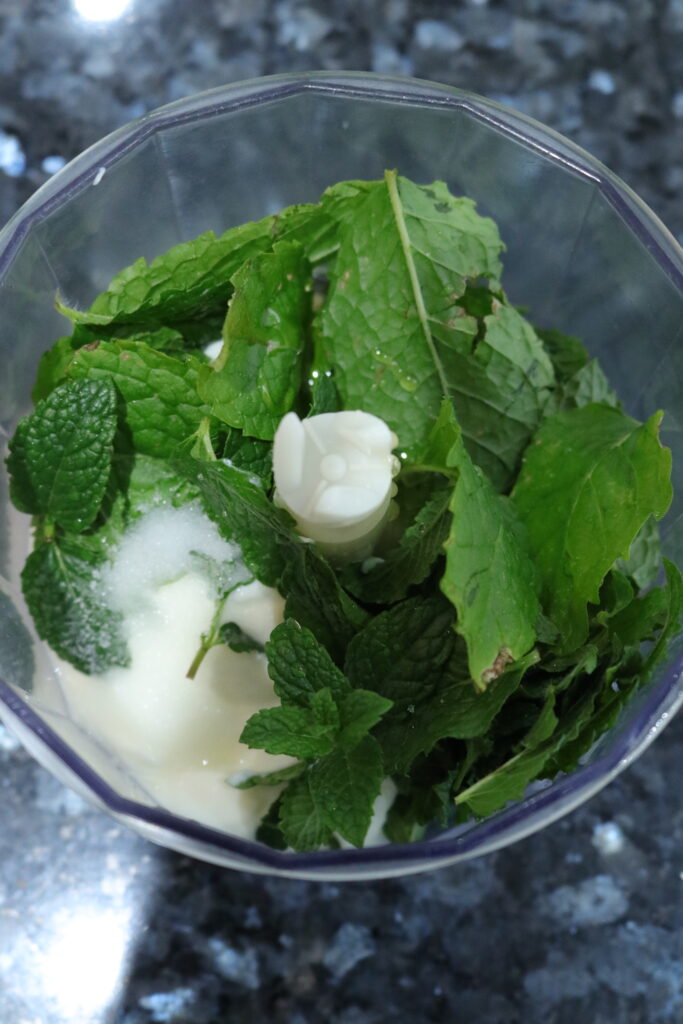 What can I serve this with?
Samosa
Chilli paneer (tap for my recipe)
Garlic naan (tap for my naan recipe)
Mogo (cassava fries)
Grilled paneer
Served on chaat (an Indian street food filled with sweet, spicy, and sour elements)
Pappad/masala pappad (poppdoms/spicy poppadoms)
Flatbreads
Falafels
Salads as a dressing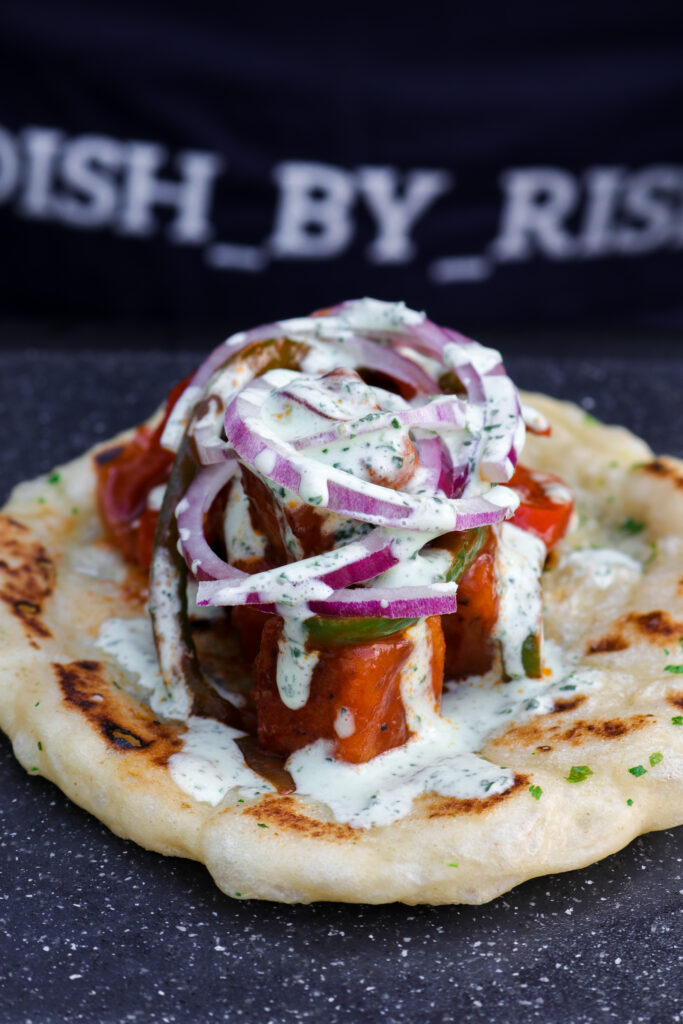 Naan brushed with garlic butter, chilli paneer, mint sauce and sliced red onions
Can I make this Homemade Mint Sauce vegan?
Yes, use your favourite vegan yogurt and vegan alternative to honey, e.g. maple syrup. Make sure the yogurt is slightly on the thicker side to avoid a runny sauce.
I've found soy yogurt to be the best for flavour when it comes to the vegan yogurts. But I've also seen people successfully making their own vegan yogurt too, with incredible results!
How long will this keep?
3-4 days refrigerated in an air-tight container. Make sure to give it a mix before serving as the mint may settle to the base.
Optional add-ins
In all honesty I love the freshness of this sauce as it is. However there a few add-ins you can try dependent on your preferences:
Garlic
Coriander
Black pepper
Ground cumin
Cucumber – to make a mint chutney/raita combo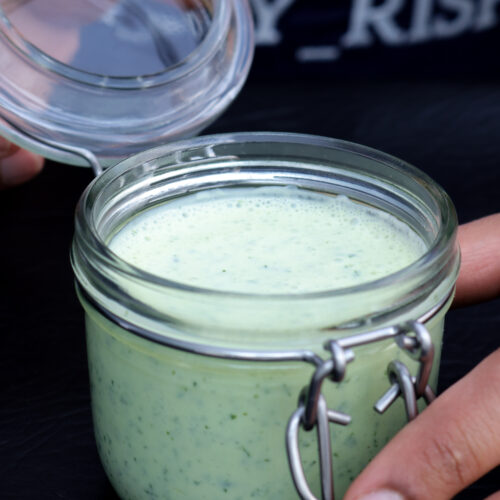 Mint sauce
This Homemade Mint Sauce is refreshing, light, and cooling. It's reminiscent of the mint sauce served in Indian restaurants and pairs well with spicy food
Ingredients
150

g

strained Greek yogurt

15

g

fresh mint

3/4

tbsp

honey

1/4

tsp

salt
Instructions
Place all ingredients into a food processor, pulse until no large pieces of mint remain

Place in an air tight container and refrigerate for a minimum of 1-2 hours