Try these crispy jalapeno poppers, perfect finger food for parties. Crispy and spicy jalapenos stuffed with a flavoured cream cheese filling.
I've said this before and I'll say it again… crispy, spicy food is the ultimate combination. These crispy jalapeno poppers are no different. These jalapenos are stuffed with a herby cream cheese filling with a hint of garlic, and coated in a seasoned panko breading.
You can't go wrong.
These are a pretty popular appetiser albeit slightly hard to find in restaurants in the UK. They make for a great option for party food for any spice lovers out there. Though I'll give you some tips on how to tone down the heat as we don't want them to be too overpowering.
Having the right balance of heat, crunch and cheese is crucial.
These are really easy to prepare though admittedly a little time consuming, but I promise they're worth it. I've got a few important steps and tips so please make sure to read them – it may save you some burning eyes and exploding poppers!
What are Jalapenos
Jalapenos are within the chilli family and usually have a green appearance, unless allowed to ripen further prior to being harvested. In which case they turn orange, yellow, or red. They vary in terms of their heat and can range from mild to hot.
In all honesty every jalapeno I've had has definitely been on the more spicy side but I've got some tips below on how to manage this.
For this recipe we want fresh jalapenos, not the pickled ones that can be found in jars. I purchase fresh jalapenos from my local Indian supermarket, but these have always been incredibly spicy.
Unfortunately you can't really predict the heat when buying jalapenos, the only way to know for sure is to actually try one. We'll be cutting the jalapenos in half as well as de-seeding and de-veining in order to reduce the heat as the capsaicin (the spicy chemical) is concentrated in these areas.
Crispy jalapeno poppers: the filling
The jalapenos are stuffed with a creamy cheese filling which pairs incredibly well with the spicy chilli. The filling consists of very few ingredients:
Cream cheese – I like to use Philadelphia cream cheese
Cheddar – but Monterey jack cheese also works very well
Garlic powder
Fresh chives or spring onion greens
Salt
It's a simple filling but delicious nonetheless, and melts into a creamy warm cheese whilst the jalapeno poppers fry.
Crispy jalapeno poppers: the breading
In order to make these crispy they need to have the perfect coating. But this coating also needs to ensure that the cheesy filling does not explode during frying. For that reason we will be dredging these twice which means a thicker coating that will give you jalapeno poppers that will not explode.
I've used panko breadcrumbs which are my go-to for breading. I blitz the panko in a food processor till they are slightly more finely ground to ensure a more even coverage. The reason I usually choose panko breadcrumbs are because they are drier and more flaky. They absorb less oil during frying whilst providing a more crisp coating.
You can use regular breadcrumbs here if you wish, it still works absolutely fine! The breadcrumbs will be seasoned with garlic powder, dried parsley and salt.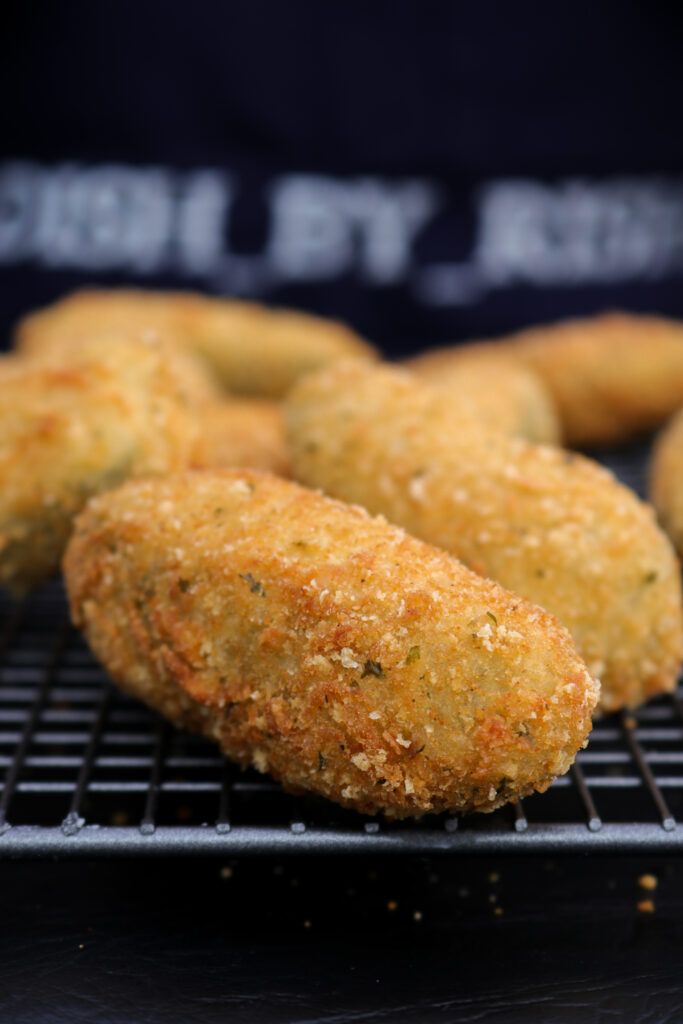 Can I air-fry or bake Jalapeno Poppers?
In all honesty, it's not worth it. Baking led to the poorest results with an almost raw coating that did not crisp up successfully whilst the filling burst out.
Air frying led to a slightly more crisp coating but the filling burst out every time as well.
Deep frying does lend the best results and is my recommended choice here.
Can I make these jalapeno poppers vegan?
Sure, a decent vegan cream cheese and vegan cheese will work absolutely fine. Just make sure both cheeses have a flavour that you enjoy. I've had several vegan cheeses with an overwhelming coconut flavour that sadly would not work well here.
The flavour just doesn't quite blend together very well. If you have a preferred brand of vegan cheese that melts and gets perfectly stringy, then that would be the one to use!
If you do find any brands of vegan cheeses that you really enjoy, please do let me know!
Key tips for getting this recipe right
Use gloves when handling the jalapenos to avoid the capsaicin contacting your fingers. This will linger and can lead to some very raw and burning eyes.
If the jalapenos are too spicy, blanch them for 3 mins in boiling water, and immediately rinse with cold/ice cold water to stop them from cooking further.
The cheese should be finely grated in order for the jalapenos to be easily filled.
The crispy jalapeno poppers will require 2 coats of breading in order to prevent the cheese mixture from seeping out.
Coat all your jalapenos with the first layer of breadcrumbs before starting the second layer. Work systematically, i.e. the first jalapeno popper that you coated with the first layer of breadcrumbs, will be the first one that you coat with the second layer. This is because the first layer requires 5-10mins to set before coating again, or it will simply fall off.
Fry until golden (around 2 mins). If the poppers start seeping out cheese it means they have been fried for too long.
Air frying and baking will not crisp these up as well as deep frying, and cheese will seep out.
How to make Crispy Jalapeno Poppers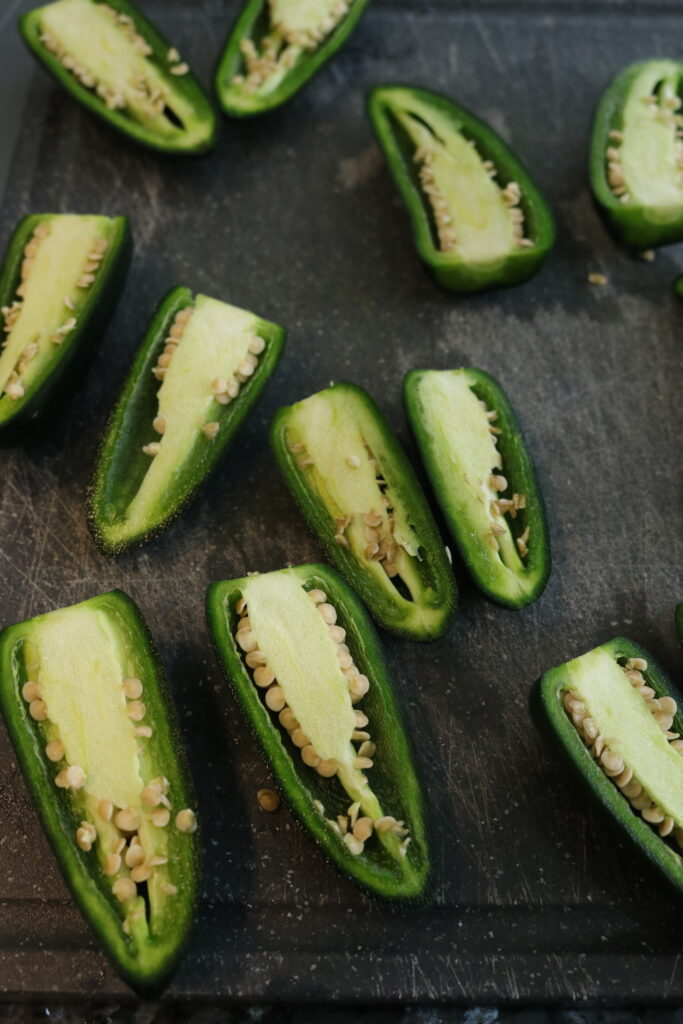 1) Trim stems off of jalapenos and slice lengthways
2) Blanch in boiling water for 3 mins, then immediately rinse with cold water or transfer to a bowl of ice cold water to prevent over-cooking
3+4) De-vein and de-seed
5) Transfer blanched jalapenos to a paper towel and allow to dry completely
6) Place breadcrumbs in a food processor (only if using panko breadcrumbs)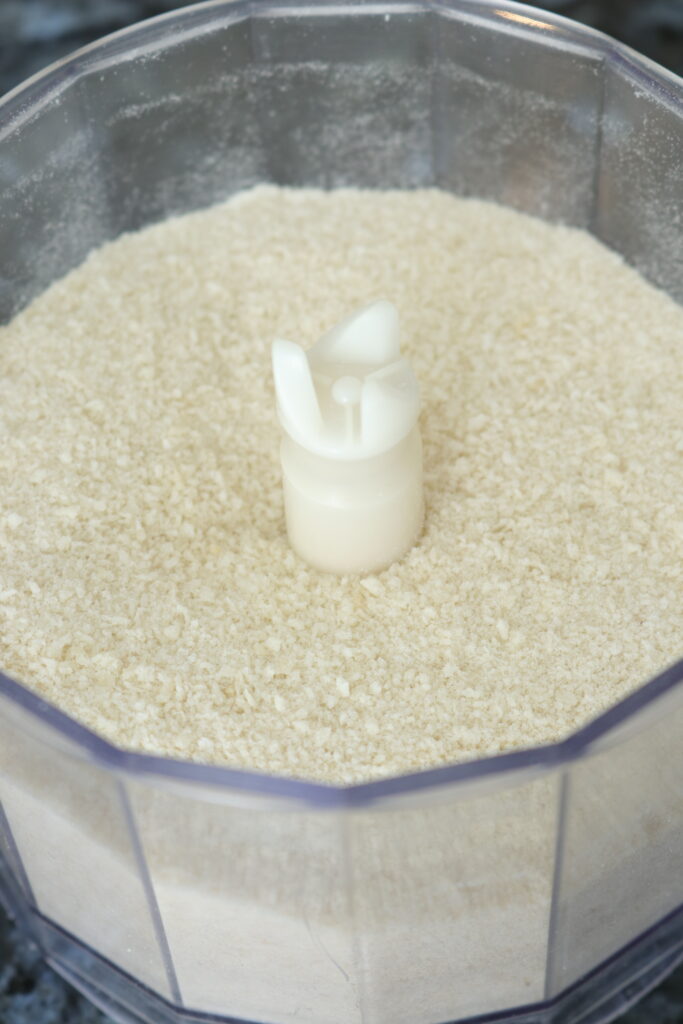 7) Blitz breadcrumbs until finely ground
8) Transfer breadcrumbs to a large bowl and add seasonings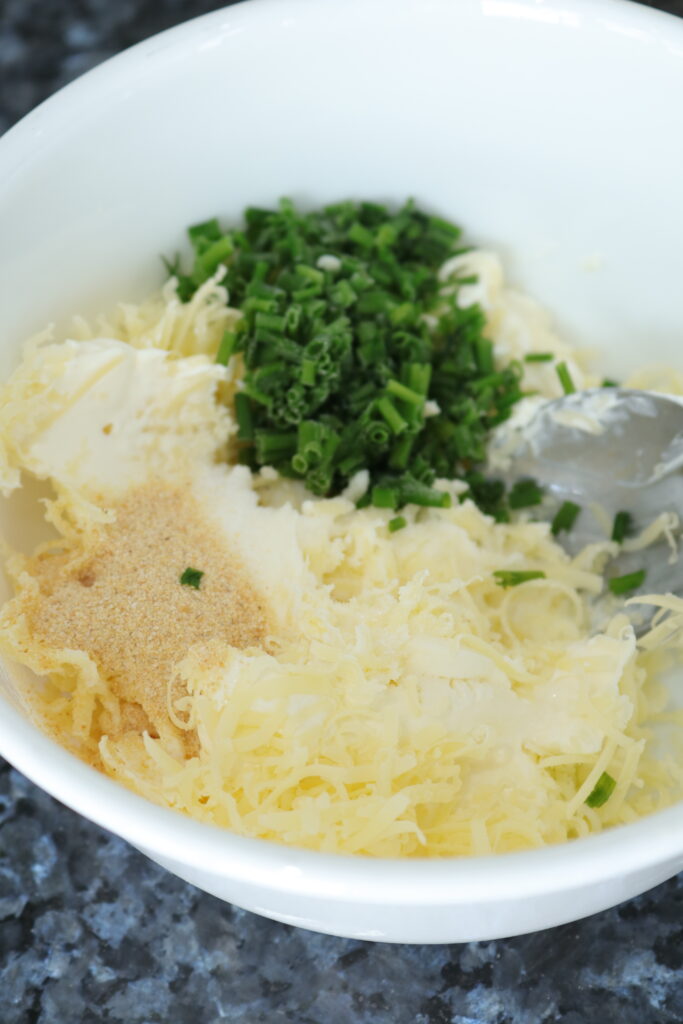 9) Mix your filling ingredients
10) Mix your flour and water to form a paste
11) Stuff the jalapenos with the cream cheese mix
12) Dunk into the flour water paste and drain excess
13) Coat with the first layer of breadcrumbs
14) Allow this layer to set for 10 mins. By the time you coat the last jalapeno, the first one you did should be ready for it's second coat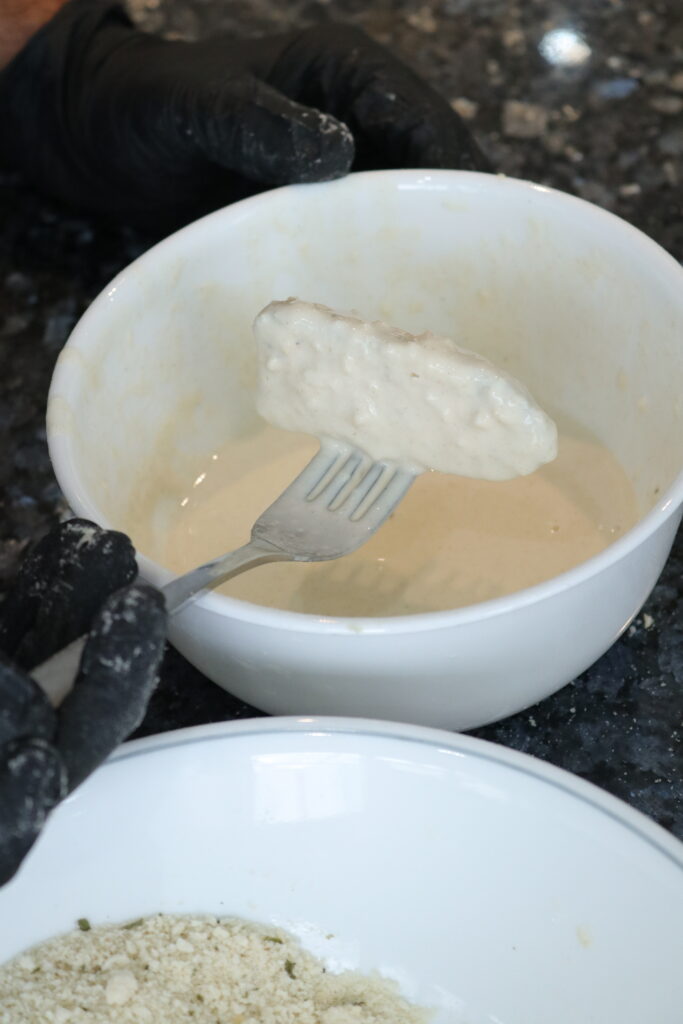 15) Dredge the jalapenos back in the flour water mix. Drain excess
16) Now coat with the second layer of breadcrumbs
17) Same as before, the coating needs 10 mins to set. By the time you coat the last jalapeno you'll be ready to fry
18) Deep fry until golden (around 2 mins), Don't overcrowd the pan as it will drop the oil temperature
If you enjoyed this recipe
Please do let me know! Leave a review and a rating below, I'd love to know how you got on.
You can also tag me on Instagram at @dish_by_rish. Or follow me on Facebook, Pinterest, Youtube, and TikTok to keep up with all my cooking and baking creations.
Until then, happy cooking!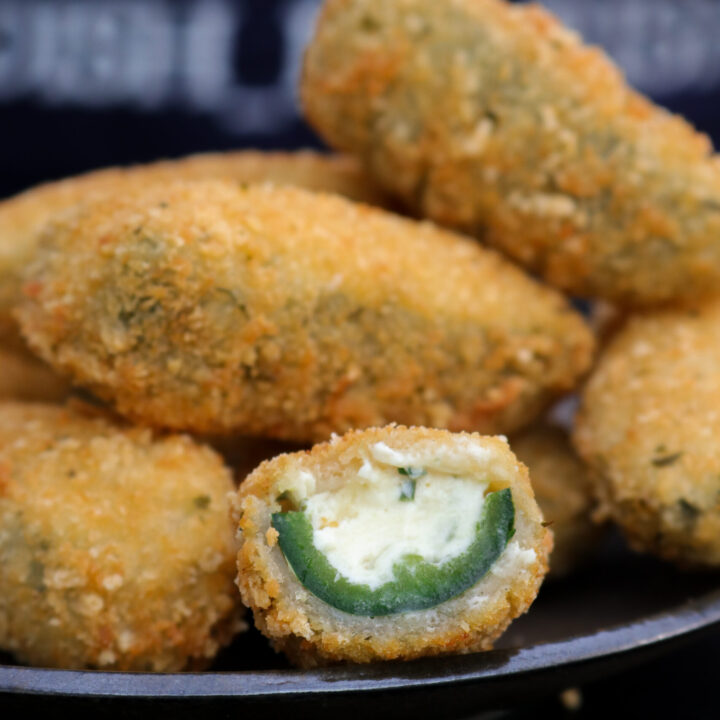 Crispy Jalapeno Poppers
Total Time:
1 hour
15 minutes
Try these crispy jalapeno poppers, perfect finger food for parties. Crispy and spicy jalapenos stuffed with a flavoured cream cheese filling.
Ingredients
10 fresh jalapenos
150g panko breadcrumbs/any breadcrumbs of choice
1tsp garlic powder
1tsp salt
1tsp dried parsley
120g cream cheese
50g finely grated cheddar, or Monterey Jack
1tsp garlic powder
1/2tsp salt
Small handful of finely sliced chives/spring onions
130g plain flour/all-purpose flour
200ml cold water
Oil for deep frying
Instructions
Remove the stem from the jalapenos and slice lengthways. I recommend wearing gloves for this as the capsaicin (the main spicy compound) can linger on your fingers for some time
If your jalapenos are particularly spicy (try a small piece), blanch them in boiling water for 3 mins then rinse with cold water or transfer to an ice bath to prevent over-cooking. If they're not that spicy you can skip this step
Then remove the veins and seeds from the jalapenos, either with a knife or by hand (again with gloves)
Allow the jalapenos to dry completely on a paper towel
If you're using panko breadcrumbs, blitz them in a food processor to grind them down more finely. I find that panko breadcrumbs provide a more crispy and light coating in comparison to other types of breadcrumbs
Transfer the breadcrumbs to a large bowl and add salt, garlic powder, and dried parsley. Give that all a good mix
In another bowl combine the cream cheese, grated cheese, garlic powder, salt and chives/spring onion greens. Give that a good mix as well, this will be the filling for the jalapenos
In a separate bowl whisk together the plain flour/all-purpose flour and cold water to form a paste, a few small lumps are absolutely fine
Take a heaped spoonful of the cream cheese filling and spoon it into each jalapeno half. Then remove any excess until the filling inside the jalapeno halves are level. Repeat this process for all the jalapenos
Now dunk each jalapeno into the flour and water paste. I find this easiest to do with a fork as you can lift the jalapeno to remove excess paste. Then immediately dunk into the breadcrumbs and toss to coat evenly. Transfer the coated jalapenos to a wire rack and allow to sit for around 5-10 minutes. Repeat this step for all the jalapeno halves and allow them all to sit for 5-10 minutes on a wire rack before doing a second coat of breadcrumbs. This allows the first coating to 'set' and secure the filling.
After all the jalapenos have had their first layer of breadcrumb coating and have had 5-10 minutes to set. Go back and repeat the dunking process in the flour and water paste and the breadcrumbs for a second coating
Allow them all to sit for another 5-10 mins. This process of double battering will prevent the cream cheese and cheese filling from bursting whilst frying
Deep fry in 180'C oil in small batches, these should take no more than 2 minutes to fry
Nutrition Information
Yield

10
Serving Size

2
Amount Per Serving
Calories

255
Total Fat

9g
Saturated Fat

4g
Trans Fat

0g
Unsaturated Fat

4g
Cholesterol

20mg
Sodium

569mg
Carbohydrates

35g
Fiber

2g
Sugar

2g
Protein

8g
This is an automated calculation and hence may not be entirely accurate.